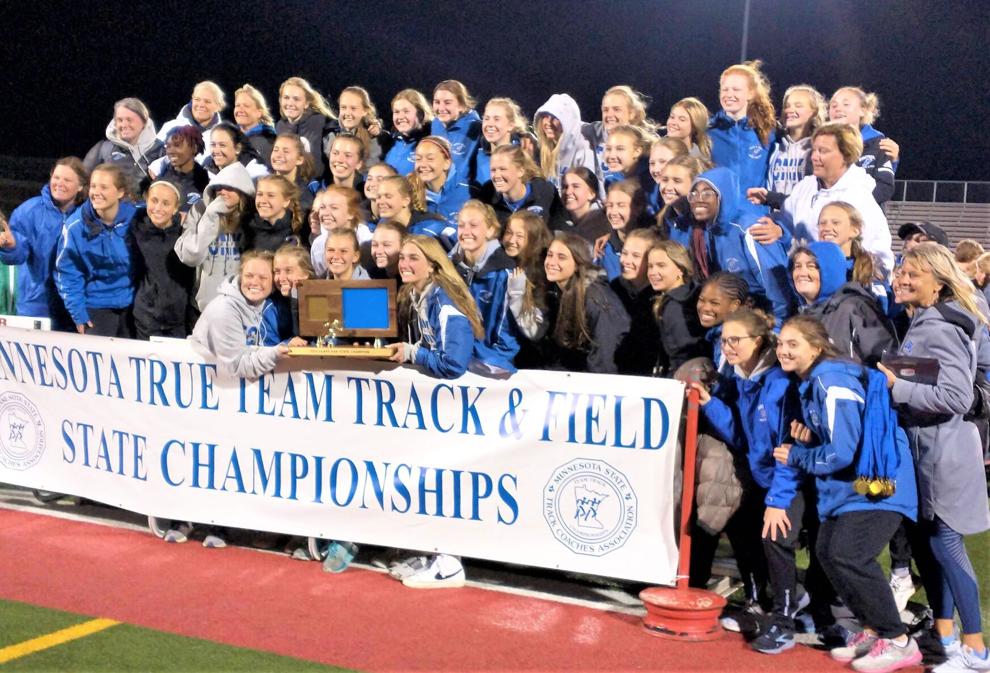 Since making her debut as a high school track and field coach 46 years ago, Jane Reimer-Morgan has had many memorable days.
Thousands of athletes have benefitted from her knowledge of the sport and her talent for bringing out the best in every performer.
She certainly brought of the best in her Minnetonka High girls team May 20 at Stillwater High, as the Skippers won the state Class AAA True Team championship in a close race with Lake Conference rival Wayzata.
Asked to rank this championship among her best days as a coach, Reimer-Morgan said, "This is right up there with the best of them."
Reimer-Morgan had won the True Team state title before, but it was as an assistant coach. To win one as a head coach is special to her. Another box checked in a great career.
"We had talented teams other years and finished second a number of times," she said. "A lot of years, our prom was the same night as state True Team, so we had girls missing or others that came for just one event before heading off to prom."
With no prom May 20, the Skippers were ready to compete - locked and loaded for great performances.
"We had finished second to Wayzata in section True Team," Reimer-Morgan said. "After that meet, we met as a team and talked about preparation and focus. We had a few kids out with injuries, but others filled in and did an amazing job."
Minnetonka's depth was essential in winning the championship, and along with that there were some great individual and relay performances.
"Jenna Krueger had a personal best by 11 feet in the discus,' Reimer-Morgan said. "We had some great doubles from our distance runners, and we finished 1-2 in the high jump with Winona Stone and Mya Folken. Maya Mor ran two great races to finish second in the 800 and third in the 1600. Our ninth-grader, Zeal Kuku did a great job in the sprints and the long jump. Lucy Hiller did a good job in four events - the triple jump, the open 200 and two relays. Ruby Pajibo had her best time of the year in the 100 hurdles and Claire Kohler tied her best time in the 300 hurdles. We had so many good performances. Everyone who competed helped us win."
Hurdlers Pajibo, Kohler and Anna McKinney put big points on the scoreboard.
"It has been fun for us to see each other grow," Kohler said. "Ruby holds our school record in the 100s and I have the school record in the 300s. Anna is improving every week."
Minnetonka closed the meet with one of its best performances - a win in the 4x400-meter relay from Megan Corkery, Kohler, Ella Graham and Kate LeBlanc. Their time was 3:59.73, and it was fitting that LeBlanc, a five-year varsity track team member and captain, carried the baton across the finish line.
"Our girls are so excited," Reimer-Morgan said. "Before we left for the meet, I took the girls outside to look at our track record board. Soon there will be a new entry on that board to recognize the 2022 Skippers as the state True Team champions.
Minnetonka 1159.5, Wayzata 1125, Rosemount 1122, St. Michael-Albertville 913.5, Mounds View 899, Eagan 888, Farmington 846, Edina 815, Lakeville South 805, Roseville 767.5, Alexandria 766.5, Forest Lake 460.