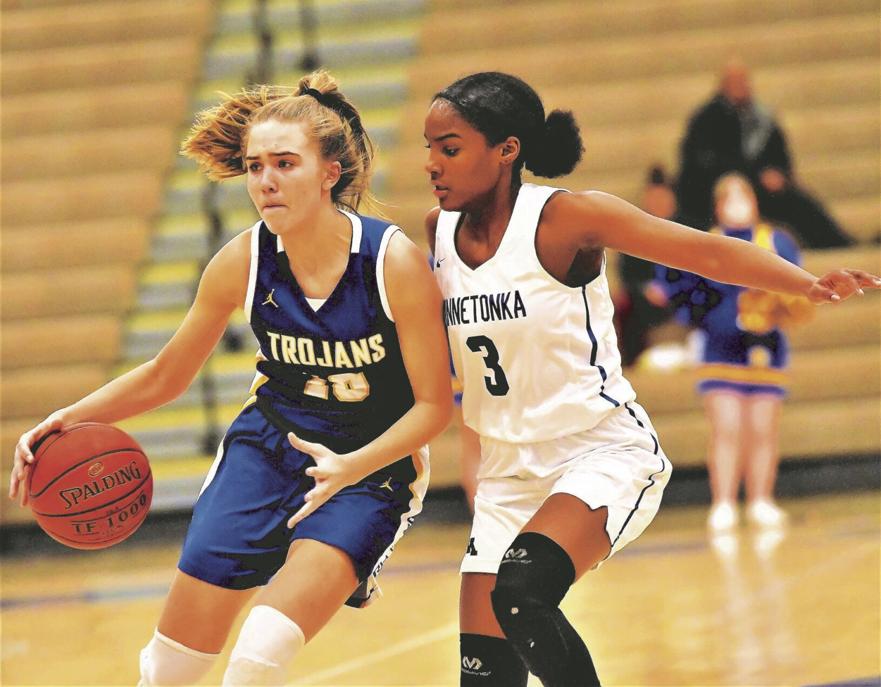 Tara Starks, the new head coach of the Hopkins High girls basketball team, inherited a lot of talent from Hall-of-Fame coach Brian Cosgriff, and along with it a 62-game winning streak.
That streak will be on the line this week as the 2021 season gets underway following a seven-week pause due to COVID-19.
Hopkins has a tough game right out of the gate, taking on Section 2AAAA champion and Lake Conference rival Eden Prairie at 7 p.m. Friday, Nov. 15, at Hopkins Lindbergh Center. The Royals have great talent with 6-4 junior Maya Nnaji, 6-foot senior point guard Amaya Battle and sophomore stars Nunu Agara and Taylor Woodson. Meanwhile, Eden Prairie is also very talented with the return of junior forward Nia Holloway and senior guard Destinee Bursch.
Minnetonka and Wayzata are the other teams mentioned as Lake contenders. The Tonka Skippers have their entire varsity returning from last year, led by All-Lake guard Desiree Ware and All-Lake forwards Emma Dasovich and Sophie Haydon. Wayzata has two future Division I players - junior guard Mara Braun (Minnesota) and senior forward Jenna Johnson (Utah). Both averaged more than 20 points per game last season.
By the way, Edina has four returning starters - senior forwards Allie Murphy and Caiya Wulf and junior guards Ella Campbell and Dorothy Stotts.
Eden Prairie head coach Ellen Wiese is excited to play Hopkins early in the season, regardless of the outcome.
"Hopkins right off the bat - why not?" she said. "We will see how we are from the get-go. Hopkins will be the same ... pressing us the length of the court the whole game. It's hard to prepare for them because nobody else plays like that."
The Eagles will try to slow the game down at times and try to prevent Hopkins from "scoring fast."
"We also want to make them play some defense," Wiese said.
Eden Prairie has a lot of depth to go with All-Lake players Holloway and Bursch. Other players to watch early in the season are sophomore guards Ashley Fritz and Molly Lenz, sophomore forward Savanna Jones and senior guard Allison Miranda.
A 2019-20 returning starter, guard Myra Moorjani, is out of the lineup with an injury.
Wayzata head coach Mike Schumacher will take his team as far as star players Braun and Johnson can carry them.
It is rare that any high school team has two high-major players in the lineup, but at the same time, it takes more than two girls to make a basketball team successful.
"Every team in our conference has good players," Schumacher said. "We are looking at different combinations. We know we don't have the length we've had, with players like Annika Stewart and Kallie Theisen the last couple of years. We were one of the few high school teams that could pound the ball inside consistently with a high-low game."
Johnson, at 6-2, is a capable scorer from all angles and distances, and is strong enough to dominate in the low post. Braun is very fast and a great outside shooter.
Sophomore Brynn Senden, who played well in the Section 6AAAA title game against Hopkins last year is another Trojan on the watch list.
Minnetonka returns not only its top five from last year, but also added two transfer students from DeLaSalle to the mix.
The top returning regulars include 6-3 senior forward Sophie Haydon, 6-1 ninth-grade forward Emma Dasovich and 5-7 senior guard Desiree Ware. All three made the All-Lake Conference team last year. Others with previous starting experience are 6-foot senior forward Molly Oehme, 5-8 senior guard Ellah Durkee and 5-9 senior guard Piper Terry.
Minnetonka's DeLaSalle transfers are junior point guard Ki'ani Lockett and 6-2 senior power forward Nora Francois.
"Ki'ani brings a different level of intensity," Skipper head coach Leah Dasovich said. "She will be a major Division I player. Nora will help, too. She is committed to North Iowa Community College for next season."
Dasovich summed up the feelings of most of the Lake's head coaches: "Our goal for the season is to make the most of the experience. Everybody says it's so nice to be back on the court for players and coaches alike."