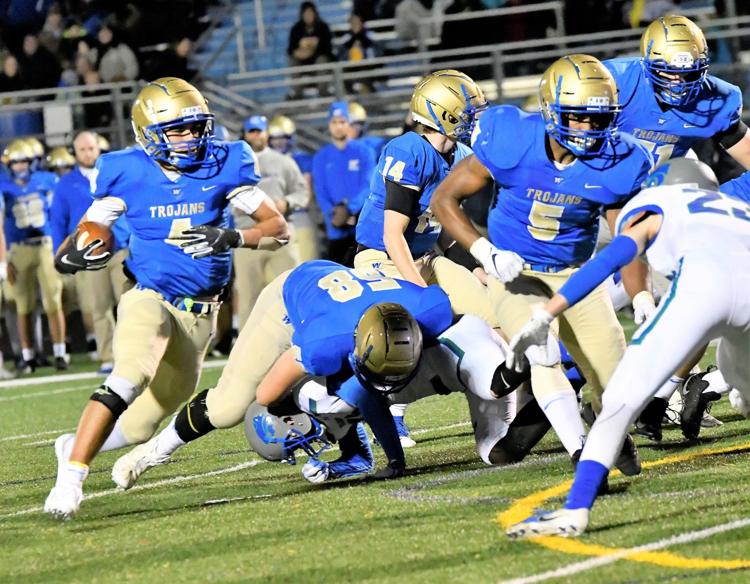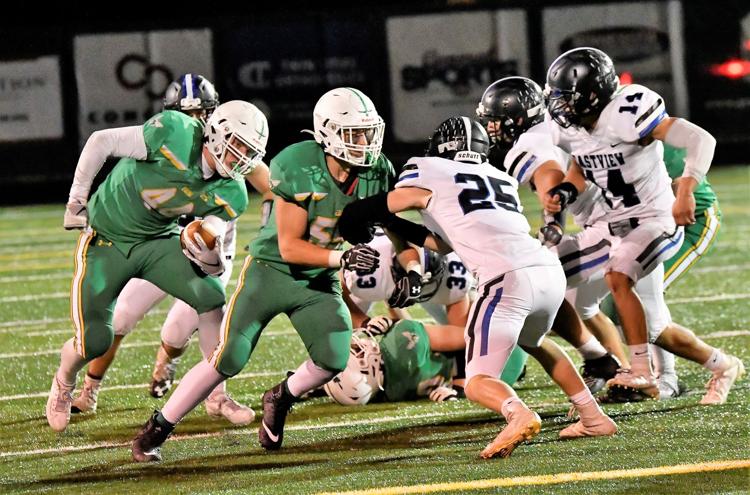 The top three finishers in the West District advanced to the state Sweet Sixteen with wins in the opening round of the playoffs Friday, Oct. 25.
Wayzata scored two touchdowns in the first 40 seconds of its game with Eagan on the way to a 35-7 victory.
Senior halfback Christian Vasser touched the ball only six times for Wayzata, but those six touches yielded three touchdowns. Vasser scored on a 56-yard pass from quarterback Thomas Schmidt 30 seconds into the game. Ten seconds later, after the Trojans forced a turnover, he scored again on an 11-yard run.
Vasser added a third touchdown in the first quarter on a 6-yard run. Also in the first quarter, Thomas Schmidt passed to Luke Bodine for an 8-yard touchdown.
Wayzata completed its scoring for the game in the second quarter on a 7-yard run by sophomore Julian Diedrich.
The Trojans' passing game was highly efficient. Schmidt earned a 143.8 quarterback rating by completing three of six passes for 118 yards and two touchdowns. Alternate quarterback Carter Tibbits completed three of six for 55 yards. Eagan gained a total of 120 yards in the game. Hayden Davison and Matthew Schmidt had fumble recoveries for the Trojans. Loshiaka Roques led Wayzata's defense with six unassisted tackles. Joe Demro and Sam Robertson each had four tackles.
Eden Prairie romped to a 62-24 victory over Anoka at Aerie Stadium.
The blitz was on from the start, as the Eagles raced to a 42-0 halftime lead. Coach Mike Grant was able to clear the bench in the second half, much as Wayzata head coach Lambert Brown did against Eagan.
Both EP quarterbacks, senior Jack Hedlund and junior David Warren-Mitchell threw touchdown passes. Hedlund hit Malik Mitchell for a 17-yard touchdown, and Warren-Mitchell hit Cade Kramer for a 20-yard touchdown.
The Eagles had rushing touchdowns from Sam Thomas, Sean Inthisan, Cheo Trotter, Israel Mondragon and Kramer. Leif Benson scored a touchdown on a 50-yard kickoff return.
Edina won a physical battle with Eastview, 20-19. The Hornets needed a scoring drive in the fourth quarter to erase the Lightning's 19-13 lead.
Jonathan Bunce carried the ball for two first downs on the last drive before scoring on a 14-yard run.
Quarterback George Sandven had two touchdown passes for Edina, with a 9-yard strike to Lucas Flemming and a 46-yard hook-up with captain Hamza Malim.
Hopkins' season ended with a 42-7 loss to defending state 6A champion Lakeville North. Demetrius Patton scored Hopkins' lone touchdown on a 3-yard run.
Minnetonka's playoff hopes ended in a 26-3 loss at Maple Grove. The Skippers took an early lead on a 36-yard field goal by Pierce Zabilla. Tonka stayed in the game through the third quarter, but the Crimson scored 20 points in the fourth quarter to pull away.
In 7 p.m. playoff games Friday, Nov. 1, Wayzata will be at home to play East Ridge, Eden Prairie will host Rosemount and Edina will travel to Centennial.