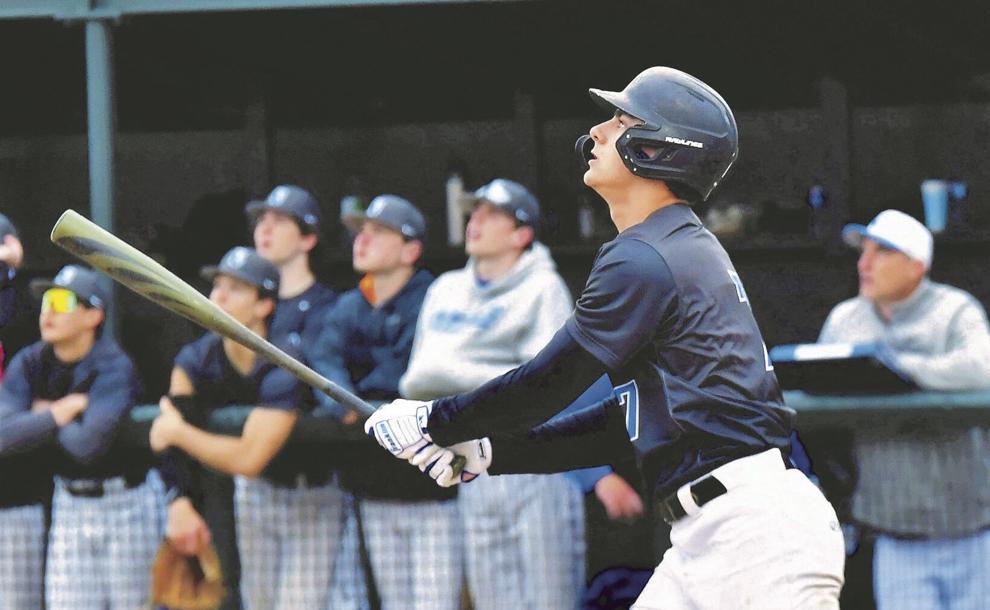 At the halfway point of the Lake Conference baseball season, Hopkins leads the pack with a 5-1 record, while Eden Prairie, with some make-up games on the agenda, is second at 3-1. St. Michael-Albertville, the defending champion, remains a contender at 3-2. Wayzata (3-4), Edina (2-3), Minnetonka (2-4) and Buffalo (1-4) are all hoping for upward mobility.
Hopkins defeated STMA 9-2 in a key game Saturday, May 7, on Hopkins High's turf field.
Marcus Champagne was the winning pitcher for Hopkins, allowing only two hits over five innings. Chase Johnson came on to finish the game on the mound.
Offensively, Hopkins' key blows were home runs from Paul Safranski and Jack Mausser and doubles from Maddox Mihalakis and Drew Charney. Safranski racked up four RBIs and scored a pair of runs. Mihalakis scored twice and had an RBI. Mausser had two RBIs.
With warmer weather in May, Hopkins head coach Jason Mihalakis is looking for his team to bust loose and score big.
The team rallies around several star players, led by pitcher Gabe Olson and shortstop Maddox Mihalakis, the coach's son. Mausser, Safranski and Brock Zimmer are other returning starters from last year's section 6AAAA championship team.
Hopkins had plenty of base runners in the STMA game with 10 hits and three walks. Neither team made an error in the contest.
In another Lake game last week, Hopkins suffered its first loss, 5-4 at Eden Prairie. The Eagles had three runs in the bottom of the first before Olson found his groove on the mound. He was not involved in the decision, as the Eagles scored the winning run in the bottom of the seventh against the Royals' bullpen.
Minnetonka won over Buffalo 4-3 and lost to Eden Prairie 9-1 in its two Lake Conference games last week.
"The bottom line for us is that we're trying hard, but just aren't getting enough hits in key situations," Minnetonka head coach Paul Twenge said. "As we go into May, the weather can't be anything but better and hopefully, that will help."
Third baseman Jake McCuskey hit a pair of doubles in Tonka's win over Buffalo, while second baseman Brandt Puzak hit a single and a triple. Other base hits came from Ethan Binder, Braden Storts and Jake Margo.
"Jake [McKuskey] is our offensive catalyst," Twenge said. "He has hit well all season."
Minnetonka used four pitchers against Buffalo with Enzo Cich going four innings for the win. Blake Singh, Zach Butcher and Kieran Haaland were all effective, as well, with the four pitchers combining for eighth strikeouts.
There wasn't much to say about the loss to Eden Prairie. Minnetonka had only four hits in the game - one each from McCuskey, Margo, Joe Adams and catcher Max Pederson. Starter Caleb VanderPlas pitched well for the Skippers, allowing four runs in five innings.
Saturday, May 7, the Skippers played Grand Rapids in a tight game and lost 2-0 at Veterans Field. Minnetonka's only hits were two singles by Adams and one single by McCuskey.
Next on the Lake schedule is a game between Hopkins and Minnetonka at 6:30 p.m. Friday, May 13, on the turf field at Hopkins High.