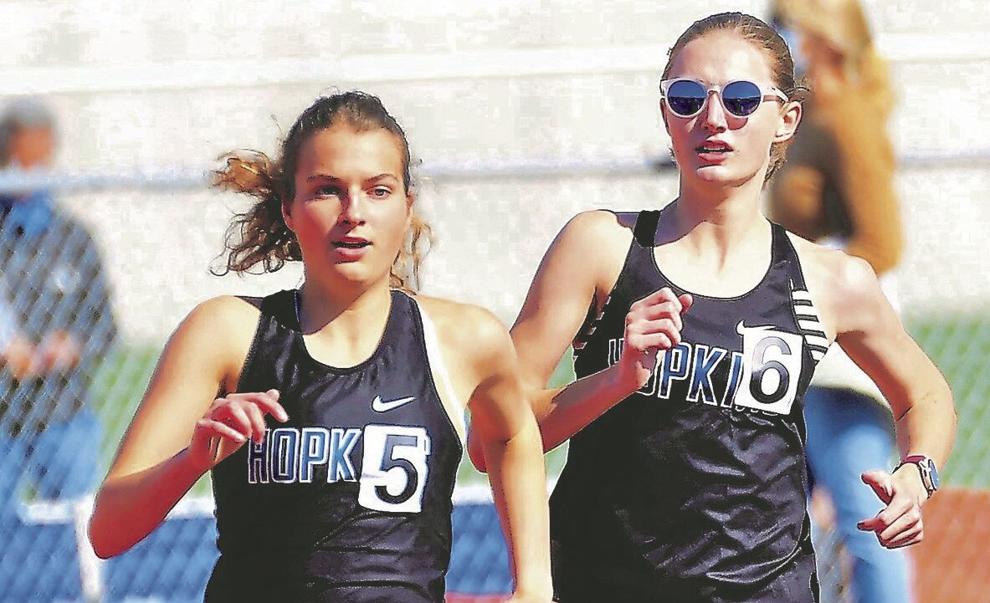 Edina coach Lynn Sosnowski and Hopkins coach Andrea Yesnes shared in the joy of seeing their teams run in competition for the first time in 22 months Friday, April 16, at Hopkins High Stadium.
The highlight was not Edina's 86-60 win. Nor was it the excitement over any glowing individual performance. It was simply that the teams were competing on a sunny, 60-degree day, with no snow banks outlining the perimeter.
"Both teams had some last-minute pullouts, due to [COVID-19] contact tracing," coach Sosnowski said.
"We have a super-young team this year," coach Yesnes said of her Hopkins crew. "We had the potential for a very strong team last year, but we lost our season, and a lot of good seniors graduated. Some of the girls we have this year are new to track, and don't know the order of events yet. But I believe they will get the hang of it soon. Our older kids are helping out a lot. When the coaches are talking to some of the younger athletes, our senior leaders are talking to others. They are giving back that way."
Edina came out Friday fired up for the sprints, and one reason why was the presence of junior Maddie Dahlien, who won three silver medals at the State Class AA Meet as a ninth-grader two years ago.
Dahlien won the 100-meter dash in 12.30 seconds Friday. Edina took places 2-3-4 with Izzy Engle, Wesley MacMiller and Ellen Norman.
In the 200, it was more of the same with Dahlien winning in 26.07. Engle, the speedy ninth-grader, was second in 26.67 and MacMiller finished third in 28.16. Amelia Carrizales of Hopkins was fourth.
The Edina sprint dominance continued in the 400 with Dahlien winning in 58.33. Engle was second and MacMiller third. Grace Burgess of Hopkins placed fourth.
Hopkins came on strong in the 800 and the 1600. Eighth-grade phenom Sydney Drevlow, running her first-ever 800, won the race in 2:13.07, which is only a second off the Hopkins school record. "That was the performance that stood out the most," Yesnes said. Jayne Parry of Edina was second in the 800, followed by Daphne Goldstein of Hopkins and Kaitlin Luger of Edina.
Hopkins veterans Elsa Bergman and Laci Provenzano ran side by side in the 800, with Bergman finishing first in 5:24.32 and Provenzano taking second in 5:25.85. Cora Adam and Addie Hinkle of Edina finished third and fourth.
Macy Iyer of Edina took first in the 3200 in 11:41.51. "We used the 3200 as a workout for our distance runners," coach Sosnowski said.
In the 100-meter hurdles, Hopkins had a 1-2 finish with Yasmin Nachmias and Macee Redman. Edina was third with Lizzy Engle and Hopkins' Allison Butz placed fourth. Allison Nelson of Edina won the 300 hurdles in a close duel with Hopkins' Redman that ended 50.50 to 50.92. Hayden Pronley of Edina was third and Yasmin Nachmias of Hopkins took fourth.
Relays produced a split with Hopkins winning the 4x100 and the 4x200 and Edina winning the 4x400 and 4x800.
Moving on to field events, the top four in the shot put were Eden Lockhart of Hopkins, Alise Johnson of Edina, Rose Cases of Hopkins and Anna Moore of Edina. Results were similar in the discus with Johnson first, Lockhart second, Cases third and Moore fourth.
Ushuu Namarra of Hopkins won the triple jump in 29 feet, 2 inches. Ella Brown of Edina took second with Yarden Nachmias of Hopkins third and Sophia Braun of Edina fourth. Edina's Brown was the winner in the pole vault. Places 2-3-4 went to Ellese LaTour of Edina, Keira Duffy of Hopkins and Phoebe Passolt of Edina.
The top four in the long jump were Braun of Edina, Yarden Nachmias of Hopkins, Brown of Edina and Madison Knodel of Hopkins.
Kathryn Ellis of Hopkins was first in the high jump with places 2-3-4 going to LaTour of Edina, Charlotte Smith of Edina and Kayla Thomas of Edina.