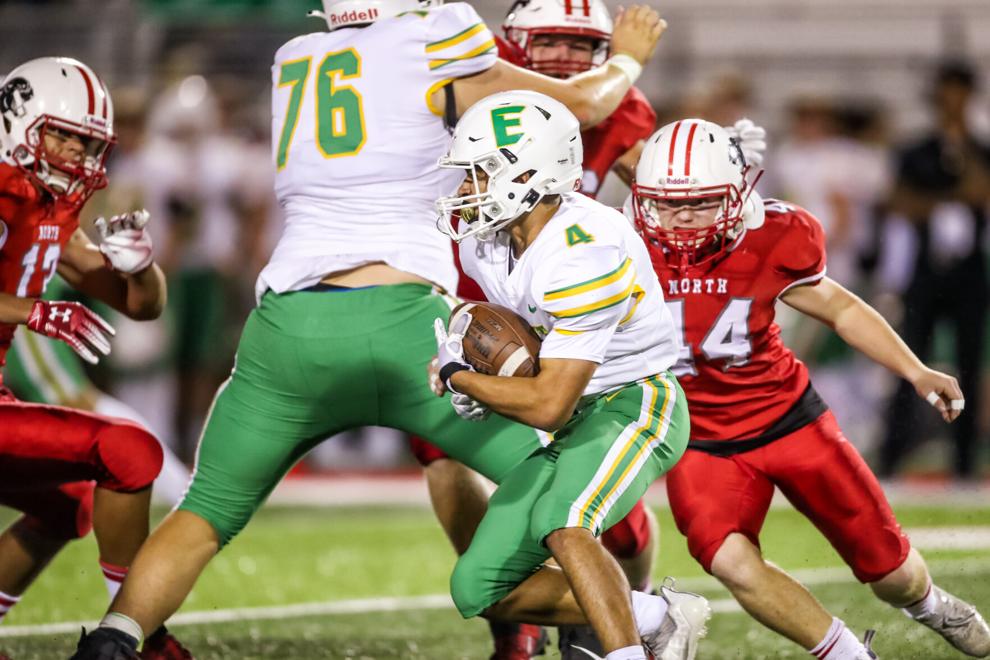 Perennial Minnesota high school football powerhouse Lakeville North played its best game of the season in a 46-20 win over the Edina Hornets Oct. 8 at Lakeville North.
The bright spot for Edina was the quarterback play of senior captain Adam Berghult, who scored all three of his team's touchdowns on runs of 4, 2 and 2 yards.
"Some people might say Lakeville North [2-4] is down this year," Edina head coach Jason Potts said. "Well, they still play tremendous defense."
North was shut out 12-0 by Lakeville South and 9-0 by Shakopee in two recent games, but the Panthers' offense came to life against Edina.
When he wasn't running for touchdowns Friday night, Berghult was throwing screen passes to put the Hornets in scoring position. "Adam got rid of the ball quickly against blitzing linebackers," Potts noted.
Evan Deutsch, the Hornets' senior captain at running back, earned Potts' praise for his all-around play. "Evan played the whole game," the coach said. "He caught some passes, broke tackles and helped us with pass protection."
Injuries have made Edina's lineup in flux just about every week, as the Hornets have a 0-6 record. "We are getting a few of our players back," Potts said. "And we came out of the Lakeville North game pretty clean [without a lot of injuries]. Captain A.J. Doll, the Hornets' All-west District defensive back, has played through an injury. Outstanding junior receiver and defensive back Brady Anderson as out of the lineup with an injury the last two games.
"There aren't any easy games in our division," coach Potts said. "I give our guys credit for hanging in there game after game."
Next for the Hornets is a game against Eden Prairie at 7 p.m. Friday, Oct. 15, at Edina's Kuhlman Field.
"Eden Prairie has the size, the strength, the speed and the numbers," Potts said.
Mike Grant, long-time head coach of the Eagles, is taking nothing for granted against Edina.
"We're preparing for Edina the same way we prepare for every other team on the schedule," he said.
Eden Prairie (5-1) played one of its best games of the season Oct. 8, handing Shakopee its first loss of the season 23-0.