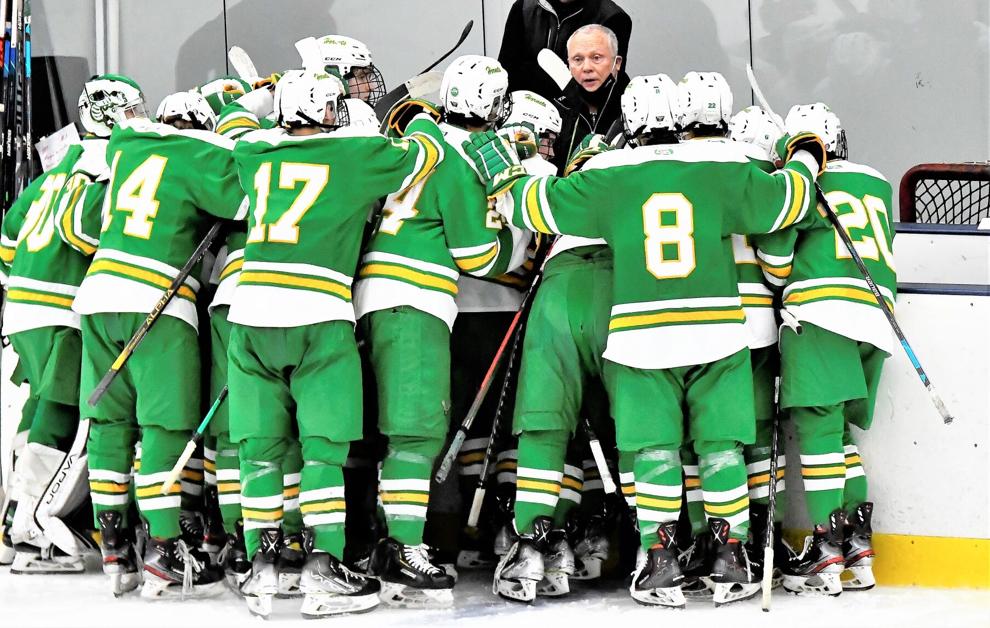 No team in the state has a tougher boys hockey schedule than Edina. Coach Curt Giles planned it that way and realized there would be mixed results.
The Hornets opened the season by winning their first six games, but just after the halfway point in the regular season, their record has slipped to 8-5-0.
In non-conference losses to Cretin-Derham Hall (4-2) and Benilde-St. Margaret's (5-2) last week, the Hornets couldn't get the traction they needed. The bottom line is that those are two of the best opponents Edina will face this season, and the margin for error against either one was small.
"We gave them way too many good opportunities," Giles said after the loss to BSM Saturday night at Braemar Arena. "We had the energy and we worked hard, but you can't give these quality teams quality scoring chances. You need to take space away from them and challenge them."
Cretin-Derham Hall outshot the Hornets 30-24 Thursday evening at Braemar. The Hornets scored a goal in the first period and a goal in the third period. The first was by senior forward Trey Fechko on an assist from junior forward Jimmy Clark. The third-period goal, scored by senior forward Willy Johnson, was assisted by Matt VanderVort and Caden Morgan.
Play was hard-fought but clean with Edina taking three penalties and Cretin-Derham Hall four.
Benilde-St. Margaret's got two goals each from Drew Stewart and Michael Risteau in Saturday's win. Tristan Sarsland also had a goal.
Clark scored from Trey Fechko on a second-period power play, as the Hornets cut BSM's lead to 2-1, but back-to-back goals from Risteau put the Red Knights up 4-1.
Ryan Flaherty scored in the third period for Edina with assists from defensemen Eddie Revenig and Wyatt Wurst.
Edina will play two games this week. At 7 p.m. Friday, Jan. 14, they will play St. Thomas Academy in Mendota Heights. Earlier this season, the Cadets notched a 4-1 win over Edina.
At 7 p.m. Saturday, Jan. 15, the Hornets will return to home ice at Braemar to face off with Buffalo in a Lake Conference game.
"Our goal is to cut down on mistakes this week," Giles said. "One of the challenges is picking people up in the danger areas."