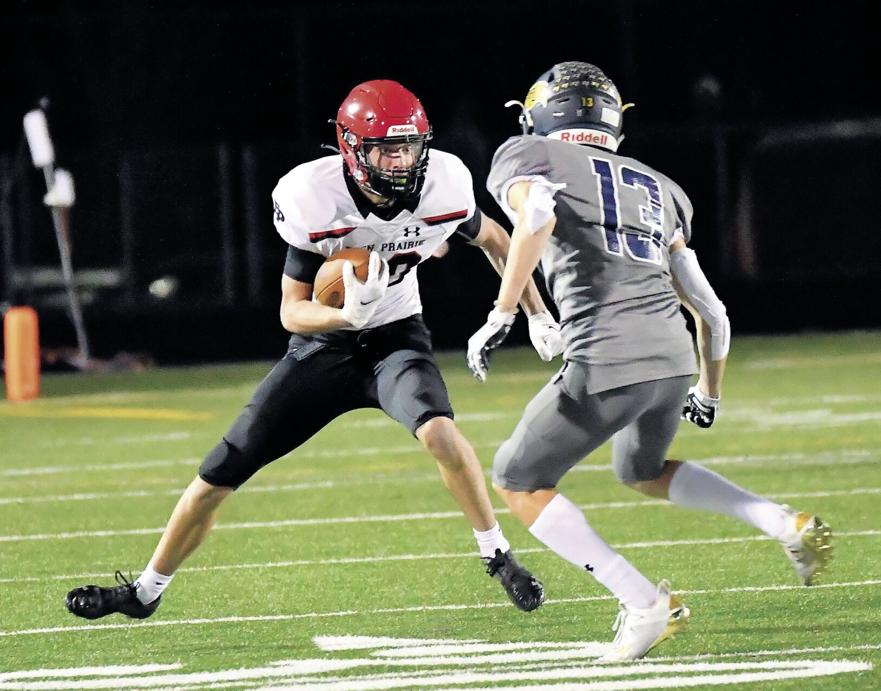 At the beginning of football practice this fall, Eden Prairie head coach Mike Grant referred to Eagle senior Cade Kramer as "the best wide receiver in the state."
The right people agreed with that assessment and the Associated Press named Kramer first-team All-State recently.
Reacting to that good news, Kramer said, "If it wasn't for my teammates and coaches, I would never have been given an award like this. I have been working all my life to do the things I did this season."
Traditionally, Eden Prairie doesn't pass a lot, but with a senior quarterback, David Warren-Mitchell, and a proven receiver, Kramer, coach Grant was more inclined to call pass plays this season. Kramer finished the year with solid numbers - 22 catches for 484 yards and four touchdowns. He also excelled as a blocker.
Kramer said his favorite game during the 2020 season was the opener at Minnetonka that the Eagles won 34-7. "It felt so good to be playing football again," he said. "That was my favorite game not just because of how I played, but because everyone executed so well."
Eden Prairie went on to earn the No. 1 state ranking in the MaxPreps poll and the QRF.
"With no official state championship, the way to prove how good we are was to go undefeated," Kramer said. The Eagles finished 7-0 and defeated Prior Lake 21-7 for the section championship. Their closest game of the season was a 24-14 victory over state power St. Michael-Albertville.
Kramer made his college commitment to the University of Minnesota-Duluth in October.
"On my first visit to the campus, I knew Duluth was the spot for me," he said. "I am super excited to get up there and get to work. The program has a winning culture, and our freshman class is stacked. I hope I will have the chance to play early, but my main goal is to help the team any way I can."
Kramer said playing for coach Grant at Eden Prairie has prepared him well for the next level.
What makes Grant a special coach? "He is so smart when it comes to the game," Kramer said. "He makes it work."
Growing up in Eden Prairie, Kramer didn't have to look far to find a role model. His older brother Cole led Eden Prairie to the 2018 Prep Bowl championship as quarterback and now plays for the University of Minnesota.
"I was a quarterback up until my freshman year," Cade Kramer said. "But I was always catching footballs for my brother, and a realized that I have good hands."
After becoming a wide receiver, Cade tried to improve overall and also improve one phase of his game each year.
"Between my sophomore and junior years, I worked on speed and explosiveness," he said. "From junior to senior year, I focused on routes and worked a lot with David [Warren-Mitchell]. In our senior year, David threw the ball with less hesitation and more confidence."
Kramer is an honor student in addition to being one of the state's best football players.
"If school's not going well, other things in your life won't go well," he said. "My parents [Steve and Jackie Kramer] have been there for me since the start and my brother has been there for me, too."
What is the key to becoming an All-State player besides good coaching and good teammates? "It's about good habits." Kramer said.
If a football player works hard and makes being a good teammate a priority, great things can happen.
Kramer was not the only Eagle to make an All-State team for the 2020 season. Offensive tackle Sam Henry and defensive back Tyee Leske were named second-team All-State.