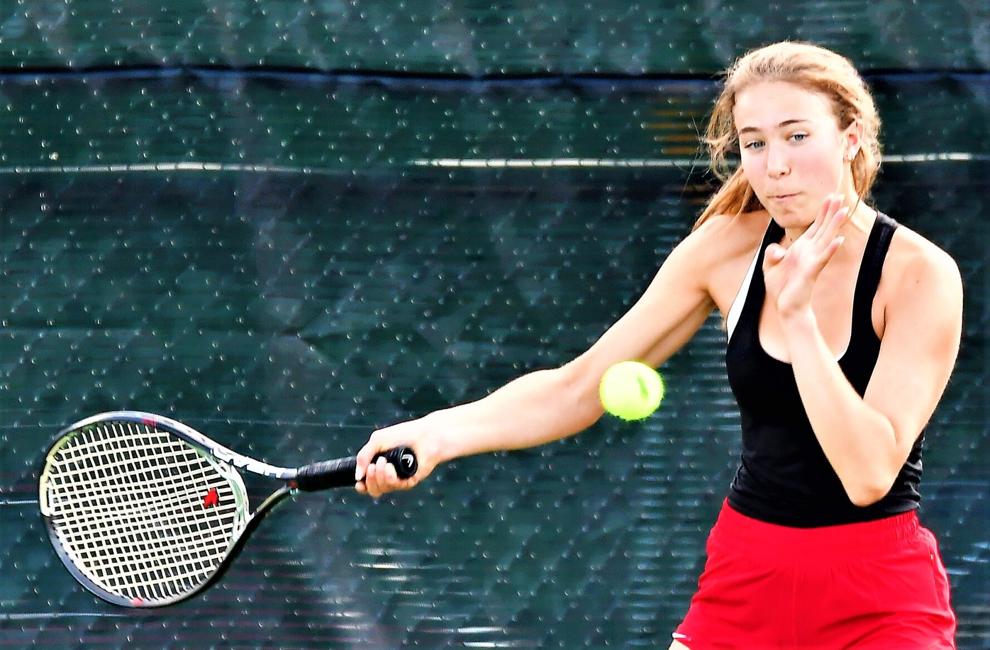 Eden Prairie High girls tennis coach Alexa Horoshak has a lot of players who can play either singles or doubles, so that has led to many different line-up combinations and opportunities this season.
The Eagles found a good lineup for an away match against Mound Westonka in a 6-1 victory.
Annika Anderson won 6-1, 6-3 at No. 1 singles. Other singles winners for the Eagles were Ava Neuman 7-5, 6-2 at No. 2 and Mary Margaret Mellen 6-1, 7-5 at No. 4.
In the longest match of the afternoon, EP's Sophia Salamekh lost to Ellen Pruitt of Mound Westonka 7-6, 6-7, 11-9.
"Sophia had an epic match," coach Horoshak said. "There were three tiebreakers to decide the match.
"Ava Neuman usually plays first doubles because that is where we need her," Horoshak continued. She played a super singles match at No. 2. Ava strengthens us no matter where she plays in the lineup."
The Eagles doubles teams swept Mound Westonka with all three points decided in straight sets.
Sophia Paul and Niyathi Bhupatiraju won 6-0, 6-1 at No. 1. Sravika Vadrevu and Lakshanya Selvakumar won 6-3, 6-2 at No. 2, and Sami Pomar and Zadie Walvatne prevailed 6-3, 6-3 at No. 3.
In another recent dual match, the Eagles played competitively in a 5-2 loss to Benilde-St. Margaret's.
Bhupatiraju had a No. 1 singles win over Caroline Braun 6-1, 7-5. Annika Anderson won her second single match over Clara Klassen 6-2, 6-1.
BSM won third and fourth singles with Emily Walsh defeating Katelyn Daravingas 6-2, 6-1 and CoCo Weber defeating Walvatne 6-2, 6-3.
Annika Olson and Emme Johnson of the Red Knights won first doubles 6-1, 6-3 over Neuman and Paul.
At second doubles, BSM's Olivia Gorton and Cassie Stidman won 6-2, 6-2 over Vadrevu and Selvakumar. The third doubles match was the closest of the afternoon with Maggie Graczyk and Sophia Salmon of the Red Knights edging the Eagles team of Salamekh and Pomar 7-6, 7-6.
The Eagles had their match against Wayzata called on account of darkness with the score tied 3-3. That left Eden Prairie 3-3-1 in Lake Conference matches with the Wayzata result pending.