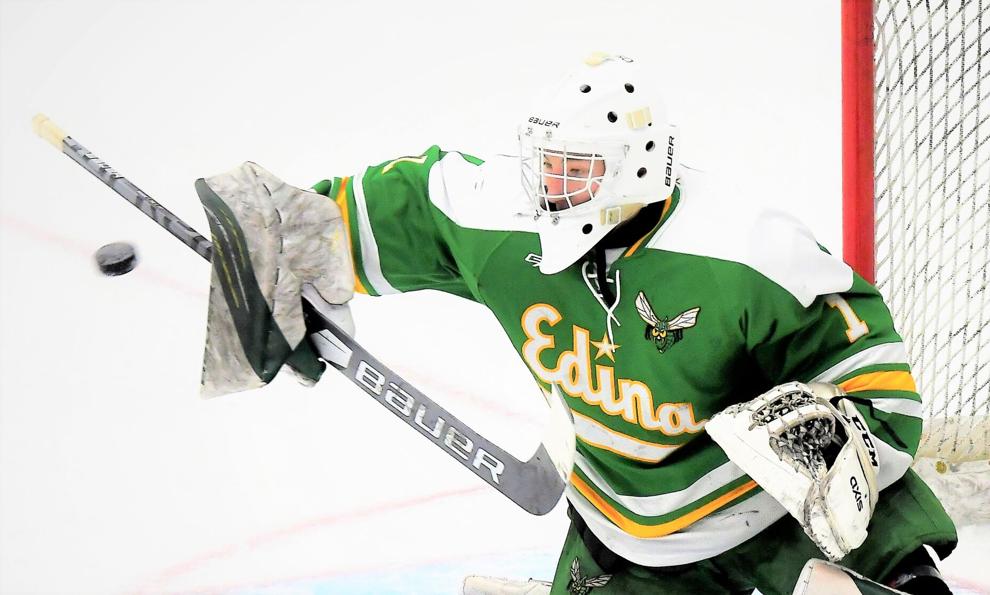 Young talented permeated Lake Conference boys hockey this winter, and case in point is the All-Lake team, which includes only 10 seniors among the 25 selections.
Nineteen of the 25 are from the four teams that shared the Lake Conference championship - Eden Prairie, Edina, Minnetonka and Wayzata. The remaining six all-conference representatives come from the bottom three schools in the standings - Buffalo, Hopkins and St. Michael-Albertville.
Talking about the four teams that shared the conference title, Edina head coach Curt Giles said, "We're all very even."
Eden Prairie didn't look like a Lake contender at the season's outset, with only four letterman returning from the 2021 state Class AA championship team. However, the Eagles' young talent developed in a hurry. "We had so many kids who had not played varsity before, but those kids are winners," Eden Prairie head coach Lee Smith said.
Overall season records for the conference champions are: Edina 22-9-0, Wayzata 17-9-1, Minnetonka 16-10-1 and Eden Prairie 15-12-0. Edina was the only Lake Conference team to qualify for the state tourney, and the Hornets brought home the consolation championship.
Edina: Senior defenseman Wyatt Wurst, senior forward Trey Fechko, junior forward Jimmy Clark and sophomore forward Jackson Nevers.
Minnetonka: Senior defenseman Nick Baer, junior defenseman Liam Hupka and sophomore forwards Gavin Garry, Javon Moore and Hagen Burrows.
Wayzata: Senior forward Drew Streeter, senior defensemen Reece Gardner and Cashen Naeve, junior goalie Will Ingemann and sophomore forward Luke Miller.
Eden Prairie: Senior forwards Ryan Luloff and Ryan Andor, junior defenseman Ryan Koering and sophomore forward Teddy Townsend.
Hopkins: Senior defenseman Finn Greeley.
St. Michael-Albertville: Junior goalie Austin Deitrich and junior forward Tyler Jordan.
Buffalo: Senior defenseman Laken Gunia, junior defenseman Grif Valli and sophomore goalie Max Varner.
Edina: Senior forward Willy Johnson, senior defenseman Henry Whittlef and sophomore defenseman Eddie Revenig.
Minnetonka: Senior forwards Reed Hanus and Wyatt Chartier and sophomore defenseman John Stout.
Wayzata: Senior forward John Mattson, senior defenseman Evan Johnson and sophomore forward Rhys Wallin.
Eden Prairie: Senior forwards Phil Feinberg and Tyler Johnson and senior defenseman Grant Daylor.
Hopkins: Senior forward Conor Junker, junior forward Louis DeGiulio and sophomore forward Cade De St. Hubert.
St. Michael-Albertville: Senior forward Karson Raymond, senior defenseman Alec Waller and junior forward Max Miller.
Buffalo: Senior forward Turner Marr and junior forwards Ryan Roethke and Jimmy Winter.