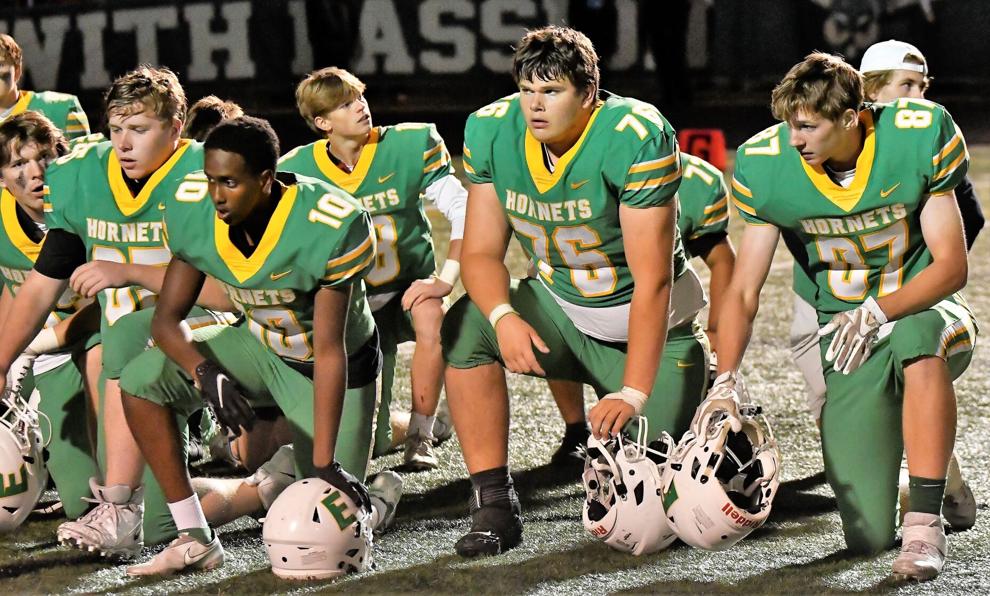 At Edina's homecoming football game in 2020, the crowd was limited to about 400 by COVID-19 restrictions.
What a difference a year makes, though. Friday, Sept. 24, 2021 was a huge night for Hornet football. Counting fans watching the game from the hills at Kuhlman Field, there had to be at least 6,000 on hand. Shakopee did its part, traveling well as they say, to fill up its side of the stands.
Shakopee also filled up the scoreboard in a 42-14 victory. Edina played well to open the game, however, by halftime Shakopee led 35-14. In the second half, Edina's defense stiffened and the only Shakopee touchdown came late in the fourth quarter.
After the game Edina head coach Jason Potts told the Hornets, "Be positive and hang together."
The Hornets are 0-4 at the halfway point of the regular season, but still have played well at times, especially in a 31-19 loss to a very good Rosemount team. Edina is on the small side on defense this year. The offensive line is large, but injuries to key veterans Henry Jarka and Sam Rudi cut into the O line's depth. Right tackle Gavin Falk, a 6-6, 290-pound senior is holding the line together as he works toward college scholarship offers.
Edina used both of its quarterbacks - senior Adam Berghult and junior Finn McElroy - in Friday night's loss. The Hornets had good offensive production from senior captain and running back Evan Deutsch and junior receiver Brady Anderson.
While the Hornets moved the ball well, they had five turnovers.
"We have had success scoring on long plays," Potts said. "But it's hard to win with a schedule like we're playing when you turn it over five times."
Shakopee's most impressive player Friday night, junior captain and running back Jadon Hellerud, gained more than 100 yards in the first half. "He is a tank," Potts said. "And he never slowed down."
The Hornets are back on their home turf at 7 p.m. Friday, Oct. 1, for a game against an explosive team from Farmington. Earlier this season, the Tigers gave Eden Prairie a fight to the finish before losing 37-29.
"Farmington has a shifty runner at quarterback," Potts said. "We can't let him run all over us."
Edina's running game should get better if Rudi, the standout guard, is available on the first. Deutsch isn't a big player physically, but he always runs hard. The same can be said for sophomore John Warpinski, who had several nice gains in a reserve role against Shakopee.
Potts talks about a football season as a journey, and the big picture is that the Hornet coach wants his team to be at its best for the playoffs. That happened last fall when Edina put it all together for a 28-0 playoff win over Osseo in the season finale.
In other games involving Lake Conference schools Friday, Sept. 24, Wayzata moved to 4-0 with a 34-10 win at Totino-Grace and Eden Prairie shut down Rosemount 13-3 to improve to 3-1. Also 3-1 is Minnetonka, a 22-6 winner at Champlin Park. Hopkins continued to struggle in its 45-7 homecoming loss to Park of Cottage Grove.