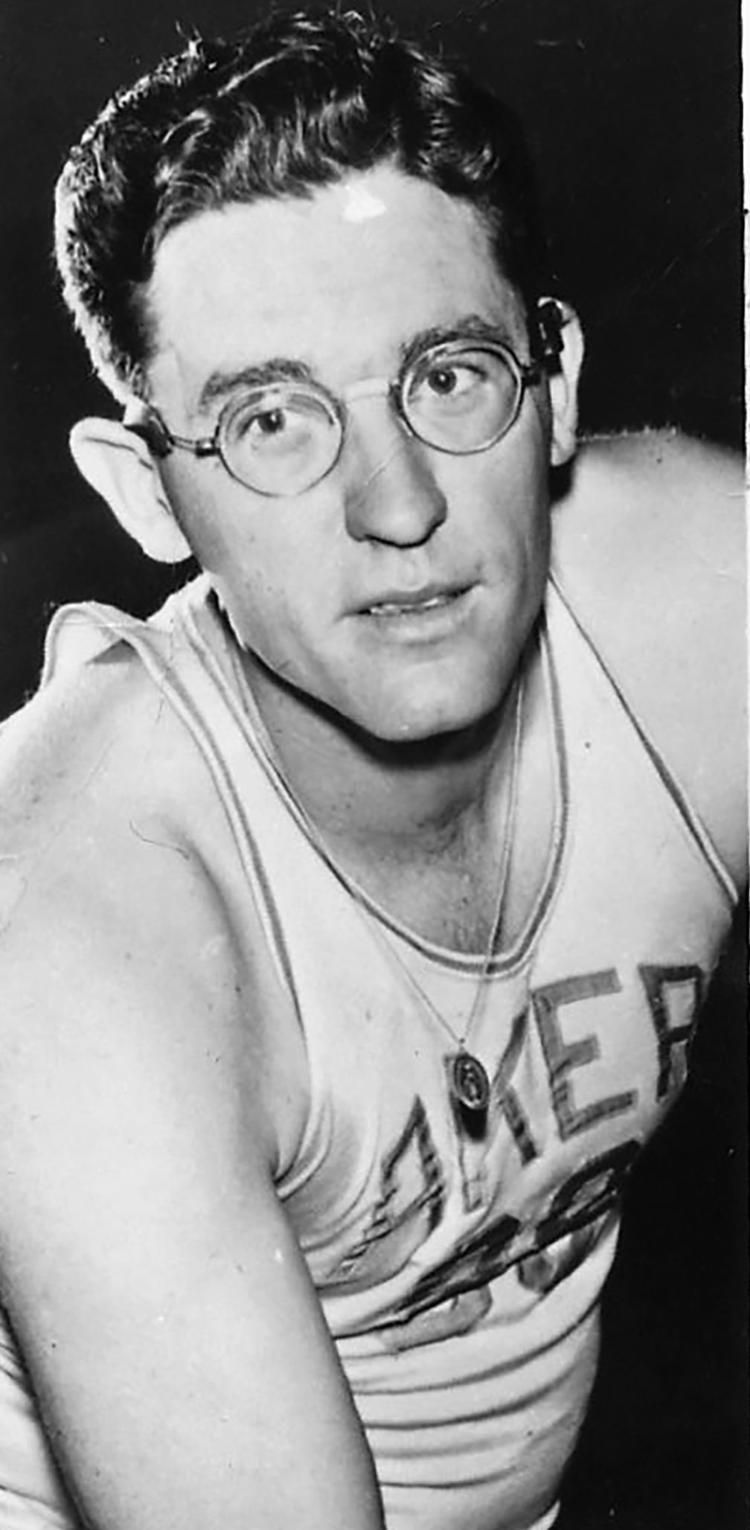 In the mid-1970s, when I was still relatively new at Sun Newspapers, publisher Carroll Crawford called me to the Southeast wing of the building for a conference.
"With the subscription drive coming up, we need a sports interview that will make a big splash," Mr. Crawford said. I reminded him that I had already interviewed someone fairly big - Minnesota Vikings quarterback Fran Tarkenton.
But now we needed an even bigger name.
"How about George Mikan?" the publisher said. His tone was more of a command than a question.
So I returned to my desk, knowing that I had to land the biggest interview of my fledgling career in sports journalism. I kept the notes from that interview all these years, and promised myself that I would tell Mikan's story again years later. With the coronavirus persisting and no live sports to write about, this is as good a time as any.
George Mikan was an icon, not only in the Twin Cities, but nationwide as well. The former Minneapolis Lakers center, who stood 6-10, towered over NBA competition, leading his team to five championships in six seasons (1949-54). He was named the best basketball player of the half-century in one poll.
I knew that Mikan lived in Edina and owned a travel agency in downtown Minneapolis, so I made a call to his office. After speaking with the receptionist, I was routed to Mikan's personal secretary, who was more courteous than helpful.
Three or four calls later, she said that I could meet Big George at his office a week from Thursday.
Only one problem when I showed up at George's office for the interview. The personal secretary had forgotten to put me on Mikan's calendar, so instead he was at lunch with somebody from the chamber of commerce.
I was able to reschedule the appointment for the next day, and finally had a chance to meet the Lakers legend. But unfortunately, he had a personal matter to deal with and couldn't meet. He told me to come back on Monday.
The old saying, "The third time's the charm," applied in this instance.
Mikan and I made our way down to street level to Duff's Bar and Restaurant for lunch.
As we walked to a table in the back, Big George greeted everyone by name - both employees and customers.
After we sat down and ordered beverages, Mikan asked, "So what kind of article is this going to be?"
"My publisher wants me to write about the No. 1 sports celebrity in the Twin Cities, and you came to mind," I told him. "There's nobody who has meant more to this town than you have."
Mikan gestured with his big right hand and called our server to the table. "Bring us two steak sandwiches," he said.
I began the interview by asking Mikan what it was like to be a celebrity.
"Well, it doesn't hurt my travel agency," he said. "I am asked all the time to give speeches, make appearances and show up at games. It is something I enjoy. Even though I am retired, people mention an old game almost every day. To tell you the truth, it helps keep me young."
Best of the Bigs
Mikan played in the NBA prior to the arrival of the best big men of the late 1950s and 1960s - Bill Russell and Wilt Chamberlain.
An obvious question was: How would you have fared against them?
"The question should be: How would they have fared against me?" Mikan answered. "Russell was a great leaper, but I would have fouled him most of the time. Chamberlain is a prolific scorer, but I would have been able to force him away from the basket and limit what he did inside."
Mikan said that, although the Boston Celtics had won more NBA titles than his Lakers, the Lakers were still the best.
"Vern Mikkelsen and Jim Pollard were great NBA players," Mikan said. "Playing with Vern was a great advantage in controlling the boards. Jim was a great athlete, and of course, guards didn't come any better than my teammate, Slater Martin."
Another of Mikan's teammates with the Lakers, Bud Grant, went on to coach the Minnesota Vikings to four Super Bowl appearances.
Awkward Beginning
One question I wanted to ask Mikan was: At what point did you realize you were a great basketball player?
Big George scratched his ear and said, "I was cut from the freshman team in high school [at Joliet Catholic in Illinois], mainly because I wore glasses, and the coach didn't think anyone with glasses could play."
Mikan eventually proved the coach wrong and was recruited to play for coach Ray Meyer at DePaul University in Chicago.
It was Meyer who changed Mikan's life?
"He worked hours and hours with me on my footwork," Mikan said. One result was "The Mikan Drill," which is still used by youth and high school coaches to this day. It involves moving from side to side under the hoop and banking in short shots off the backboard. That is how Big George perfected the hook shot that made him the NBA's top scoring threat in the early 1950s.
I asked George if it was true that coach Meyer made him dance with the shortest girl at one school dance.
"I danced with all of them!" Mikan roared. "Ray watched me like hawk, and a lot of the girls were short. He figured that would help my footwork."
Family Pride
Mikan was commissioner of the American Basketball Association and put his stamp on the league by introducing the red, white and blue ball and the three-point shot, when the league debuted in the late 1960s.
When he wasn't flying to places like Oakland, Dallas, New Jersey and Denver to watch ABA games, he could be found at Benilde High School or the University of Minnesota, watching his sons play. Larry starred for the Gophers, and Terry was also a Gopher. Larry played one season with the Los Angeles Lakers, averaging 3 points per game.
"Watching my sons play was special," Big George said. "I never put pressure on them to be like me or match what I did. But it is very important to support them, even now when they have graduated from college. I sure am proud of my boys."
Sports Celebrity
George Mikan was once called "The Michael Jordan of his era," and that seems to be a fair comparison.
The famous message outside Madison Square Garden in New York City read: "Tonight: Geo Mikan vs. Knicks."
Mikan died from complications related to diabetes at the age of 80 on June 1, 2005 in Scottsdale, Arizona.
Gone but not forgotten, a statue of the Lakers great stands outside Target Center, home of the Minnesota Timberwolves.
Picking Up the Check
I was so pleased to have lunch with George Mikan that I picked up the check at Duff's for $18.40.
As was the policy at Sun Newspapers in those days, I put that item on my expense account along with three parking stubs for my trips downtown.
The late Ken Wisneski, my executive editor, yelled at me from across the newsroom and motioned me to his office.
I thought maybe he'd say, "Nice job on the Mikan story."
Instead, he told me, "Next time you have lunch with a millionaire, let him pick up the tab."
Follow the Sun sports writers on Twitter @MNSunSports and on Facebook at facebook.com/SunSportsStaff.