Edina leaders are trying to prove their dedication to affordable housing.
Their latest effort in that spirit came during a Nov. 29 Edina Housing and Redevelopment Authority meeting, when the HRA voted unanimously to draft a purchase agreement for the former Flyte Tyme recording studio at 4100 W. 76th St., the site where affordable housing developer Aeon plans to build 80 apartment units. Under the prospective purchase agreement, the city would pay the property owner, Twin Cities Land Bank, $2.9 million for the site, a move that would save Aeon about $350,000 in interest payments, according to a staff report prepared for the HRA.
In 2015, the city began requiring developers to include affordable housing in projects that require land-use exceptions. There has nevertheless been skepticism among affordable housing advocates who question Edina's commitment to the cause, City Manager Scott Neal said.
"But, we've been convincing them slowly but surely that we are serious about it," Neal said. " … And this would be another action that we could show that we are serious about that."
The city has already dedicated to the project $2.4 million from its Southdale 2 Tax Increment Financing Fund, money that has accumulated from a special arrangement predicated on redevelopment and the subsequent increasing land values in Edina's Southdale District. If the land purchase goes through, the city would hold the property for two years, at which point Aeon is expected to be ready to acquire it.
In May, Aeon signed a purchase agreement with MRI Holdings, LLC, to acquire the former recording studio, which is now vacant. However, the agreement included a stipulation that the sale would have to be completed by Oct. 30 or otherwise become null and void. With Aeon not prepared to make the purchase by that time, Twin Cities Land Bank bought the property instead and agreed to hold it for the nonprofit developer while charging 6.5 percent interest.
In commercial real estate, purchase agreements typically last two to three years, but landowners aren't so patient in Edina, according to Stephanie Hawkinson, the city's affordable housing development manager.
Demand and prices are so high, she explained, "that sellers tend to not want to wait around for three years until they actually get rid of their property and get the financing from that." Developers of affordable housing like Aeon typically take two to three years to get their financing in order, Hawkinson further explained.
The proposed terms of the purchase agreement stipulate that when Aeon ultimately acquires the property, it would pay the city $500,000 – the difference between the city's $2.4 million commitment and the $2.9 million purchase price – plus associated costs. The earliest Aeon could buy the property from the city would be spring 2020, according to the staff member report.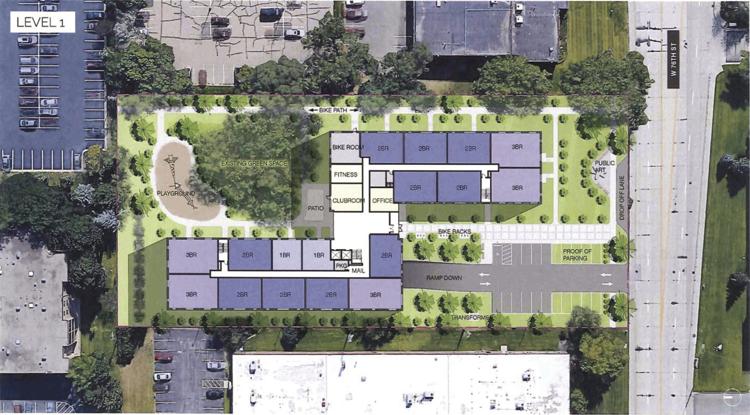 Most of the HRA was enthusiastic about the city's potential land purchase.
In addition to helping Edina reach its affordable housing goals, the deal would save Aeon money, which would trickle down to the tenants, said Mike Fischer, who, like the rest of the HRA members, is also on the Edina City Council.
"Every dollar we can save means a less expensive unit for someone in the future," Fischer said.
"For us to be nimble enough and willing enough to be a partner in this is a big deal," HRA Member Mary Brindle said. "This doesn't come along every day. I think it's a great opportunity."
HRA Member Kevin Staunton weighed in, "I think this is a great example of how we can be creative in plugging in and closing this gap and making affordable housing possible."
Although he ultimately voted to draft the purchase agreement with Aeon, HRA Member Bob Stewart
demonstrated hesitance to acquire the property. "We are extending the city's risk, it seems to me, pretty significantly, by doing this type of thing," he said.
Stewart opposes the city owning land that isn't for parks or other municipal uses. "As a matter of principle, I'm very much against the idea of the city having these derelict properties," he said, arguing they amount to underutilized resources.
"Now, should this be an exception because this is for affordable housing? Maybe," Stewart continued. "I believe that affordable housing is a really vitally important issue."
Fischer was less worried about the prospect of the city holding commercial property. "If the biggest risk we're taking is to own a piece of property in Edina, Minnesota, then I'll take that risk all day long," he said. If the Aeon deal falls through, the land will appreciate in value, he added, "and we'll sell it and everyone will be fine."
Like Neal, Fischer believes the move to aid Aeon will help alleviate skepticism among those questioning whether the city is taking substantive steps to create affordable housing.
"One of the unintended benefits of this, I think here, is that we're actually doing something," Fischer said.
In purchasing the land, the city would lose interest that would otherwise accrue if the money continued to sit in the Southdale 2 TIF Fund. At a rate of about 2 percent, the lost interest amounts to $56,000 per year, according to Hawkinson.
Mayor Jim Hovland wants to leave open the possibility for the city to recapture that money. When Aeon buys the property from the city, "then we can decide," Hovland said, "are we going to recapture it if they have enough funding available, or are we going to make the financial commitment to go the extra mile to make sure this project works?"