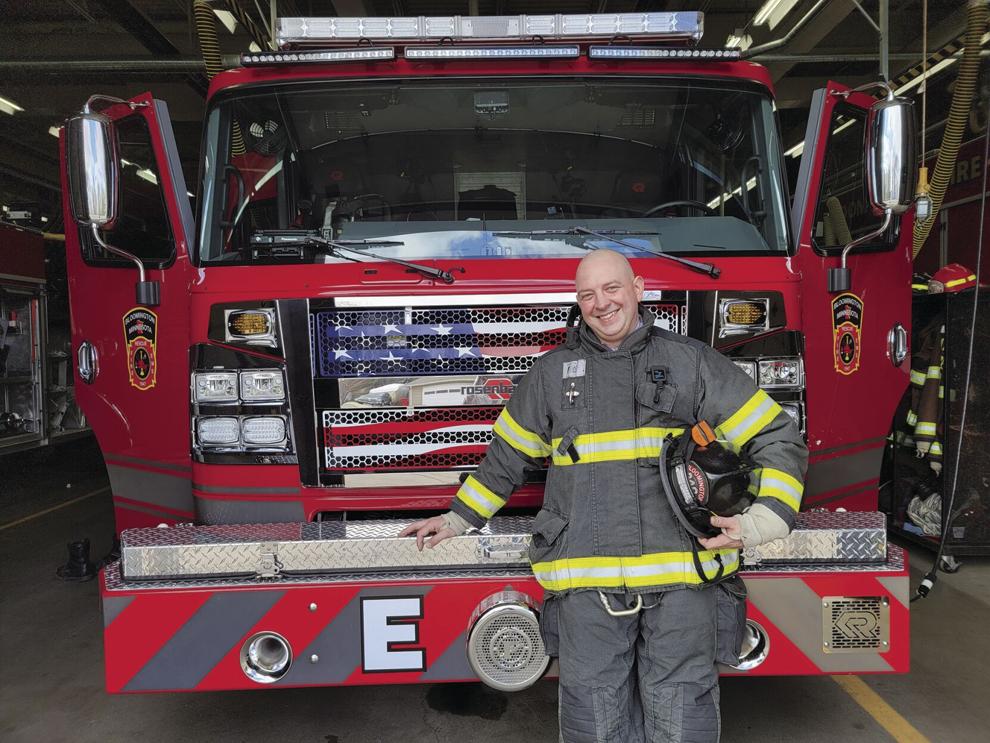 When you spend your childhood hanging out at a fire station, the call of duty comes naturally.
For Joe Meuwissen, Jr., answering that call of duty also meant following in his father's footsteps. He made many visits to the fire station with his father, dating back to when he was 7 years old. "That's all I wanted to do is be a firefighter," he said.
His father spent 20 years as a member of the Bloomington Fire Department and won its 2005 Firefighter of the Year award, retiring a couple of years later. But not before the father-and-son duo spent about a year together as firefighters before the elder Meuwissen retired, his son recalled.
And now, like his father, Meuwissen, Jr., has been named the department's firefighter of the year for 2020.
Nearing 15 years as a firefighter, Meuwissen works out of Station 2, and often makes time for a variety of responsibilities above the standard training and drills all firefighters participate in.
The nomination from his station leaders noted that he is "a natural born leader and is not afraid to help and show others what he has learned along the way. Joe is extremely knowledgeable, you can often find him mentoring rookies on the right way to do things."
Meuwissen often serves on the department's duty crew, a group that works on department projects during weekdays, and is available to answer an emergency call at a time many volunteers are unavailable to respond.
His availability for the duty crew is somewhat limited, despite the fact he's not working full time right now. As a member of the Army Reserve, Meuwissen is likewise logging additional time beyond his weekends and occasional training weeks that are part of the standard Army Reserve schedule, he explained.
Meuwissen considered joining the Army when he graduated high school, but opted instead to go to college. He returned home to Bloomington after college and soon joined the Fire Department. The thought of joining the military still gnawed at him, however, even after he turned 30. He eventually joined the Army Reserve. Now 39, Meuwissen has seven years of military service to his credit, he said.
With this varied Fire Department and Army Reserve duties, Meuwissen made time to be a part of the Fire Department's inaugural drone team.
The Fire Department has multiple drones, available to assist with search-and-rescue efforts, particularly in wooded areas along the river valley, through thermal imaging cameras within the drones. The Fire Department is also available to assist with surveillance efforts of the Bloomington Police Department, according to Meuwissen.
Operating a drone in an official capacity required extensive training, and not just for piloting of an unmanned aircraft. The Fire Department's drones are high-tech devices, and capable of traveling significant distances. In order to navigate them, pilots need an FAA license, which requires knowledge of a variety of rules and regulations pertaining to drone operation. Bloomington's proximity to Minneapolis-St. Paul International and Flying Cloud airports necessitate compliance with FAA restrictions, and drone pilots need to be aware of those, Meuwissen explained.
Meuwissen was not a pilot when he began studying for an FAA license. In learning how to read FAA maps and understand the rules and regulations, "You're learning to speak a different language," he said.
Five firefighters and two police officers worked together to obtain the first licenses for drone operation by the city's fire and police departments, he noted.
The annual award is typically presented during a winter banquet, but that was not held this past winter due to the pandemic. A video announcing the department's award recipients was instead produced, and Meuwissen watched it, not knowing he was receiving the 2020 award, he explained.
With a little more than five years until he hits the 20-year mark with the Fire Department, and is eligible for its pension, Meuwissen is considering paramedic training and a possible new career, he noted.
Until that retirement comes, he'll likely be called upon to assist with a variety of Fire Department tasks, if his station's nomination is any indication. "If you need a hand with anything last minute, call Joe, he will most likely volunteer himself to lend a hand," his station's leaders wrote.
"Joe has definitely earned the title of Firefighter of the Year."
Follow Bloomington community editor Mike Hanks on Twitter at @suncurrent and on Facebook at suncurrentcentral.