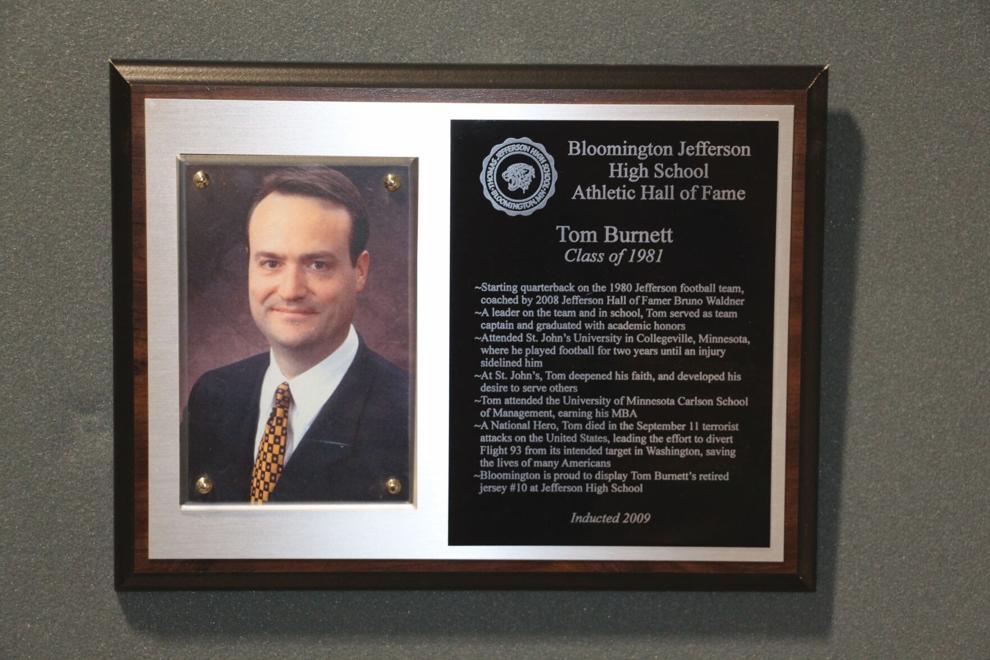 The story behind the hijacking of United Airlines Flight 93 is well known, and has been recounted many times in remembering the events of Sept. 11, 2001.
As the country pauses annually to remember the victims of terrorist attacks on U.S. soil, the Bloomington Historical Society helps keep alive the memory of a Bloomington graduate who was on board the United Airlines flight the morning its passengers intervened and prevented terrorists from using it as another weapon.
Tom Burnett Jr. was 38 years old and a senior vice president and chief operating officer for Thoratec, a California-based medical device company. He was among 37 passengers, including four hijackers, on board the flight that morning. Phone calls from the passengers to their family members and cockpit recordings helped reconstruct the moments before and after several passengers forced their way into the cockpit of the hijacked plane, crashing it into a Pennsylvania field. The hijackers were believed to be targeting Washington, D.C.
Burnett was among the passengers who stormed the cockpit and prevented Flight 93 from following in the path of airplanes that struck the World Trade Center towers in New York City and the Pentagon in Washington.
Burnett was a Bloomington Jefferson High School graduate who is remembered as a quarterback of the football team. He and his wife Deena had three daughters and lived in California at the time of his death. His parents, Beverly and Tom Sr., lived in Bloomington in 2001.
The outpouring of sympathy, and honors for Burnett's role in thwarting a fourth terrorist attack, poured in during the months and years that followed Sept. 11. His parents held onto everything they received in honor of their son, and for the past several years, a portion of those mementos have been on display at the historical society's museum. Other memorabilia finds its way into the historical society's display case at Bloomington Civic Plaza prior to the Sept. 11 anniversary, according to Jean Bellefeuille, a curator for the Bloomington Historical Society.
The Burnett collection features many things that parents keep from their children's childhood, such as school photos, awards and mementos commemorating high school achievements. The collection grew profoundly following Burnett's death, as grade-school children from Bloomington made condolence cards for the parents, cards his parents held onto, Bellefeuille said.
Letters of condolence came from elected officials, as well. Letters from Pres. George H.W. Bush, U.S. Sen. Paul Wellstone and U.S. Rep Jim Ramstad were among many that the family received, Bellefeuille noted.
Local organizations honored Burnett in the years that followed his death, and any sort of recognition he received remained with his parents, as well. Much of the recognition was local, but one of the more unusual pieces Burnett's parents received was the Arthur Ashe Courage Award, presented in memory of Burnett and three other passengers on Flight 93, all of whom had a sports background. The award is part of the ESPY Awards, a sports-oriented award ceremony conducted by cable sports channel ESPN each year.
Burnett's Arthur Ash Courage Award is now on display at the historical society's museum, along with other mementos Burnett's parents donated to state and local historical organizations several years ago, according to Bellefeuille.
His parents received gifts in memory of their son, including a quilt made by a group in Iowa, and other artistic expressions honoring Burnett's life. The museum does not have space to display all of them, so portions of the collection are removed from storage to help create the Civic Plaza display, Bellefeuille said.
The historical society also stores many newspapers the Burnett parents collected regarding their son and Flight 93. Those newspapers don't see the light of day very often, but Bellefeuille anticipates that years down the road, as new generations look to document the stories of Sept. 11, they'll turn to the historical society for information about Burnett, where the stack of newspapers and other documentation about Flight 93 will reveal forgotten details documented in the weeks and months after Sept. 11.
Some of those stories are simply printouts of internet stories about Burnett and Flight 93. Although some of them may be archived online in perpetuity, some of them will inevitably be lost when a website's archives are no longer maintained, Bellefeuille explained.
Bellefeuille has organized many of the artifacts in the collection, including sympathy cards created by local schoolchildren. A binder of cards is organized alphabetically by the child's first name, as many did not include their last name on the card. Second-graders who created a sympathy card 20 years ago may very well find it in the museum's collection today, according to Bellefeuille. "It's quite likely we have it," she said.
The museum's display is modest in comparison to the collection the historical society received, due in part to limited display space for its vast array of items from Bloomington's history. Bellefeuille noted Burnett is a local connection to a day in history that she looks at similarly to how her father viewed the attack on Pearl Harbor during World War II. It was a defining moment where everybody was affected one way or another, bringing pause to everyone, she explained.
She reflected upon how the attacks of Sept. 11 had an immediate impact on life in Bloomington, where residents are accustomed to hearing the various background noises associated with Minneapolis-St. Paul International Airport. Children growing up on Bloomington's east side would learn to identify airplanes by their tail markings, and pause telephone conversations as planes fly over their house, she recalled.
Following the Sept. 11 attacks, there was an ominous silence over Bloomington due to all flights being grounded that morning. The silent skies over Bloomington were strange, creating a feeling of uneasiness. That silence was broken up by military fighter jets patrolling the airspace around the airport for the next three days, she explained.
"And for 20 years now, when I see an airplane in the sky, I say a silent prayer for the safety of those travelers, remembering that on Sept. 11 there were people just like them who never made it home."
The Civic Plaza display case will feature Burnett mementos through the remainder of the month. The museum is at 10200 Penn Ave., and is open 1-5 p.m. Saturday, Sept. 11.
Follow Bloomington community editor Mike Hanks on Twitter at @suncurrent and on Facebook at suncurrentcentral.