They're still on the road, and they're still loving it.
Husband-and-wife Chris Rea and Erin Dietrich set off to walk across the United States in early March, beginning in Cape Henlopen, Delaware, and heading west to Limantour Beach, California, outside of San Francisco. They were in Utah last week, and estimate they are within two months of reaching the west coast. The final weeks and miles of their trip may be the most challenging yet.
Mountainous regions and desert heat have greeted them in recent weeks, and they had yet to traverse Nevada and California as the Labor Day weekend approached. Their itinerary was set so that they would hike through the Sierra Nevada mountain range at Donner Pass by the end of this month in an effort to avoid mountain snow storms. Their hike through Nevada and California may pose a new challenge in their quest to reach the Pacific Ocean: Wildfires.
Fires in the Lake Tahoe area at the border of the two states may present an unexpected obstruction in their quest, Rea said.
The walk was originally projected to take nearly 3,300 miles to complete. The latest projection has it at approximately 3,600 miles. The additional miles have come mostly out of necessity, due to road closures or decisions to avoid tough climbs through mountainous regions that were originally on the itinerary. Sightseeing and meals provide little incentive for a detour, Rea explained.
With weeks left to go, has it been worth all the challenges and obstacles? "This is so much fun," Dietrich said. "We have no regrets."
Their journey is the fulfillment of a longtime dream Dietrich has had. Through research and consultation with those who have completed similar quests, the couple had reasonable expectations of how their day-to-day life would unfold. But they've had to adapt to the reality of life on the road, and have been met with pleasant surprises along the way.
The hike began as a trio. Dietrich's mother, Linnea, had committed to joining the couple for the first 30 days of the journey. She stuck with it for two months, but not without having to make a major adjustment, as well.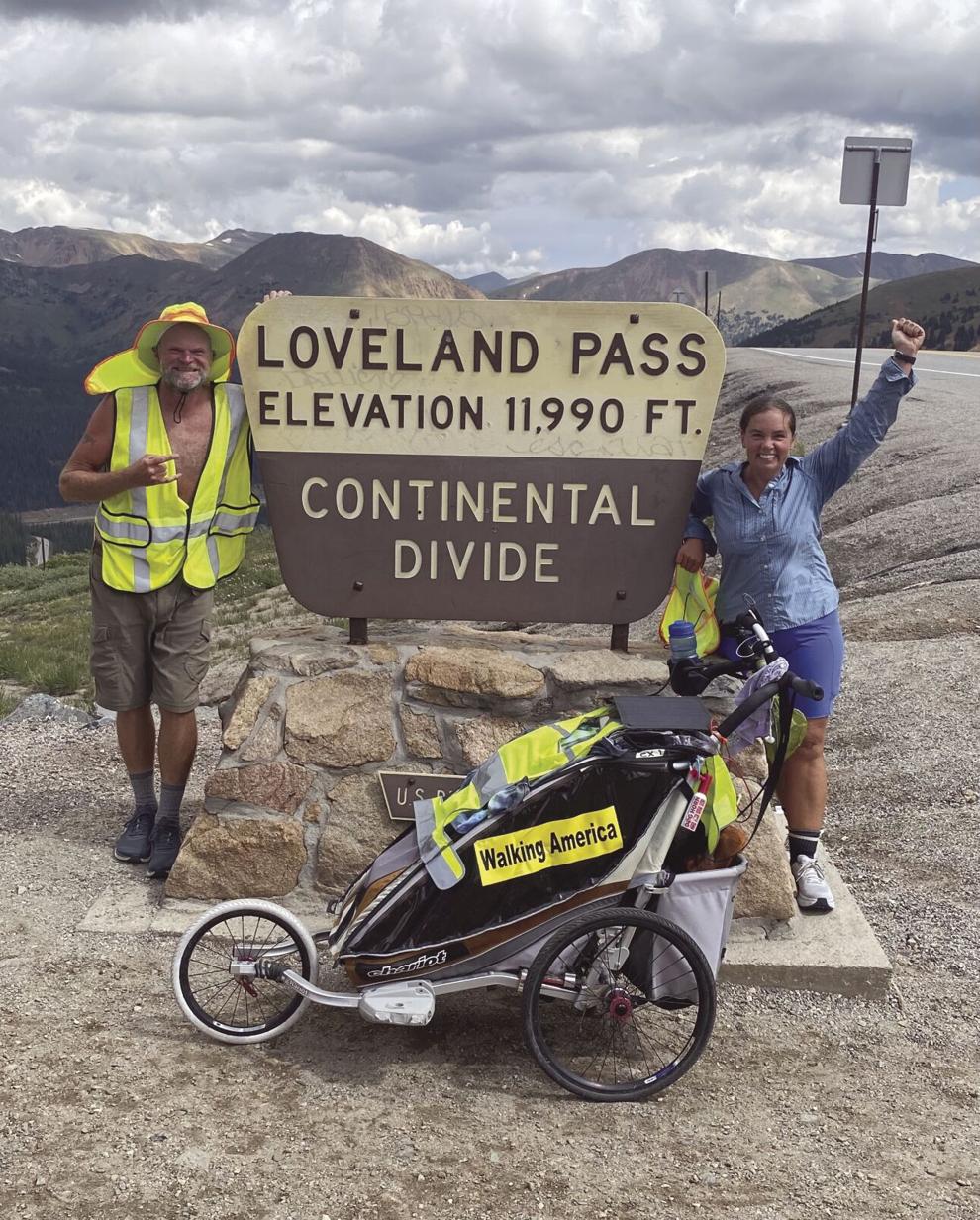 Unlike her daughter and son-in-law, who use modified baby strollers to push their gear from one stop to the next, Linnea Dietrich planned to pull her gear in a cart that attached around her waist. The weight of her gear proved to be problematic, and within days she purchased a similar stroller to push her supplies, according to Erin.
Their gear includes tents. Even if their budget allowed for staying in motels every night, many of their overnight stops are devoid of such access. Instead, they set up tents wherever practical.
Linnea took responsibility for determining where the group would camp, often asking for help from area residents in finding a place they could safely set up their tents for a night. When she left the hike in Cincinnati, Rea assumed the responsibility, as knowing where he would be sleeping was important to him, he explained.
Erin doesn't worry much about where they'll set up their tents when the time comes. "It doesn't stress me out," she said. Rea, however, isn't fond of trying to find a secluded area where they can rogue camp for a night. And he likes to have an idea of where they'll spend the night before they arrive at their next destination. He is typically networking ahead of their arrival, asking the people they meet at their current stop for referrals or recommendations about their next westward destination, and that has been highly successful in coordinating a location prior to their arrival, he explained.
They had budgeted for motel stays approximately once every 10 days, and they've been doing so about once every five days, Erin said. Through donations from both friends and strangers, they've had beds more often than anticipated, she added.
And the generosity of the people they meet has resulted in plenty of complimentary meals, as well, she noted.
They're currently in a stretch where tents are very important. As the duo travels across Utah and Nevada, there aren't many towns, or lawns, to set up camp at. Surrounded by federal lands managed by the Bureau of Land Management, they're free to set up camp wherever looks good at the end of the day, but they also have to plan ahead to ensure they have adequate food and water during long stretches without access to convenience or grocery stores, Erin said.
Friends have stashed water and other supplies at points along their path of travel, providing GPS coordinates for the duo to locate the bounty. It will be like a treasure hunt, according to Erin. They have to hope, however, that wildlife hasn't disturbed the loot, she noted.
The road is filled with adventures, as are its ditches.
As they walk, Rea is always scouring the roadside for discarded objects. And he has found plenty of them. He calls it ditch surfing. "I look forward to it every day," he said.
From clothing to hand tools, he discovers a variety of odds and ends. Credit cards, checkbooks, license plates, stuffed animals and forks and spoons, lots of forks and spoons, wind up in the ditches of America, according to Rea. And occasionally he finds currency, and not always U.S. currency.
They've passed many scenic, historic and odd sights, and stop to admire them as time permits. They hadn't planned to attend Major League Baseball games, but they have managed to catch three during their trip.
Their first game was in late May in St. Louis. Two weeks later they made it to Kansas City in time to see a Minnesota Twins game. They had to log extra miles to get there in time, but deemed it was worth the effort to try and make it. They reached Denver in mid-July, where they were able to attend a Colorado Rockies game.
With their wrapping up the hike near San Francisco in mid-October, when the San Francisco Giants will likely be in the MLB playoffs, is there a fourth game in their future? "I would love to do it," Rea said. He realizes, however, that the cost of playoff baseball tickets will likely rule out the idea.
Major cities provide plenty of motel opportunities, as well as access to groceries, but trying to navigate through busy metropolitan areas has been their least enjoyable portion of the trip. They're treated as more of a nuisance by those trying to navigate around them when there's no sidewalk or trail to use. "It's very obvious that we're an annoyance," Rea said.
From the strangers who have bought breakfast for the hikers passing through town to the motorcyclist who pulled up, gave them two gallons of water and drove off, the kindness they encounter on the road from day to day is what Erin appreciates most about her trek across the country.
She thinks that the generosity of those they meet on the road is their way of sharing in the adventure in a small way. "It's just fun to be a part of the team for a day," she surmised.
"This country is full of good people," Rea said.
While she considers herself a kind person, Erin expects they will be more intentional in their lives and how they interact with strangers and people in need when they return to Minnesota, she said.
That return to Minnesota will include Linnea. She will be rejoining her daughter and son-in-law for the final weeks of the hike. Instead of flying home, they may buy a van and drive back to Minnesota, taking time to stop at their favorite roadside cafés from the hike to California and driving over the mountain passes they pushed their strollers up and over. They'll sell the van when they get back, as they have no long-term need for it, but it would be the most economical way to make the slow return trip to Minnesota, Erin explained.
They've lived without the comforts of home for more than six months. Rea expected that he'd miss the obvious things, such as the comfort of his own bed and access to flushing toilets occasionally. He was surprised by the creature comfort he misses most, ice cubes. Hauling water across desert landscapes means drinking water that is as warm as the air around them, he explained.
"Ice, for me, is definitely number one," he said. "I never saw it coming."
Linnea provides updates and photos from the road for her daughter and son-in-law, and posts them on the Minnesota Crossers Facebook page at facebook.com/MNcrossers.
Follow Bloomington community editor Mike Hanks on Twitter at @suncurrent and on Facebook at suncurrentcentral.