Elementary school teachers receive $280 each for classroom supplies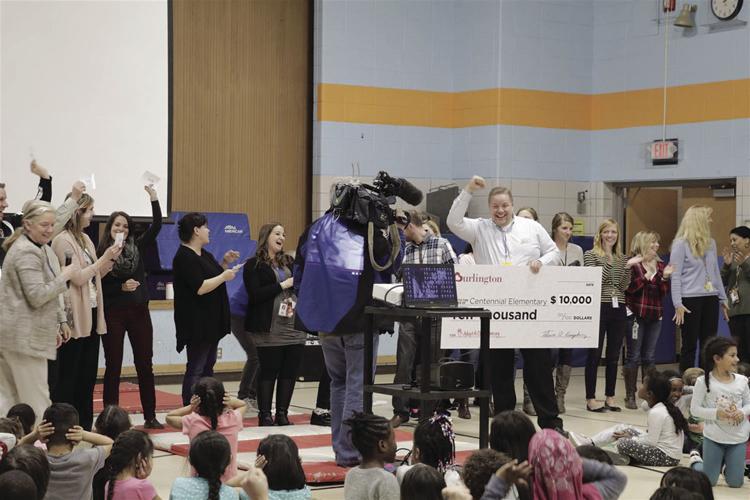 Students of Centennial Elementary School gathered in the gym for a surprise from representatives of the new Richfield Burlington Coat Factory store set to open March 23.
Burlington Coat Factory store managers, in coordination with Adopt-a-Classroom, presented $10,000 to teachers of Centennial Elementary for classroom supplies and teaching necessities March 13.
Assistant Account Manager for Adopt a Classroom Sarah Fowler said whenever Burlington opens a new store, they present a donation to a school in the community where the store will be located.
"Once we settled on Centennial, we got in touch with the superintendent," Fowler said. "[Adopt a Classroom] organizes the event, and Burlington gives the donation. We've been with Burlington for about a year and a half and in that time, they've held about 70 events."
Fowler said Burlington is passionate about giving back to education.
"Teachers spend nearly $600 per year on average out of their own paychecks for their classroom," Fowler said. "It's kind of staggering. Teachers are so dedicated and passionate about their profession. Until I joined Adopt a Classroom, I had no idea that some teachers walk into an empty classroom at the beginning of the year with no supplies."
Centennial Elementary School Principal LeeAnn Wise said the school has received donations before for supplies, and this will help the teachers immensely.
"We've been working with Adopt a Classroom, and this donation will allow teachers to go onto their website and purchase supplies," Wise said. "The supplies teachers ask for are typically directly used by the student, like folders and classroom libraries. So many of our teachers have bought supplies with their own money."
About 91 percent of K-12 teachers purchase supplies for their classroom, with more than 20 percent spending nearly $1,000 annually for supplies. Through a point-of-sale campaign in store and donation from sales, Burlington raised nearly $1.5 million for teachers in 2016 and 2017.
Adopt a Classroom has an online marketplace for teachers to shop from with more than 30 vendors, including Best Buy, Office Depot and other stores. Each teacher will receive a portal and login to purchase their supplies. Each teacher at Centennial will receive about $280 to purchase supplies. 
Centennial Elementary School posted to its website a big thank you to Burlington and Adopt a Classroom.
"We are overwhelmed by your generosity of this $10,000 donation to help further our student's education," the website stated. "The money was given at a Centennial assembly and goes straight to teachers to spend to support our students!"
---