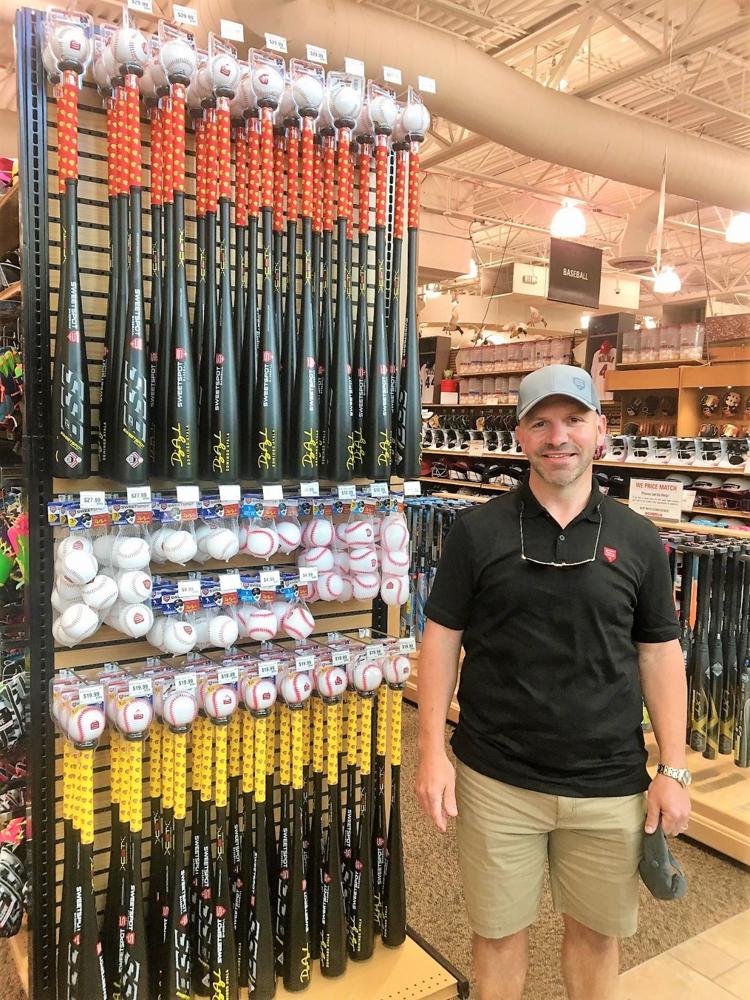 Backyard baseball is taking a step toward the future at the same time that kids in the Twin Cities' west metro suburbs are longing for outdoor sports.
Following their confinement to home, due to the coronavirus pandemic, youth are anxious to play outdoors, whether it's at the park or in their backyard. Minnetonka entrepreneur Jim van Bergen and his partner, Dave Soderquist, have introduced a line of baseball products that take plastic bat-and-ball baseball into a new decade.
The partners developed Sweetspot Baseball. Rules are not set in stone because no field (or backyard) will be the same. The new game features a 1.5 oz. baseball for older players and a 1 oz. baseball for juniors. The bat is heavier than any of the plastic models from past decades, van Bergen noted.
"With Sweetspot, players can keep active, and even the little kids can experience success," van Bergen said.
Launching a new line of products is never easy, and that is the case with Sweetspot. Established plastic bat-and-ball manufacturers are challenging the product line, but van Bergen is undeterred. "I take it as a badge of honor," he said.
The bat and ball van Bergen has developed won't break in half.
"The bat feels more like a real baseball bat," he said. "And the baseball is hand-stitched."
One of the challenges of any new product line is getting it into retail stores. With more than 30 years experience in the sporting goods industry, Soderquist was helpful in that regard.
"We already have Sweetspot in 450 stores in the Midwest and Canada," van Bergen said. "Scheel's was our first customer. We are in Sport Chek in Canada, Dick's Sporting Goods and Big 5, a chain based in California. Getting our products into the stores was the biggest challenge."
The bat-and-ball set is available online at sweetspotbaseball.com., priced at $29.99 for senior players and $19.99 for juniors.
Explaining the price structure, van Bergen said, "We wanted to up the game with a premium product."
The Sweetspot baseball - which is called a Spaceball - can be made to curve or sink, due to its seams, so pitching becomes an added element of skill.
Reaction to the product surfaced quickly.
"People are sending pictures and videos of their ballgames," van Bergen noted.
How far will the ball travel when struck well by a high school player? "As far as 150 feet," van Bergen said.
For young kids, Sweetspot is a way to introduce them to baseball without the threat or being struck by a hardball. "You get hit by anything, it can hurt," van Bergen said. "But the balls we make are lightweight."
The Sweetspot bat-and-ball set is ideal for Home Run Derby, a game you don't need full teams to play. There are no set guidelines for how fat apart bases should be set, but van Bergen and Soderquist may look at field dimensions and rules as the game develops.
As an entrepreneur, van Bergen realizes that with baseball, he is only reaching half of his potential market. Therefore, he is working on a softball version of Sweetspot that he hopes to have in stores by fall or at the latest for the Christmas season. A lightweight, 11-inch softball will be used.
"Essentially, our goal was to develop a product that felt and looked more like a real baseball bat," van Bergen said. "And we wanted it to be more durable than the plastic bats of the past. Once you pick up one of our bats, it tells its own story.
Sweetspot Baseball is a game that's a hit with fathers and sons, mothers and daughters and, of course siblings. Anyone can play, anyone can be a hitter.
"Everybody loves home runs," van Bergen observed. "And these balls fly."
Follow the Sun sports writers on Twitter @MNSunSports and on Facebook at facebook.com/SunSportsStaff.