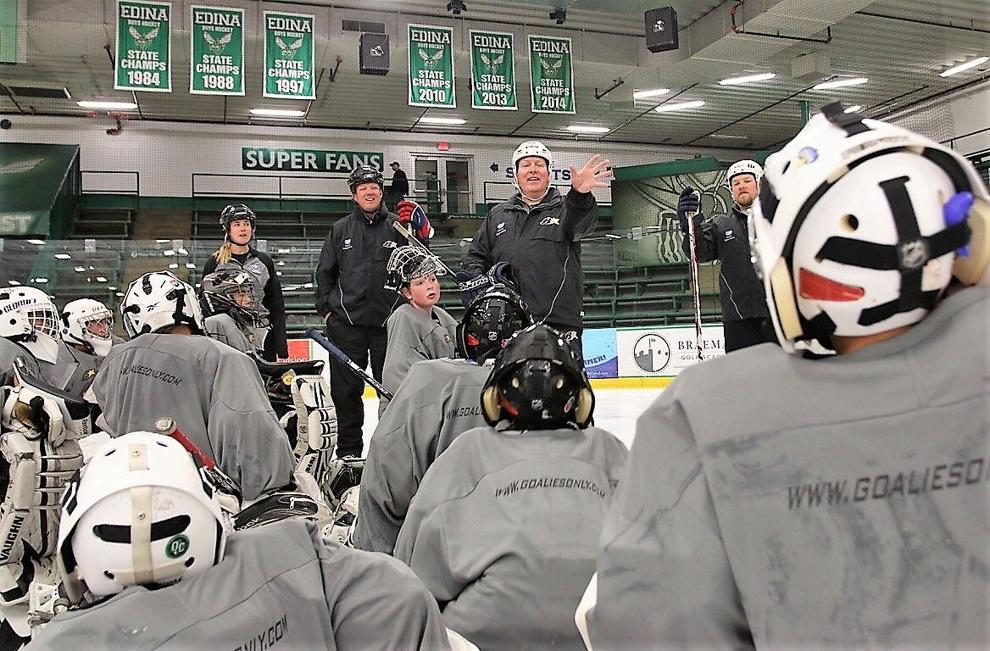 Steve Carroll, who became a hockey goalie through a chance meeting with a youth coach in the summer of 1971, has coached thousands of goalies in camps and private lessons the last 26 years.
In recognition of his coaching and teaching skills, Carroll will receive the Ted Brill Award for 2020.
The Ted Brill Award is named after a coaching legend in high school and youth hockey. "I am very humbled to receive this award," Carroll said. "As a coach, Ted was way ahead of his time in terms of player development. He coached because he loved it and was a very influential visionary in Minnesota hockey."
Carroll, who played goalie for Edina-East High's state runner-up team in 1977 and went on to win an NCAA Division II championship with Mankato State three years later, talked about the quirk of fate that would lead to many opportunities and awards, which included being named Mankato State's Athlete of the Century in 1999.
"I was playing in a street hockey game with some of my buddies at the old Braemar Pavilion," he said, recalling a chance meeting with youth hockey coach John Sweetland in 1971. "John asked me if I would like to try out of the Edina Pee Wee A team, and I said I'd give it a shot."
Carroll helped in Edina youth hockey and was also active in the town where he has raised a family, Richfield. His wife Val is the daughter of former Richfield High football coach Dick Walker.
Flashing back to his time as a fledgling goalie, Carroll helped Edina win the State Pee Wee A Tournament at the Met Center in Bloomington. "I couldn't believe how big that rink was," Carroll said. "We beat Roseville, and highlights of the game were on the 10 o'clock news."
Carroll's next stop lasted two seasons with the Edina Bantam A team, and then as a high school sophomore, he made varsity and earned the first of his three hockey letters.
The next year, he joined the high school program, where he had the opportunity to learn the goalie position from Edina Hall-of-Fame coach Willard Ikola.
Ikola is one of the state's all-time best goalies. He helped Eveleth High win three consecutive state titles and then made All-American at the University of Michigan. Then, in 1956, Ikola started in goal for the U.S. Olympic team, which made it to the finals before losing to the Soviet Union.
"It was helpful to me to be coached by Ike," Carroll said. "He worked a lot with me on technique and game situations. I became a better goalie with his coaching."
After graduating from Mankato State as an All-American goalie, Carroll wanted to give back to the sport, so he asked Edina Squirt A coach Dick Blooston if he could come out and help train the goalies.
Carroll liked coaching and first began thinking he might like to start his own hockey school. To make sure that was a future direction, Carroll worked for former Edina High coach Bart Larson, who had a hockey school at Braemar Arena every summer. He also worked at camps run by the late Dave Peterson, a hockey coaching at Southwest High in Minneapolis.
Twenty-six years ago, the Carroll Goalie School was born.
"Playing hockey was a tremendous experience for me," Carroll said. He was one of 10 finalists for the Hobey Baker Award in 1981, his senior year at Mankato State. Pro hockey was in the back of Carroll's mind, and when North Stars general manager Lou Nanne invited him to try out for the local NHL team, Carroll didn't hesitate.
"Don Beaupre and I came along at the same time," he said. "After watching him, I didn't think I was at that level. It would have been a steep climb for me to make an NHL team as an undrafted American player from a Division II school. My hockey experience at Mankato State was so positive that I decided not to pursue a career in the minors [in Baltimore or Oklahoma City]."
Many players have trouble hanging up the blades and joining the coaching ranks, but not Carroll. As a teenager in the Edina program, he watched his dad, the late Jim Carroll, put in long hours training referees for the local program. And he saw how much Jim enjoyed it.
Mike Carroll, Steve's older brother, also had the coaching bug, thanks to their dad. Mike is the head coach of the women's hockey team at Gustavus Adolphus College in St. Peter, and guess who is his goalie coach? Steve Carroll, of course. Another Carroll brother, Pat, is also on the staff as a volunteer coach.
Gustavus Adolphus has dominated MIAC competition in Mike's 20 seasons as coach, winning 14 league titles.
Talking about coaching with Steve, Mike said, "Having a chance to work with Steve has been a great experience. A goalie coach is a luxury for college teams. Head coaches have lots of decisions to make and sometimes it's not easy to look at the big picture, not just winning, but also developing all goalies on the roster."
Yes, a goalie coach is an asset to any team, and the results at Gustavus are proof that Steve Carroll knows his stuff.
What are some of the most important points in training goalies?
"The main thing is do everything possible to keep the puck out of the net," Steve said.
In terms of mental training, Carroll tells his young netminders: "Don't get too high when you're winning or too low when the going gets tough. It's always about the next shot."
Words to live by from someone who has been there and done that.