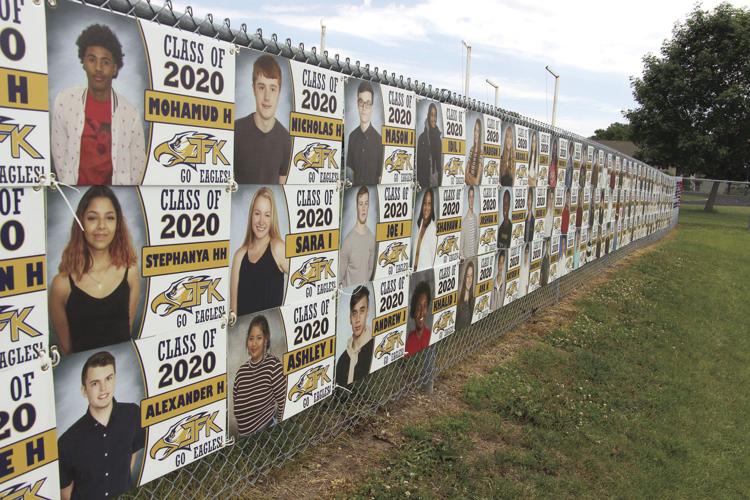 Bloomington's class of 2020 graduates did not get to walk the hallways of their high schools one last time at the end of the school year, but their presence remains as a result of ingenuity, many volunteer hours and fancy printing.
Fences along Bloomington Jefferson and Kennedy high schools are adorned with 16-by-24-inch signs depicting the senior classes of each school, a tribute that evolved as a result of the coronavirus pandemic restrictions that canceled commencement ceremonies and all-night graduation parties, according to Lori Hanken.
Hanken was among the many residents who helped coordinate the displays recognizing this spring's senior classes. The process started with a Jefferson parent group communicating through Facebook. Realizing that the senior class would not be able to participate in their commencement ceremony or hold a graduation party at the end of the school year, the group discussed ways to honor the senior class. With parents and schools turning to signs as a way to recognize seniors who would not be participating in a traditional commencement ceremony this spring, the group discussed individual signs featuring pictures of each graduate, Hanken explained.
Working with Jefferson Principal Jaysen Anderson, a volunteer group collected photos and helped create the digital files depicting each student. Hanken's printing company, Total Displays of Edina, produced the finished product at cost. A similar coordinating effort was initiated at Kennedy to produce signs for their graduates, as well, Hanken noted.
Parents at Jefferson and teachers at Kennedy hung the signs along the fences of their schools. The signs are made of coroplast, which is essentially a plastic cardboard, according to Hanken. The material is commonly used for outdoor yard signs, so it will withstand the elements and hang flat, making the inkjet printing on the sign easy to see from the road, she explained.
The tributes required a substantial effort by many people, from fundraising to proofreading each sign and hanging them along a fence, but the end result was worth the effort, given seniors "don't get to do all the things you spend your whole life looking forward to," Hanken said. "It was the right thing to do."
Follow Bloomington community editor Mike Hanks on Twitter at @suncurrent and on Facebook at suncurrentcentral.