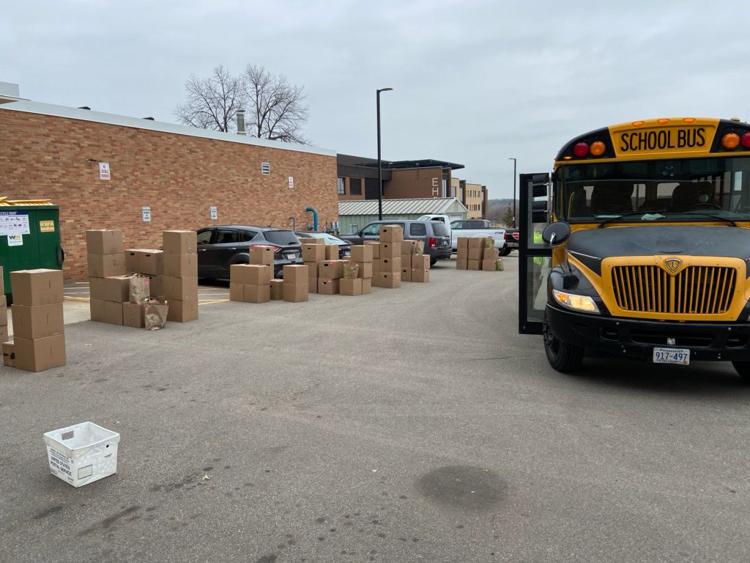 Like many sit-down restaurants, Edina Schools' food providers have shifted their focus to curbside pick-up and delivery as society tries to minimize human contact.
As students stay home, those in need can still obtain the food they would normally get during the school day, while those who can't make it to the district's two pick-up sites can have the meals delivered. For Edina's bus drivers, that means they have a new kind of cargo to carry.
"We were hauling kids every day, and now we're hauling food," said Dan White, the district's transportation supervisor.
While Edina school buses normally cover 42 routes across the city, White's drivers now have 10 routes to follow as they make their weekly drop-offs. "Routing is our specialty," White said. " ... So, we're definitely the right people to be doing this."
The available provisions – the result of a partnership between the schools, the Edina Meal Fund and other nonprofits – go beyond the food that would normally be provided during the school day.
"The public school system is providing breakfast and lunch, but we're also hearing from families saying they could use some help with dinner," said Karen Gabler, co-chair of the Edina Meal Fund's COVID-19 response team.
Income data backs up Edina's reputation as a prosperous community overall, but information from Minnesota Compass, a project that examines social indicators in the state, shows that 24% of Edina households are "cost-burdened," meaning their cost of living outstrips their income. And that was before the current crisis resulted in record job losses across the country.
The meal fund, which is part of the Edina Education Fund, set out to raise $75,000 to help families make up the gap. As of April 1, 12 days into the fundraising campaign, $60,000 had been collected, according to Gabler.
"We've had some big checks that we have been receiving and we've had a lot of little donations, and that kind of speaks to this community where people want to help out. And we knew that would be the case," Gabler said.
The food is available for pick-up at Valley View Middle School and South View Middle School Monday through Friday from 11 a.m. to 1 p.m. It gets delivered every Monday – to 65 families as of April 1, a data point that is subject to rapid change.
"The numbers seem to be increasing daily," said Dan Hutchinson, who manages the school district's food and nutrition program.
To assemble those meals, there are two food staff members at each pick-up site, down from the 57 food workers who normally work across the district. "We're doing a lot of meals with not a lot of staff," said Alexandra Turnbull, the district's dietician.
The focus continues to be on "nutritious and well balanced and also safe food" following USDA guidelines, Turnbull said.
To increase safety related to COVID-19, with consideration given to the dangers of surface contamination, "we're trying to do as much as possible prepackaged fruits and vegetables in order to reduce contact," she said.
To get the curbside pick-up and delivery program up and running, the district had to apply for waivers allowing it to bypass normal USDA regulations, such as one that requires the student to be present to receive the food and one prohibiting delivery, Turnbull explained.
The need, however, developed so quickly that the district had to act before learning whether the waivers were officially granted, Hutchinson said. He was certain, though, that the necessary approvals would be issued.
"Things are moving faster than we're able to put policies into place sometimes," Turnbull said.
To meet the need, the Edina Meal Fund joined forces with two other nonprofits – Bloomington-based Volunteers Enlisted to Assist People and The Sheridan Story, which is based in Roseville. Both organizations provide meals for the Edina program.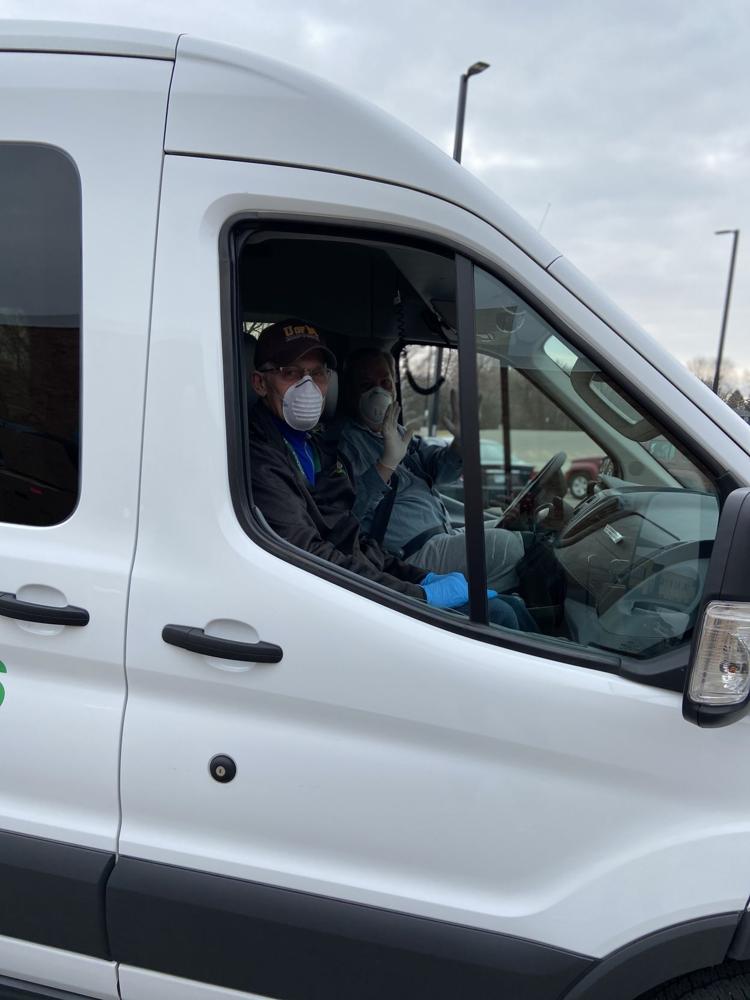 To White, getting those meals to their destinations during a crisis is a simple matter of applying expertise wherever it's needed. "People need help, and this is how we can help as a school district and as the bus garage," he said.
His drivers know that getting students to school is a vital function of the district under normal conditions, and they take the same mindset to their new role.
"It's a rough time," he said, "but we're going to make sure we get it done every day."
People can get connected to the food pick-up and delivery services at tinyurl.com/stbnqx9. Donations the Edina Meal Fund's COVID-19 response can be made at tinyurl.com/rt5mnxk or by texting COVID 19 to 508-433-3863.
– Follow Andrew Wig on Twitter @EdinaSunCurrent