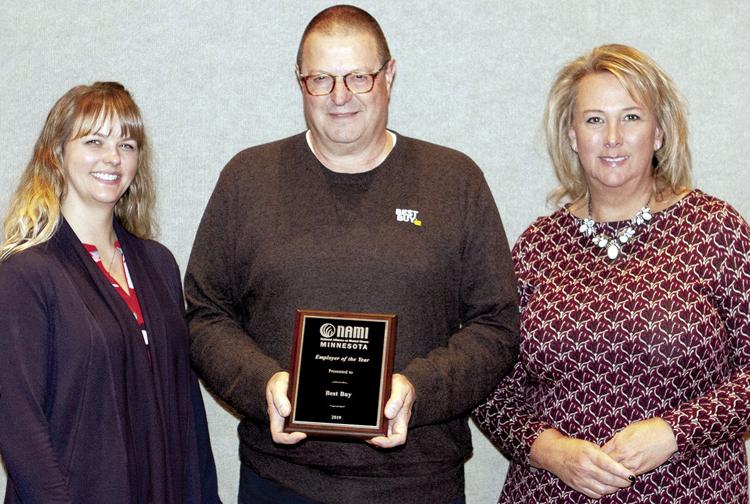 National Alliance on Mental Illness Minnesota presented Best Buy with its 2019 Employer of the Year Award at its annual conference Nov. 2 in St. Paul.
The award recognizes an employer who has demonstrated support for hiring and retaining people with mental illnesses; has taken extraordinary measures to educate its employees about mental illnesses; or has created a supportive workplace for families who have a loved one with a mental illness.
NAMI Minnesota's Executive Director Sue Abderholden said, "Nearly three years ago Best Buy contacted NAMI Minnesota wanting to talk about mental health in the workplace. They took that small discussion and launched an internal campaign to raise awareness about mental health and mental illnesses.
"People shared their stories of living with depression or anxiety," she continued. "Education was available to learn about mental illnesses and resources. Managers were trained to identify emerging symptoms or warning signs in employees. Workplace accommodations were made available, including allowing people the time they needed for their recovery. They began offering Life Solutions, a free 24/7 hotline that covers the entire household and any concern."
Abderholden added, "But they didn't stop there. They also became an active member of the Mental Health Learning Collaborative organized by the Minnesota Health Action Group to create a checklist and path for self-insured employers to ensure compliance with mental health parity and to build a culture of overall wellbeing. They understood that simply raising awareness was not enough – you needed to make sure that employees could access appropriate and effective treatment."