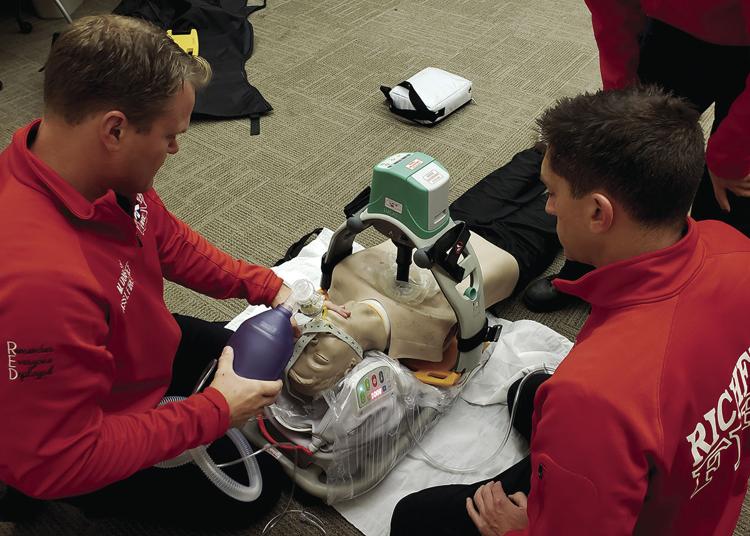 Statistics are grim for people experiencing sudden cardiac events, in or out of the hospital.
If the cardiac arrest occurs outside of the hospital, survival rates are around 10%, while being in a hospital only raises survival rates to approximately 25%.
Beginning Nov. 1, the Richfield Fire Department works to improve its own sudden cardiac event survival rates by adding a new tool to its services, the EleGARD Patient Positioning System. The new piece of equipment allows for improved support to patients while they are receiving CPR by elevating their heads and torsos to help improve blood flow to the brain.
The fire department responds to approximately three sudden cardiac event calls each month.
"As a department, we have always been very proactive with our cardiac arrest management strategies," said Assistant Fire Chief Mike Dobesh. "When we took a look at the EleGARD technology, we all agreed that it was a good direction to go in to improve patient outcomes."
When responding to a cardiac arrest call the main goal is to circulate the blood to keep oxygen moving through the brain and heart. This is done until the patient arrives at the hospital and the root of the problem can be addressed. The EleGARD ensures that the head, neck and torso are resting at the optimal elevations for CPR to work most efficiently and safely. It elevates the head above the torso, and secures proper head positioning to keep the patient's airway open.
While performing traditional hands-only CPR on a patient can keep the blood circulating throughout the body, the brain can often endure unexpected trauma. During CPR when a patient is lying flat, the brain absorbs pressure from the compressions. That pressure can lead to concussion-like injury to the brain.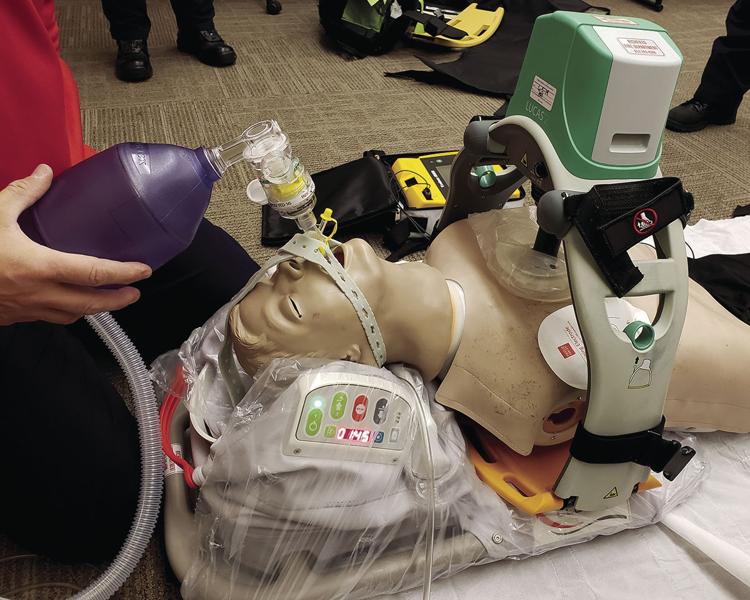 By utilizing the EleGARD when performing CPR, the compression-impacts to the brain can be minimized, while circulation to the body can be maximized. Those two factors, says Dobesh, should help patient outcomes from sudden cardiac events.
The EleGARD will be added to a set of tools currently in use by the fire department which allows them to quickly and efficiently respond to calls when someone experiences a sudden cardiac arrest.
In addition to the EleGARD, the RFD also uses the LUCAS Automatic CPR machine and the ResQPod, which helps regulate pressure to the chest and brain.
"By using the EleGARD we hope to see the patient's pressures normalizing and the body starts to work in concert with these three tools," explained Dobesh.
Nationally, there are more than 350,000 out-of-hospital cardiac arrests each year. According to the American Heart Association, the survival of the patient depends on immediately receiving CPR.
If a resident would like to receive CPR training, the Richfield Fire Department offers free, hands-on training on the first Monday of every month at 7 p.m. at Station #1, 6700 Portland Ave.
For more information, contact the Richfield Fire Department at 612-243-4511.
– Contributed by the city of Richfield