Though her Richfield Clinic is closed to patients, Dr. Koffel works mostly from home, via telehealth
Dr. Liz Koffel, M.D., conducts an outpatient practice at the Allina Richfield Clinic, 407 W. 66th St., a location where many believe the COVID-19 pandemic couldn't reach.
But Koffel, who grew up in New Hope and graduated from Armstrong High School in Plymouth, understands the danger of this new virus and that everybody is at risk. Her perspective may not be on the very front of the lines, but from her view in Richfield, this virus is bound to affect nearly everyone.
That's why she hasn't shied from attempting to publicly educate those who may not be following the best protocol. She did so recently when her editorial column was published in an edition of the Sun Current.
Her message was that if businesses and individuals don't take the necessary measures to slow the spread - including the wearing of masks and social distancing––that it will make hers and her colleague's jobs even more difficult than they are already.
That is a message that has been repeated incessantly since the pandemic hit the United States.
"Honestly, since going to the grocery store – I have only been to the store once since then – and I am now seeing more people wearing cloth masks when out and about," she said. "I have been out for bike rides and see people chatting from a safe distance, which is great."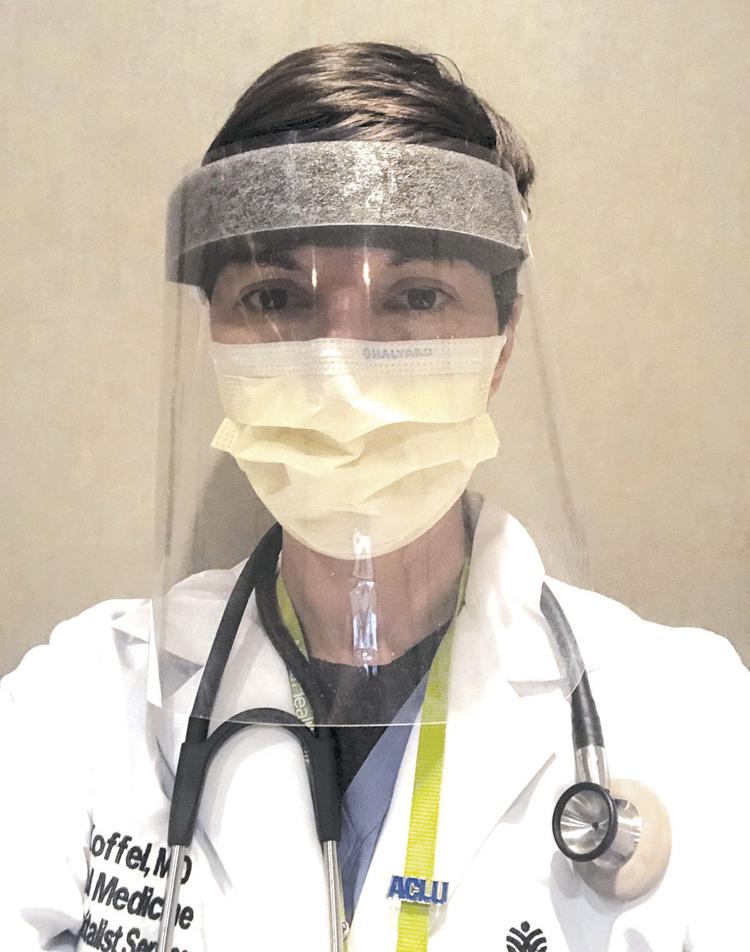 A new way for treatment
Koffel and her associates have been doing their part with a dramatically new way of treating patients––online and while distancing.
"We are largely relying on telehealth visits currently, and the providers have quickly learned how to assess and examine patients via video, or telephone, if needed," Koffel said.
With the Allina Richfield Clinic now closed completely to patients, the site is used only by doctors to conduct virtual visits if they are unable to do so from home.
"I personally am largely performing my visits from home now. We do still have limited staff on site, including front desk and nursing staff, as they still manage incoming phone calls, medical messages, faxes and other paperwork," Koffel said.
System-wide, Allina is utilizing the Bloomington Allina Clinic for respiratory care, while the Centennial Lakes Allina Clinic location is being used for those needing non-respiratory care.
"We can see patients in those clinics depending on their symptoms, and most of the physicians from each of these clinics is rotating through each site," Koffel said about the logistics involved in providing care.
In addition to her clinic work, Koffel also provides inpatient care at Abbott Northwestern Hospital. While continuing to see patients, Koffel has had patients she believes were infected with the new coronavirus.
"Yes, I have had patients who I believe to have COVID-19," Koffel said.
However, because of limited testing supplies, "most of our patients could not be tested, as those tests were reserved for those who were very ill and hospitalized."
That said, the addition of more testing sites across the state, as well as the tests themselves, has been a big advantage in fighting the virus.
"We are happy to see the expansion of tests as more sites across the state begin offering testing to more patients with symptoms."
Reports of shortages of personal protective equipment have emerged as front line workers face the potential for infection. However, Koffel said she has not seen any shortages.
"Early on in this, Allina Health came up with strategies to extend our current supply, and also increase incoming supply," Koffel said. "Allina Health has also been manufacturing its own face shields to help with demand. Generous donations from the community have helped us, and the fact that people are abiding by the shelter-in-place has also helped slow the spread and delay the peak of COVID-19 in Minnesota, allowing us more time to prepare for it. That being said, we will need to continue to be good stewards of PPE in order to avoid shortages in the future. The community can continue to help by following public health and social distancing guidelines."
Ready for a surge?
Dr. Koffel said plans have been put in place for a potential surge.
"We do have surge modeling ready, expecting that the surge will hit hospitals initially, though it may trickle out to urgent cares and clinics. The surge modeling takes into account physical space, bed and ventilator availability and staffing schedules," she said.
In addition, increased training has been a crucial element in making sure the system was ready for a large influx of patients.
"There are several clinic doctors who are currently being credentialed for inpatient work, in case we need to shift resources," Koffel said. "We are already shifting our work to different clinic sites, and that will continue to play out over the course of this pandemic."
Staff has ongoing training sessions and education regarding COVID-19, "including updates on clinical presentations, treatments, studies, and infection control processes. Our hope is that we are accused of 'over-preparing,'" Koffel said.
That over-preparation could be a good thing should the needs increase, but as a medical professional, Koffel isn't about to take anything for granted.
"I have a healthy respect for COVID-19 because it is a brand new, unknown virus," Koffel said. "I think I would describe my feeling as more 'apprehension' when first seeing patients who may have it. However, the apprehension is not really about feeling unsafe or worrying that I may become infected. It is more the fact that we are learning about this as we go, and we want to be sure that we are doing everything we can to help our patients."
With no known treatment for COVID-19, Koffel said: "We can only advise supportive care, which means using over-the-counter medications for symptoms, such as cough medicine, acetaminophen or ibuprofen for fevers and aches."
'No magic ball'
With the medical community learning about the disease on a day-by-day and patient-by-patient basis, Koffel is also learning how best to cope as a professional and an individual.
"I have no magic ball, but updated projections for Minnesota now show our COVID-19 peak to be in May or June, and social distancing guidelines are recommended to stay in place until we have seen a two-week decline in infections," Koffel said. "I hope that toward the end of summer things look a little more 'normal.'
However, I also hope that this has been an educational time for people––we see infectious diseases every year, whether it is the annual influenza or the run-of-the-mill cold," she continued. "They are all spread by people going to work when sick, coughing and sneezing into their hands or on fruit at the grocery stores. My hope is that we have normalized the idea of staying home when sick, wearing a mask if you have a cough, and avoiding social situations if you do not feel well. These are common-sense approaches we should hold onto for the future."