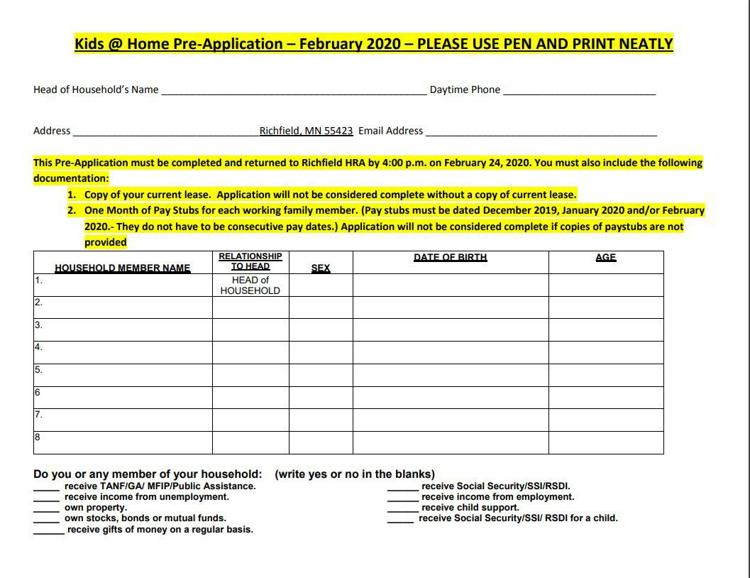 Applications for Kids @ Home, a 48-month rent assistance program for families who meet the criteria, are available for download through 4 p.m. Friday, Feb. 14.
Complete the application and return it by 4 p.m. Monday, Feb. 24. 
Applicants must also submit a completed application, current lease and six to eight weeks of pay stubs. If there are more qualified candidates than openings available, Richfield HRA will conduct a random lottery drawing.
Letters/emails for the qualified candidates who have been pulled for the lottery will be sent out no later than March 6. Applications not drawn in the lottery will be shredded. Rent assistance for qualified candidates who have successfully completed the application process will begin June 1.
Criteria for families
• Must currently be housed in unsubsidized rental housing in Richfield (no shared housing)
• Have a child or children in Richfield schools (K-12)
• Child or children need to be enrolled and attend a Richfield school
• One parent (or adult in family) is employed for a minimum of 30 hours a week (paycheck stubs for two months of work needed to provided verification of this income)
• Not receiving any other housing assistance
• Annual income must fall at or below income guideline
• Rental payments must be current or no more than one month's total rent owed to landlord
Families must be willing to attend 10 Parent Share meetings a year.
Parent Share meetings are hosted 6-8 p.m. Thursdays, at Hope Presbyterian Church in Richfield.
Families must attend five of the Parent Share meetings by June 30 of each year and the remaining five must be completed by Dec. 15 of each year.
Download the application at trimurl.co/8vZGuz.