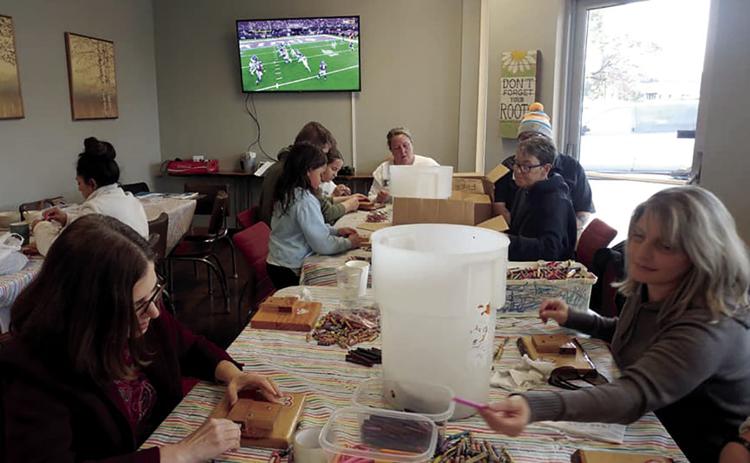 Volunteers with Justice for Jonathan O'Shaughnessy spent several hours last week peeling approximately 6,000 crayons at Local Roots in Richfield.
The crayons will be melted into molds and sold with proceeds going to the Minneapolis Children's Hospital. This is one example of the many fundraisers the Justice for Jonathan O'Shaughnessy organization completes each year to help area nonprofits and community groups.
Justice for Jonathan O'Shaughnessy was formed a couple of years ago to help the community remember the Richfield resident who was shot and killed while walking home from the city's Independence Day celebration. The group hosts fundraisers throughout the year to help others and most recently raised the reward for information that would lead to the arrest and conviction of Jonathan's killer to $50,000.
Other events that have been scheduled by the group in the coming weeks are:
• The first Monday of every month: "Hands-Free CPR" Dec. 2, and Jan. 6, 2020, at Fire Station 1, 6700 Portland Ave. S.
• Saturday, Nov. 9: Fall Adopt-a-Highway cleanup, 8 a.m. The cleanup will be held along Interstate 35W and Highway 13 north. Volunteers are asked to meet at Nicollet Avenue bus transit station off Highway 13.
• November: Turkey donation collection for Thanksgiving. Volunteers will be going to shelters to serve those in need. Let Justice for Jonathan O'Shaughnessy know, and it can have a volunteer pick up your donations.
• December: Toy collection/gifts for Christmas giving through Dec. 15. Toys for Tots box drop-off locations will be posted soon.
• Sunday, Dec. 8: 23rd annual Worldwide Candle Lighting, 7 p.m. Light a Candle for a loved one gone too soon.
Info: facebook.com/JusticeOsha or justiceforjonoshay2017@outlook.com