Edina City Council members kept their distance from each other March 17 as they discussed their response to the COVID-19 outbreak in addition to the more routine matters of municipal government.
"We are experimenting this evening with doing our meeting remotely," Hovland said in muted tones as he introduced the first city council meeting to take place since the pandemic radically transformed daily life nationwide.
To limit the risk of infection, two council members took part in the meeting via videoconferencing. Many chairs in the council chambers audience section had been removed to create physical distance between attendees, although that measure proved unnecessary since there turned out to be no audience. Earlier in the day, the city requested that would-be attendees stay home and watch the live stream.
While Edinans watched at home, City Manager Scott Neal laid out the changes residents can expect as the city combats the spread of COVID-19. Essential services are now the focus as everything else falls by the wayside.
"One of the first things that goes is public engagement," City Manager Scott Neal said. "We just aren't able to do a lot of dialog with our public, and really, sometimes not as much dialog as we'd like with our council and even other staff, because of the speed of decision-making that has to take place."
Neal asked for the council and community to "trust us to make wise decisions" amid the emergency circumstances.
With residents not attending council meetings, one question is how community members can best provide feedback to their elected leaders. The public hearings that take place before major council decisions are normally one such opportunity, but now, the city must make adjustments to ensure the robustness of that process.
Residents can submit online comments to the council at tinyurl.com/yx5d8kkr, but Councilmember Mike Fischer noted that in-person public hearings take place after staff and interested parties make presentations on the subject at hand, providing information that could affect community members' comments. For that reason, consideration ought to be given to how the council can take remote comments during the council meetings, Fischer said.
The only public hearing scheduled for the March 17 meeting was related to a "Drainage & Utility Easement Vacation at 7075 Amundson Avenue," a topic that didn't draw any interest of note, but for controversial agenda items, public hearings are heavily attended affairs.
"We're going to inevitably have an issue that's going to come up, and people are going to want to be able to express an opinion," Fischer said.
Neal suggested the new meeting format is still a work in progress. "This was the walk-before-we-run council meeting," he said.
"It's that next step we should think about for next time," Fischer responded.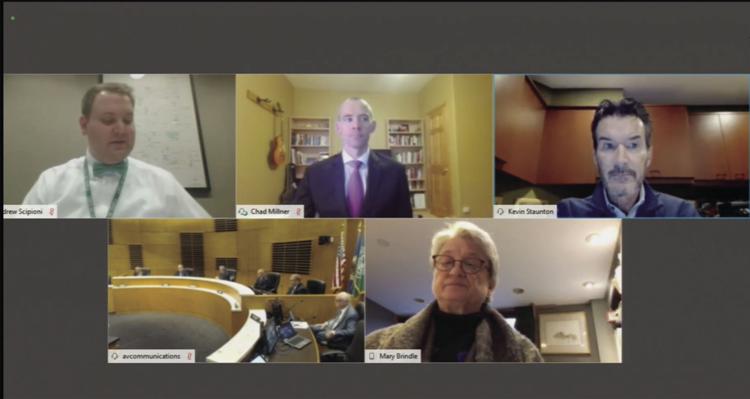 Services affected
Edina's recreation facilities are closed at least through April 4, although the parks are still open. City hall is temporarily closed to the public. The municipal liquor stores are closed, too, but are making deliveries.
Any decision to reopen city facilities will come after evaluating the circumstances of the outbreak in the week leading up to April 4 and will be made with guidance from the Minnesota Department of Health, according to Neal.
The city's public-facing operations are largely shut down.
Blood pressure checks at Fire Station No. 1 have been suspended. Public access to the South Metro Public Safety Training Facility is now prohibited. The facility will host a minimum number of training events only if they meet guidelines from the U.S. Centers for Disease Control and MDH, according to Neal.
Also regarding public safety operations, police ride-alongs aren't taking place, and fingerprinting services have been suspended.
The water utility department is only making house calls in cases of emergency such as a burst water meter, but staff are taking care to ensure Edina's water treatment plant remains operational, Neal assured residents.
"The water plant is one of those essential city services that have to continue no matter what," he said.
While city hall is closed to the public, staff will continue to work in the building, although some departments are operating on a platoon basis, with half the staff working from home at any given time.
The city's building inspection division is continuing its field operations in an effort to keep construction projects moving along. Construction sites are subject to inspection at certain project milestones, and without such check-ins, cannot proceed.
"If we choose to pull back our building inspectors, we will grind the local economy to a halt and we'll put hundreds of people out of work, and so we're very cognizant of that," Neal said. "So as long as we can provide key building inspector services safely, we're going to continue to do that."
City leaders also see it as their responsibility to look out for the elder population, especially considering that the Edina Senior Center is closed. While the school district is looking out for Edina youth by continuing to provide lunches, for example, there is no equivalent resource for seniors, Neal noted.
"We're going to work on that," he said.
Cooperation with neighboring communities is also important, according to Neal, especially since both Edina and Richfield use the services of Bloomington Public Health.
"We think there's some value in coming at this together so that residents understand that we're all looking at this together and we're kind of moderating each other as we work together," he said.
– Follow Andrew Wig on Twitter @EdinaSunCurrent