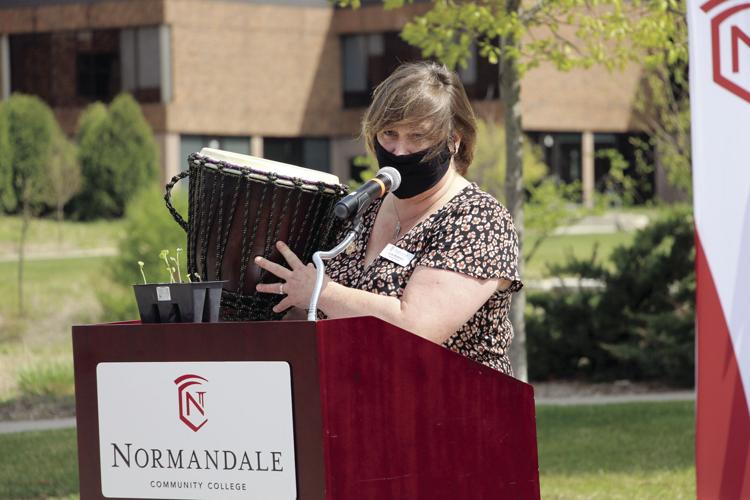 It may not have meant as much to her classmates, but Emily Hansen was unwilling to forgo the ceremonial completion of her studies at Normandale Community College on account of COVID-19.
With traditional commencement exercises being canceled this spring and summer due to the coronavirus pandemic, Hansen organized a parking lot ceremony for the Bloomington college's nursing school. Hansen was one of 29 students who completed the nursing program this spring, and most of her classmates gathered in the parking lot outside of the college's Partnership Center May 14 for a replication of the traditional ceremony.
A few elements of the ceremony were improvised, but two weeks of planning and discussions paved the way for the outdoor program, which "felt like a really sweet way to finish a bizarre semester," Hansen said.
Graduating nursing students participate in a pinning ceremony as part of their commencement exercise. During the ceremony, a family member, faculty member or other important person in a student's life places a pin on the student, marking the student's entry into the nursing profession.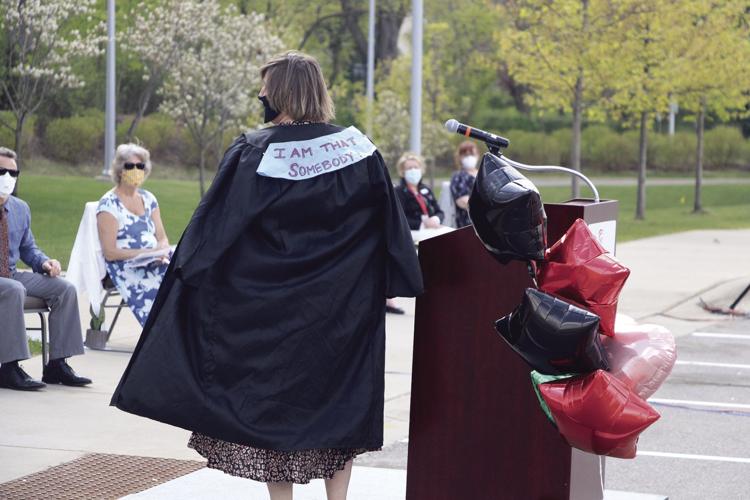 Although the pins were not distributed during the parking lot ceremony, faculty members read the testimonies of each student to the person or persons who would have been doing the pinning. Many of the students looked on from parked cars, and those who could not attend were able to watch the ceremony through live-streaming.
Faculty members sat along a sidewalk, in chairs spaced at least six feet apart, but the ceremony was otherwise traditional, with both student and staff speakers addressing the audience during the ceremony.
For Hansen, 36, the ceremony marked the end of a long, calculated chapter in her pursuit of a nursing career. The mother of three had earned an education degree and began a teaching career before staying at home after her first child was born. She began working as a doula and enjoyed both helping with births and the teaching aspects of her job.
She had discussed with her husband how she would have handled difficult births if she were a nurse or midwife in those situations, and with her husband's encouragement, she set out to earn a nursing degree at Normandale, taking classes on a part-time basis, either online or on campus, as she continued to stay home with her young children.
Living in Bloomington, Hansen considered multiple colleges in the Twin Cities. She was surprised when her application to another college was rejected, given she had already earned her undergraduate degree in education. With the strong reputation of Normandale's nursing program, and the fact that she could earn her degree at a fraction of the cost, and close to home, it turned out to be a better choice than she imagined, she explained.
What Hansen and her classmates never imagined was finishing the nursing program through online learning. With little advance notice, the college had to convert its programs to online formats in order for students to finish their semester.
"Our faculty did an amazing job," said Joe Klein, the college's director of nursing.
It's easy to move classroom lectures to an online platform, but nursing students have lab and clinical experiences that are part of their education, and those activities had to be converted to simulations that were approved by the Minnesota Board of Nursing in order for students to complete the semester, with or without a commencement ceremony, Klein explained.
With students working to complete their classes from a distance, it would have been easy to limit commencement to a virtual ceremony this spring, according to Klein. The college's Nursing Club, of which Hansen is a leader, typically organizes the pinning ceremony, and in order to recreate it in the parking lot, it required the approval and coordination of several college leaders and departments, he said.
The final approval came on May 6, barely a week before the ceremony, Hansen noted.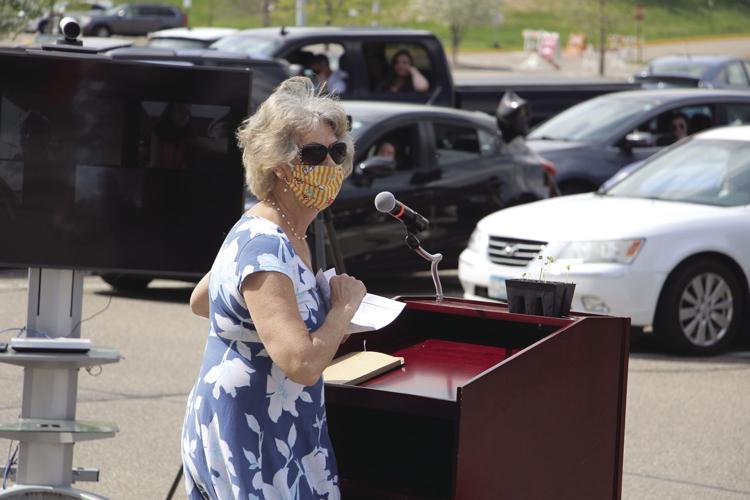 Beyond seeking the approval of college leaders, the ceremony required coordination between several departments, from public safety to IT, which set up and ran the ceremony so that it could be streamed live, Hansen explained.
Although there was a nearby parking garage that may have been available in a pinch if the weather had not cooperated, there was no alternate plan for the ceremony. As it turned out, there was no need, as the sun was shining during the ceremony. "All of the stars were aligning for us," she said.
All the obstacles and challenges that Hansen had to overcome to coordinate an outdoor ceremony were "typical of what nursing is," Klein said. "Nurses every day are making critical decisions."
Follow Bloomington community editor Mike Hanks on Twitter at @suncurrent and on Facebook at suncurrentcentral.
(Sun Current staff photo by Mike Hanks)
Normandale Community College Instructor Judy Wattman used several props in addressing nursing school students during an outdoor commencement ceremony held May 14 in the Bloomington college's parking lot.
(Sun Current staff photo by Mike Hanks)
Graduation gowns could also double as capes, according to Normandale Community College Instructor Judy Wattman, who modeled the cape as she addressed nursing students during a May 14 parking lot commencement ceremony at the Bloomington college.
(Sun Current staff photo by Mike Hanks)