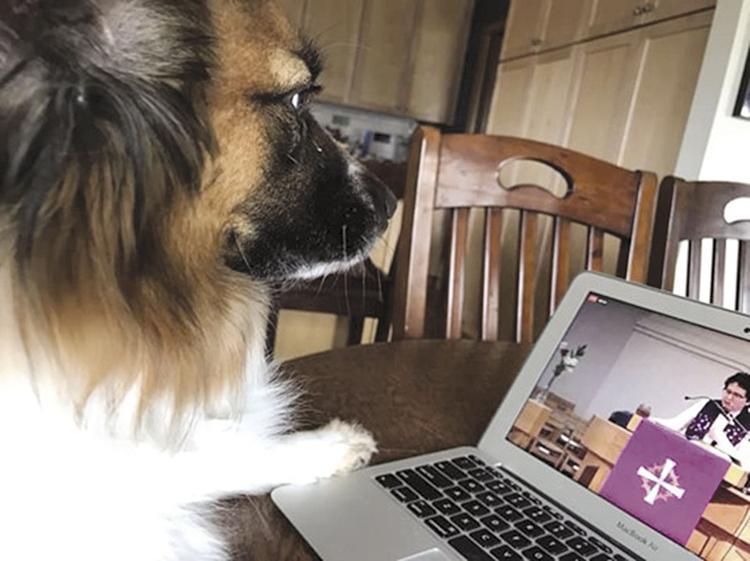 Like all churches that can't meet in person, this is the next best thing
The changes that COVID-19 has brought about have affected all of society and have not left any corner of life untouched.
The Rev. Dr. Anne E. Fisher, the transitional pastor at Oak Grove Presbyterian Church in Bloomington, knows all too well how her church, like all others, has had to pivot quickly to continue services for the congregation.
With a membership of approximately 500 from the greater Bloomington area, Fisher said the actions that church leadership has taken are steps nobody ever thought would be needed.
"When the governor started limiting social interaction, we strongly invited members not to physically come to church at the March 15 service," she said.
Instead, the church started live-streaming services on its website and Facebook page.
"We also had to postpone a large memorial service of a person who was very active in our membership," Fisher said. "We have always streamed our worship on the Facebook page and [just recently] started live streaming on our website."
For those without internet access, Fisher said written service notes were provided. In addition to postponing the memorial service, the church also postponed a scheduled March 22 choir performance where they were to sing the "Rutter Requiem." That event will now be hosted Nov. 1.
In an effort to continue providing information and to stay in touch with the congregation, the church has sent out emailed and U.S. mail notices regularly.
"Many of our members are regularly calling other members and we are Zooming our adult education and Sunday School online," Fisher said.
The church does not have the opportunity to pass the collection plate during services, which is income lost by the church. However, Fisher said that the church should be able to stay afloat for a couple of reasons.
"As far as contributions go, we have a donation page on our website giving people different opportunities to give," Fisher said. "Some of our members give their yearly contribution at the end or beginning of the year. For now, we are OK. Our concern is mostly for those in the greater community who have lost their jobs or are food, shelter, and economically insecure," she added.
The church has also set up a virtual scavenger hunt that was provided online for the most recent Wednesday Kids gathering.
"Also, when people join the service and make a comment, one of our administrative people respond. It is our virtual 'passing of the peace,'" she said.
As for the shut-ins, those alone, or those too ill to participate, the church is doing its best to offer spiritual services.
"Our shut-ins and those who are alone are a big concern. Members have been great. They have stepped up and offered to deliver groceries or call for a check-in with our shut-ins," Fisher said. "We are very concerned about the homeless that they continue to be fed and cared for, as well," she added.
For more information about the Oak Grove Presbyterian Church, visitoakgrv.org or view the March 22 worship service at trimurl.co/YacMg2.