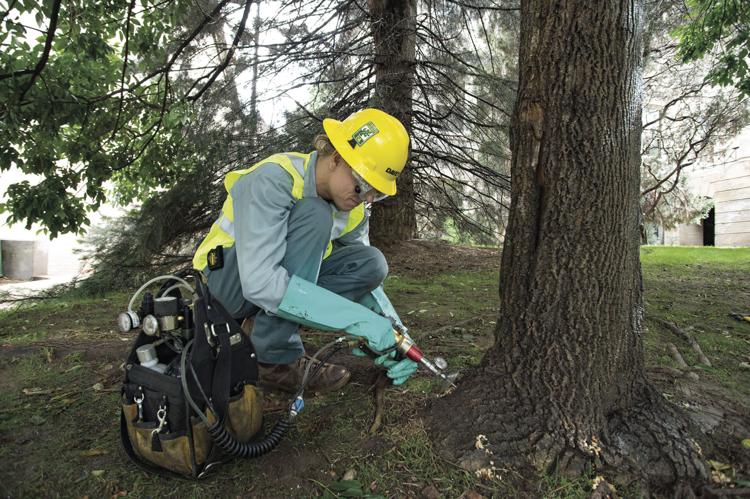 Emerald ash borer was first confirmed in Minnesota in 2009, and more recently, confirmed in Eden Prairie in April 2017. Unlike when the pest was first discovered in North America in 2002, arborists and local governments are considerably more aware of the problem and how to combat it.
However, according to certified arborist and Davey Tree Regional Manager Travis McDonald, action must be taken. According to Hennepin County, approximately one million ash trees currently stand in the county — and 100 percent of those trees will be killed by the borers if not treated.
"I talk to homeowners daily about emerald ash borers," said McDonald. "Any time I go onto people's properties, they might be calling me for something else, but I'll always end up talking about what their ash trees are up against."
McDonald said that the first step in combating the brightly-colored scourge is to identify any ash trees on your property. A picture-driven guide to doing so is available at hennepin.us/ashtrees.
As for the beetles themselves, they're small but distinctive.
"It's a small, half-inch-long, about one-eighth-inch-wide, metallic green beetle," said McDonald. "They're native to Asia, and naturally, they spread pretty moderately, but they're also artificially spread by people unwittingly transporting this pest through infested firewood or landscape waste."
Hennepin County is still under emerald ash borer quarantine by the Minnesota Department of Agriculture, which dictates that hardwood cannot be transported from Hennepin County to a non-quarantined county. But, containment isn't an effective strategy for Hennepin County itself any longer. Now, direct treatment of the trees is the name of the game.
McDonald said that trees can most effectively be treated with a direct trunk injection, a service most arborists can provide. Ash trees that have no infestation can benefit from the preventative treatment, and those with relatively recent infestations can still be turned around in some cases as well.
"Direct trunk injections can last up to two years and have about an 85-90 percent effectiveness rate on protecting those ash trees," said McDonald.
The county notes that trees 10 inches or more in diameter may well be worth saving. The city of Eden Prairie estimated that average cost to treat a 15-inch tree at $80 through a city-wide bulk discount available through Rainbow Treecare (more info at rainbowtreecare.com/eden-prairie).
McDonald acknowledged the reality that homeowners with many ash trees may not find treating them all feasible and advised a replacement plan in those and any other cases where a homeowner would opt not to treat the vulnerable ashes.
"I know its unfeasible to treat every single tree on your property if you have multiple ash trees, but we take a look at the healthiest trees and protect those," said McDonald. "And, we can plant other trees, so that they can start maturing before we lose those other ash trees."
McDonald said that any untreated ash tree will, sooner or later, require removal — and, he stressed that removing ash trees before they are completely dead is crucial, bearing in mind both cost and safety.
"From a cost perspective, if you're thinking you'll remove instead of treating a tree, try to remove it before it's completely dead," said McDonald. "EAB trees are very dangerous, because the tree dries out and becomes brittle faster than trees that decline from other causes. They become real hazards, and it will cost more to remove it later, because it's more hazardous for the arborist."
McDonald noted the benefits of either treating ash trees or planting trees to replace them in advance.
"They do provide great environmental benefits, between stormwater runoff uptake, heating and cooling and converting carbon monoxide," said McDonald. "If you're not treating, you need to start treating, or if you're not going to treat your ash trees, then you need to think about replacing them."
For more information on Davey Tree, including scheduling a free consultation with a certified arborist, visit davey.com.