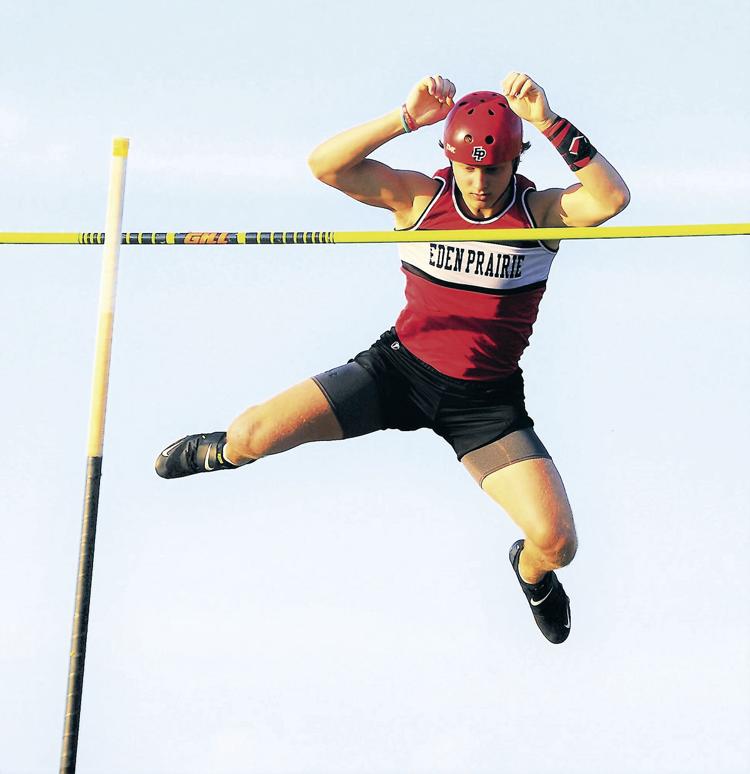 Had there been a 2020 boys track and field season this spring, Eden Prairie captain Ben Sather was ready to challenge the all-time school record.
In the 2019 State Class AA Meet at Hamline University, Sather finished second by tying his personal record of 14 feet, 9 inches. He had also cleared that height in the Edina Invitational.
"Our school record is 15-8," Sather said. "Coming into this season, I had pretty big goals. I wanted to clear 15-6 and maybe break the school record."
Due to the COVID-19 pandemic, he never got the chance. However, Sather did achieve one of his goals when he signed a national letter of intent to continue his vaulting career with the University of Minnesota next season.
"The university coaching staff first contacted me after I PR'ed my junior year," Sather said. "I took a couple unofficial visits, then had my official visit during the winter."
It didn't take Sather long to make a decision. What could be better than vaulting for his hometown university?
"The Gophers' facilities are amazing with Athletes' Village and the new track stadium," Sather said. "We are going to be hosting the Big Ten Championships in 2022, so this is an important recruiting class for the program."
Sather had never pole-vaulted prior to joining the Eden Prairie track and field team. At the urging of his older brother's best friend, David Jaeger, he decided to pick up a pole and test his skills.
"The feeling you get after you clear the bar is one of my favorite experiences," Sather said. "The first time I cleared 14-9, I wasn't really expecting it."
One of the challenges of pole-vaulting is deciding when to enter the competition. Most of the top vaulters will opt out of anything below 10-6 or 11 feet, some will gamble even higher. And that limits their number of misses, which can come into play if competitors are tied at the end of a meet. "There is a science to it," Sather said.
While track and field has been his best sport in high school, Sather played a key role in football last fall as one of the Eagles' captains.
"It was my childhood dream to play for the Eden Prairie football team," he said. "I wanted to wear that uniform."
The Eagles had a good season in 2019 with an overall record of 8-3.
"I was grateful that I had the chance to play my final season of high school football," Sather said. "It would be sad if the team didn't get a chance to play this year [due of COVID-19]."
That's still up in the air. But Eden Prairie athletic director and head football coach Mike Grant is optimistic.
"Athletics are really important to the schools, and we need to get them back," Grant said. "If cases go down and we don't have a second wave of the coronavirus, I do think we'll have a season, although practices and games could look different."
Sather, who carries a 3.65 GPA, said he is proud of the way he has been able "to manage two sports and school."
Coach Grant praised Sather's leadership as a two-sport captain. "Ben was an all-star and one of the top football players in the metro area last year," Grant said. "We used him in the defensive backfield, but he just as easily could have played quarterback, running back or wide receiver."
Sather's parents, Michael and Leigha, have always provided a solid support system.
"They have loved me and supported me," Sather said. "My parents came to all of my football games, and when I began vaulting, they showed an interest by attending all of my meets and learning a different sport."
Follow the Sun sports writers on Twitter @MNSunSports and on Facebook at facebook.com/SunSportsStaff.