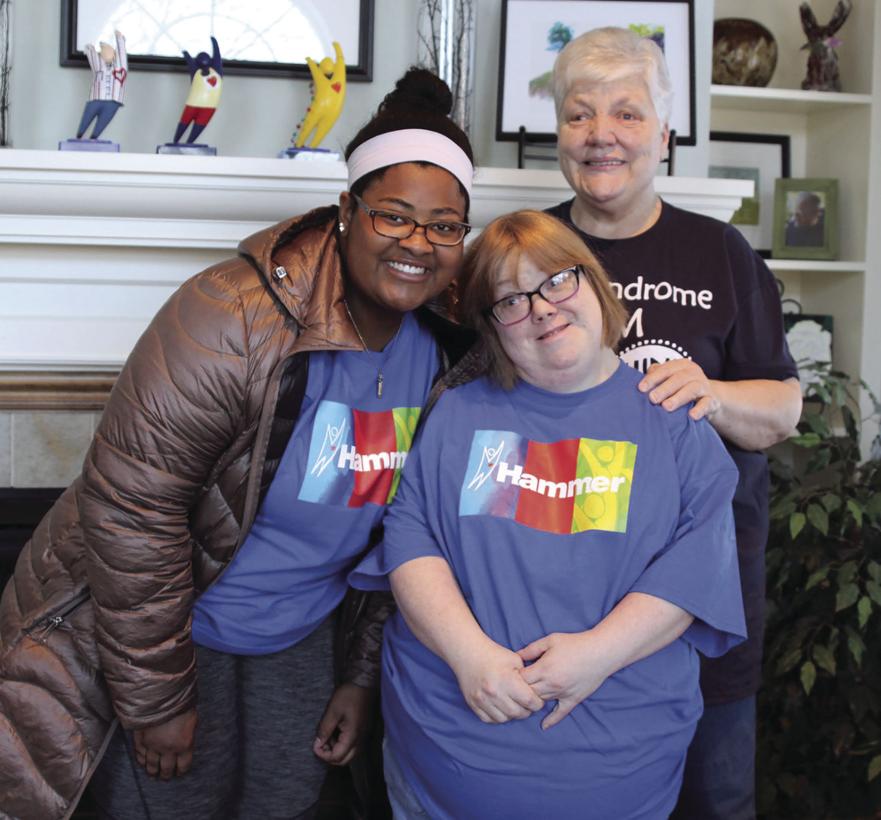 RaNiyah Taylor, a senior at Eden Prairie High School, received Hammer Residence's Community Partner Award. The recognition is given each year to a volunteer based on their number of years of service, volunteer hours or other contributions to the organization.
Hammer provides housing and other services to individuals with disabilities, and relies on both paid staff members and a strong volunteer core to do so. Terriann Thommes, Director of Advocacy at Hammer and one of the people who nominated Taylor for the award, described some of Taylor's contributions to the work Hammer does.
Thommes said that Taylor had started volunteering, coaching an adapted softball team, but then reached out to Thommes, interested in learning more about helping people with disabilities advocate for themselves.
"First of all, she was a volunteer here, and I didn't even know that," said Thommes. "But then she worked on helping individuals here develop their story, telling about themselves and their disability, sometimes the struggles that they face with transportation or health care, and then she helped them bring that story to their legislators at the Capitol."
Petitioning for legislation changes or funding is a recurring part of Hammer's work on behalf of their clientele, said Thommes. Self-advocacy is one of the most effective ways for those with disabilities to bend lawmakers' ears.
Thommes said that Taylor was integral to that process.
"Her role was to really help the individuals capture their own story, and how it impacted them, and then to help build their confidence and practice telling their story," said Thommes. "The more she got involved with the individuals we serve, she became more confident, as she helped the people we serve get more confident."
In addition to the results Taylor was able to achieve, Thommes said that she was impressed with Taylor's genuine, selfless approach.
"She is just so kind and energetic and sweet," said Thommes. "There was not an ounce of her doing this for recognition. There's a million kids out there who need to get service hours, but RaNiyah was not doing this for that — she was having fun. It was so clear that she wanted to do it."
Taylor has been volunteering with Hammer since 2016, according to Thommes. The organization provides housing for a couple hundred people and services for some 1,600 people across the state.
Thommes noted some of the issues that Taylor and Hammer were fighting for.
"At Hammer, our top three issues are transportation, medical assistance and wages," said Thommes. "Those are the three biggest issues we're worried about. Transportation is one of the biggest barriers to living independently for people with disabilities."
A lack of funding, and legislation aimed at the general populace without taking into account the unique needs of those with disabilities, can present particularly difficult challenges, said Thommes. Proposals like putting a work requirement on Medicaid can have disproportionate effects on some of society's most vulnerable people.
"We have staff, but when our staff is not paid well, we have high turnover, so we can't have staff drive people everywhere, because then we don't have enough staff back at the house," explained Thommes. "Right now, they want to put a work requirement with Medicaid, and when you say to people, 'You have to work,' but transportation is a barrier to work, that's another problem.
"I think a lot of people with disabilities in the next several years are going to have some real struggles," continued Thommes. "It's getting more and more difficult to find housing. It's getting more and more difficult to find transportation, and funding is not as free-flowing as it once was."
But, said Thommes, exemplary volunteers such as Taylor shone as a bright spot in the storm clouds ahead.
"Whenever we have a young person like RaNiyah who is willing to learn about the complexities of the special needs of people with developmental disabilities – and by that, I mean the system that supports them, not just the emotional need or physical or medical needs, but the system, the complexity of the system – if they're willing to sit and learn about that, then they can help us advocate for them," said Thommes.
"Part of the problem is that the system is so complicated that people can't understand it, so they can't help us fight to make it better," continued Thommes. "So when a young person is willing to start learning, like RaNiyah, even at her age, it gives me hope for the future."