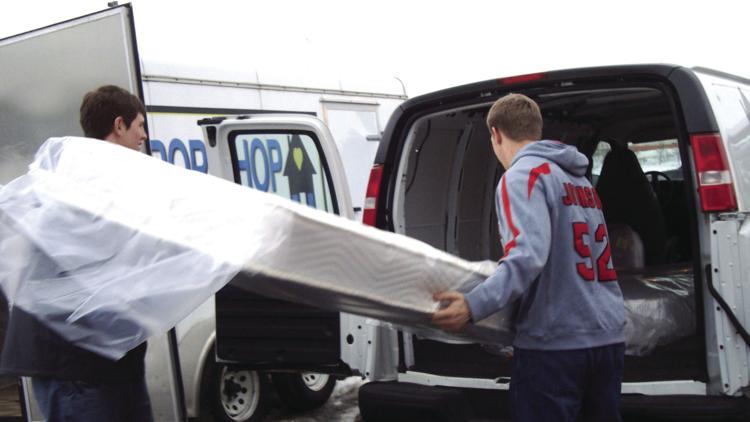 The PROP Shop announced that it delivered its 2,000th bed to a family in need last week, since opening in 2007.
It's not the first service one might think of for a resale shop, but according to those close to the effort, it's an essential one.
"When we were founded, the somewhat easier aspect of what we do in terms of space was household goods," said Operations Manager Vicki Bomben. "But, we discovered pretty early on, even before we started, that people were asking for furniture, for beds, for a dresser – those basic things that everybody uses – and they needed some more options there."
Particularly in the shop's early years but even today, providing beds and other large furniture for their clientele has presented significant logistical challenges.
"The turnaround time is longer — with most furniture, we want to see it before we offer it, and there's a transportation issue with a lot of the donors," said Bomben. "We do have some limited pickup capabilities, and then for the families, there's real constraints on resources for getting it as well. Most don't have vehicles that can do that, so we do deliveries as well.
"We can't just pick up a bed and deliver it necessarily, because we don't want to promise a bed, then we go pick it up and it's stained and we can't take it," continued Bomben. "There was a real learning curve and a real space issue in the beginning."
As the effort has grown, the shop has been able to take on more sets and pieces, enabling them to meet this particular need for more and more families. Family Services Coordinator Kyle Rose spoke to the importance of providing beds for those in need.
"It's for the family's dignity," said Rose. "It's just very important. If you think about sleeping on the floor, and then getting up and going to work, or children sleeping on the floor and getting up to go to school — that's very difficult."
Rose noted that lacking a bed and consequently getting less or poorer quality sleep can exacerbate some of the factors that lead to need — medical issues, job insecurity and more.
"It all comes down to the dignity of the clients, and being treated with respect," said Rose. "We just want our families to be able to have some of the basic needs that everybody takes for granted.
Rose said that the shop took particular pride in providing beds, as its services go.
"If you think about how important that bed is, I feel very honored to be able to give that to our clients," said Rose. "It's very important to us."
Bomben agreed, though she noted a desire for the need to not exist in the first place.
"I wish we didn't have to — I think that has to be part of the answer," said Bomben. "The people it took – the volunteers who helped us pick those up, the donors who thought of us and wanted to share in that effort – I am proud, even as I do with that we didn't have to."
Rose described the impact she had seen the beds have on some of the families to which they had been donated.
"Part of it is just feeling good about doing something for somebody who is in need," said Rose. "It's just when you see the smile on a family or parent's face that comes in and thanks you, gives you a huge hug for that bed — we had a good day."
Families are still requesting beds, and the PROP Shop is always looking for donations, be it beds or other goods.
"Really, it's anything you use in your basic daily life — that's what we need," said Rose. "We can't fill every need, but we can be pretty good at filling most of their needs. Then, they can spend that money on groceries or medical bills or whatever else is important in their life."
For more information on the PROP Shop, visit propshopep.org.