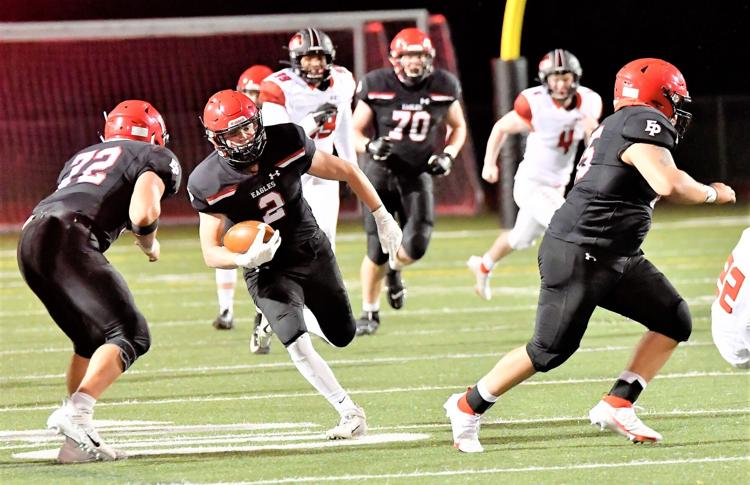 Eden Prairie's first drive of the game set the tone for a 52-0 prep football win over Shakopee Friday, Oct. 16, at EP's Aerie Stadium.
Blink twice and you might have missed it. The 78-yard scoring drive took only two plays - the first a 50-yard pass play from David Warren-Mitchell to Cade Kramer and the second a 28-yard run by Johnny Hartle.
"We sliced them up on that first drive," Eden Prairie head coach Mike Grant said after the game. "I don't know what's more surprising - that we scored 52 points or that we shut them out. I never would have predicted this. Shakopee is a good football team."
The Eagles built on that early touchdown and by the end of the first quarter they led 21-0. Hartle scored his second touchdown of the game on an 78-yard run, and then Kramer recovered a fumble in the end zone after the ball was jarred loose from an Eden Prairie ball carrier for the third touchdown. Going forward it was one scoring drive after another as the Eagles improved to 2-0.
In the second quarter Warren-Mitchell passed 13 yards to sophomore tight end Jermell Taylor for a touchdown. Later in the second quarter, the Eagles scored two more touchdowns. Logan Gareis scooped up a Shakopee fumble and returned it 11 yards for a touchdown, and with only 52 seconds remaining before halftime, Leif Benson scored on a 6-yard run. Mr. Automatic, Connor Reynolds, kicked all six extra points in the first half.
With a 42-point halftime lead, Grant was able to play many of his reserves in the second half. He's not the type of coach who likes to pour it on when he has a game in hand.
Javon Palmer-Pruitt ran 6 yards for a touchdown in the third quarter, and then Reynolds booted a 30-yard field goal at the end of the quarter.
Since Eden Prairie was ahead by more than 35 points, the fourth quarter was played in running time, most of which was consumed by a long Eden Prairie drive consisting mainly of running plays.
Hartle, who has had great games back-to-back to open the 2020 season, likes the Eagles' offensive balance.
"Coming into the game, we knew Shakopee would put eight or nine men in the box," he said. "My mentality was 3-4 yards on every rush."
The way Eden Prairie's offensive line came out, that was easy. "I don't think I was touched in the first 5 yards of any carry tonight," Hartle said. "The guys up front played a great game."
Grant feels he has the best pair of tackles in the state - 6-6, 270-pound senior Sam Henry and 6-7, 300-pound Forrest Scheel.
"They played great, and so did Xavier Urena and Anton Lang," Grant said.
In addition to his touchdown runs from scrimmage, Hartle had a 64-yard gain on a screen pass from Warren-Mitchell.
"We can switch it up more this year," Hartle said. "Some of my teammates don't think I can catch the ball, but David makes it easy. Every one of his passes is spot on."
Next is a game with defending state Class 6A champion Wayzata at 7 p.m. Friday, Oct. 23, at Wayzata High Stadium.
Wayzata, coached by Lambert Brown, is 0-2 this season with close losses to Prior Lake (29-28) and St. Michael-Albertville (21-14). The Trojans are starting junior quarterback Ryan Harvey, who threw three touchdown passes to junior receiver Julian Diedrich in the Prior Lake game. Wayzata's primary running threat is senior Sean Diedrich, Julian's brother.
In the team meeting after Friday night's game, Grant encouraged his players to protect themselves from potential COVID-19 contact.
"The most important thing is don't go out ... protect yourself," Grant told the team.