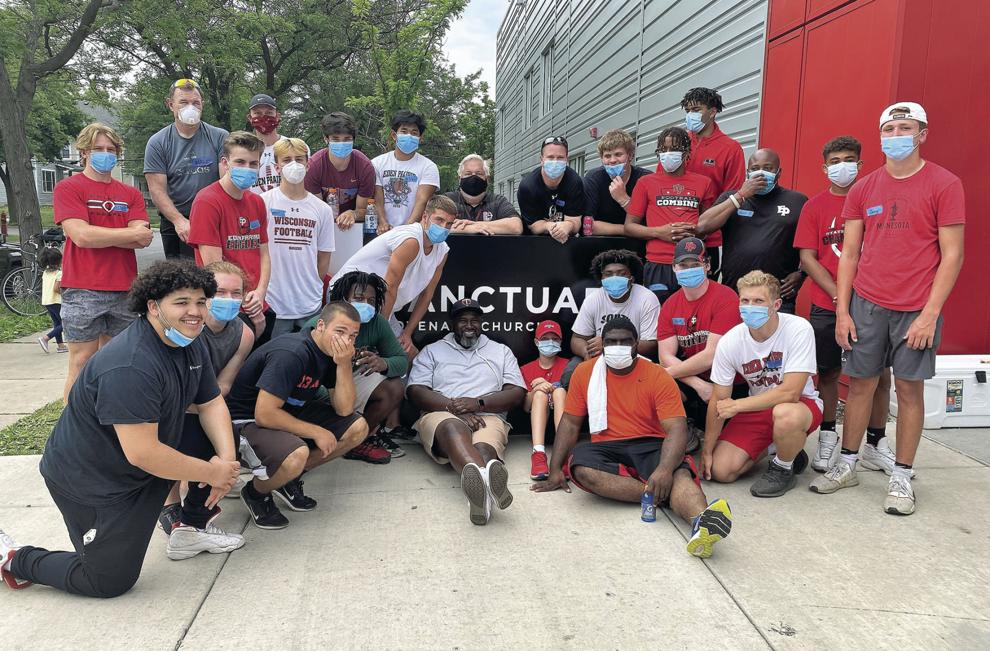 When the Eden Prairie High weight room finally opened up last week, coaches and strength training staff members were excited to see that most of the players had gained both weight and strength.
"We had strength and conditioning for the high school kids last week," Eden Prairie athletic director and head football coach Mike Grant said. "It was nice to see them back in the weight room, and they were excited to be there. The weight room wasn't open, but all of them were able to work out on their own [during the COVID-19 shutdown] this spring."
The only team activity prior of the opening of the weight room last week was a charitable mission to help families in north Minneapolis, following the city-wide demonstrations, which began throughout the city the day after Memorial Day, when Floyd died while in police custody.
The Eagle players traveled to Sanctuary Covenant Church on West Broadway Street to distribute groceries, cleaning supplies, paper towels and toilet paper to families in need. In addition, a fund-raiser sponsored by the Eden Prairie Football Association raised $15,000 to help citizens affected by the demonstrations.
"That was a great experience for our players," coach Grant said. "The motto of our high school football program is: Men for Others."
On July 6, the Eagles will have the first of 11 days of summertime football practices. Each team in the state is allotted that time in order to be more ready when preseason practice begins the second week of August.
Grant is optimistic for the season with 15 of last year's 22 starters set to return.
The Eagles are a well-balanced team led by a big offensive line and returning skill-position players who include senior quarterback David Warren-Mitchell, senior running back Johnny Hartle and senior wide receiver Cade Kramer. The defensive stopper is senior linebacker Justice Sullivan, a University of Iowa recruit.
Warren-Mitchell, the starter at QB most of last season, is a running threat and a team leader.
"Johnny Hartle is bigger and more physical," Grant said. "He is also working out for hockey this summer."
Hartle was a Class 6A All-West District player last season, but unfortunately was out with an injury for the playoffs.
Kramer, the brother of former Eagle quarterback Cole Kramer, is an athletic, sure-handed receiver who made All-West District last season.
Another offensive standout returning is junior Javon Palmer-Pruitt at running back. "Javon was a starter the second half of the season," Grant noted.
The Eagles' entire offensive line returns from last season, and that will be a bonus for the experienced backfield. Those linemen are tackles Forrest Scheel and Sam Henry, guards Antoine Lang and Keegan Shimley and center Xavier Urena.
Scheel is the biggest of the lot at 6 feet, 7 inches and 290 pounds. Grant predicted Scheel would attract NCAA Division I interest this fall. "I guarantee he would have offers already if there had been football camps this summer," Grant said. Almost every college in the country canceled their camps because of COVID-19.
While the Eagles have more returning starters on offense than they have on defense, Sullivan was All-West District last season and senior linebacker Dan Knudsen earned All-District honorable mention.
Trent Jones is a returning starter at defensive tackle. Bennett Larson and Tyee Leske are other experienced players for the Eagles defensive unit.
Grant assured that help is on the way from the junior class.
"They were 7-1 as sophomores last year," the coach said. "And we moved some of the sophomores like Larson and Palmer up to varsity. Our only loss was to Minnetonka. And in the last game of the season the sophomores gave St. Michael-Albertville its only loss. We have really good freshman and sophomore coaches who get the kids ready to play for us."
Wayzata won the West District title and went on to become the state Class 6A champion last year. But since the Trojans lost heavily to graduation, Eden Prairie assumes the favorite's role this year.