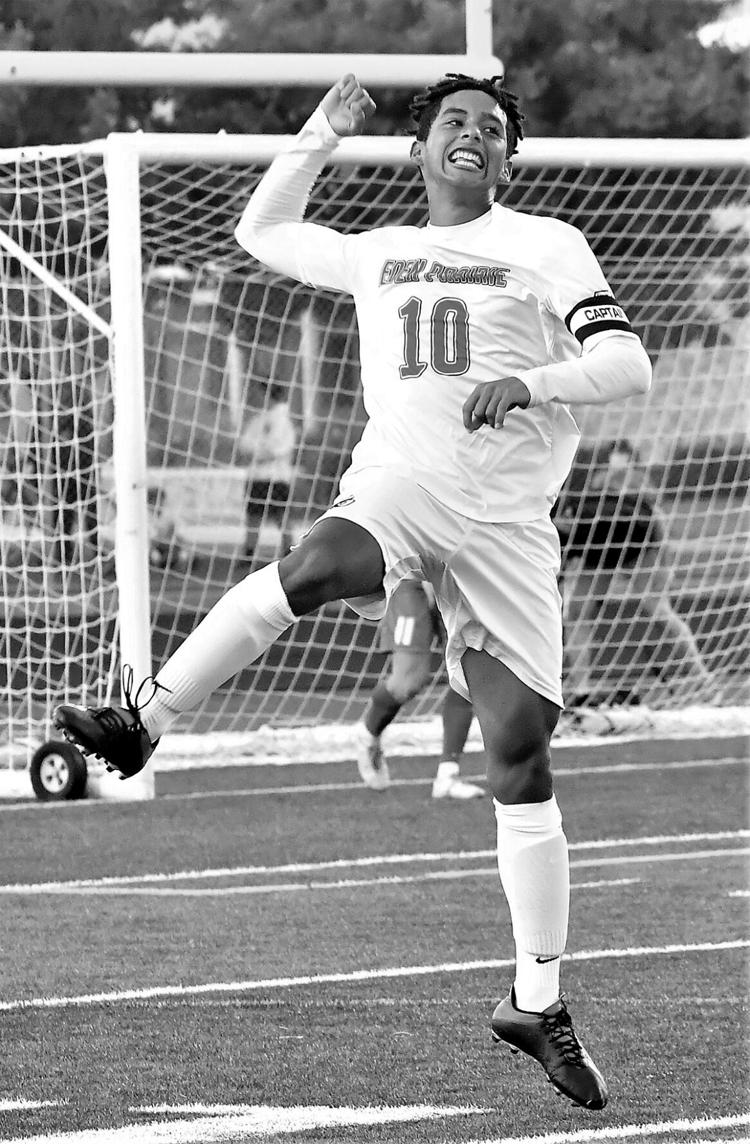 For 70 minutes Sept. 1 at Edina's Kuhlman Field, the Eden Prairie High boys soccer team was on its way to an upset win.
However, as the final 10 minutes unfolded, the Hornets were able to turn the tide with three goals and earn a 3-1 victory.
"We defended really well for the first 70 minutes," Eden Prairie head coach Rob St. Clair said. "Defense is our calling card, and if we play like that we'll have a chance to be in every game."
The Eagles took a 1-0 lead in the first half on a crafty goal from midfielder Jose Blanco, and that lead held for almost 45 minutes.
Jackson Holley headed in a corner kick from Edina captain Henry Rose to tie the score 1-1 in the 71st minute of the match, and two minutes later Edina freshman Julian Banks scored on Holley's service from the midfield to put Edina ahead 2-1.
The backbreaker for EP came in the 77th minute, when Rose took a free kick from near the sideline. He hit a low, hard shot along the ground instead of lofting the ball like a player normally would from that position. Eden Prairie goalie Carson Bell was caught between a rock and a hard place, thinking someone from Edina would try to redirect the shot, but with heavy traffic in front of the net , the shot skittered through and found the far corner of the net.
Bell had kept Eden Prairie ahead for more than half the match with his goalkeeping skills. As a returning starter, he is experienced, athletic and a good communicator.
"Carson owned the box," St. Clair said. "He met the challenge tonight. In the back, Cole Nelson and Henry Husmann played great. We've come to expect that from them."
Edina head coach Dave Jenson said, "Rob [St. Clair] has his guys believing in themselves. They took a defensive posture when they had the lead in the second half. But late in the game we were able to work ourselves out of the hole we were in."
Jenson praised Rose, who is not only the Hornets vocal leader, but also one of their most versatile soccer players.
"Henry started the game in the back," Jenson said. "Later, we needed him in the midfield, and he gave us a goal and an assist."
"I just go where I'm needed," Rose said. "We've got a ton of experienced guys this year."
Matt Mason, a returning starter, is the senior captain in the back. And goalkeeper Hank Stechmann is a returning All-State player for the Hornets. Junior captain Ryan Swanda is like Rose in that he is equally skilled on defense or in the midfield.
"Eden Prairie was well-organized and they pressured us," Swanda said. "We had a lot of good chances and finally scored some goals."
"We had some territorial goals late in the game," Edina assistant coach Billy Garner said, pointing to the big plays made by Rose and Holley.
Asked about the game-winning goal from the freshman, Banks, Garner said, "That's why we took him."
The win over Eden Prairie gave the Hornets a Lake Conference record of 2-1-0. With postseason play not yet approved, coach Jenson has put the highest priority on winning the conference championship.
Edina will next play St. Michael-Albertville at 7:15 p.m. Thursday, Sept. 10, at Kuhlman Field. Then at 5 p.m. Monday, Sept. 14, the Hornets will travel to Minnetonka's Einer Anderson Stadium to play their arch rival, Minnetonka.
Eden Prairie has a conference game with Hopkins at 7:15 p.m. Thursday, Sept. 10 at EP's Aerie Stadium. The Eagles will also be in action at 7:15 p.m. Monday, Sept. 14, against Wayzata at Wayzata High Stadium.