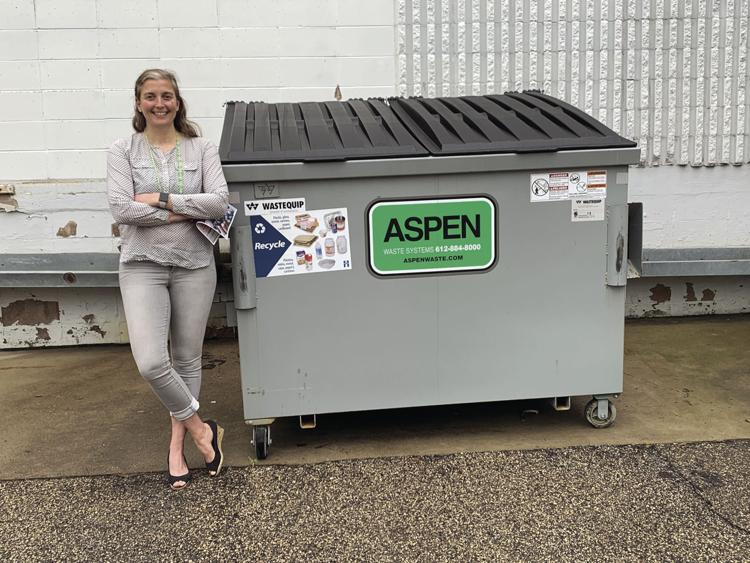 Following a county board vote last November, businesses in Hennepin County that generate large quantities of food waste will need to institute organics recycling by Jan. 1, 2020.
Many have already begun that transition, but many others have not. Between now and the deadline, Vanessa Nordstrom of Everyday Eco Solutions intends to help as many businesses as possible with that transition.
"We're an environmental consulting company that's mostly focused right now around the organics recycling mandate," said Nordstrom. "Any business in Hennepin County that produces food waste of one ton or more per week will be required to either facilitate pickup with their current carrier or find a new hauler to coordinate with."
Many businesses, noted Nordstrom, are capable of producing that much food waste, among them restaurants, schools, sports venues, hospitals and nursing homes. Each of them has a couple of options when it comes to organics recycling.
"The organics can be taken from the haulers, where it goes to an industrial composting facility," said Nordstrom. "The second option is to go with pig farmers if they're doing straight food waste."
Separating out organics waste takes some restructuring on the business side of things, noted Nordstrom — and altering that flow of food waste and updating business practices surrounding the new mandate is exactly what she wants to help businesses with.
"The cool thing is that it's a bottom-line cost savings," said Nordstrom. "I'm really out here to educate businesses that it's $70 a ton for landfill pickup and only $20 to $25 for organics pickup."
Instituting organics recycling, of course, is not just about complying with the mandate. Nordstrom pointed out the significant environmental value provided by the practice.
"Food waste is responsible for about 40 percent of our greenhouse gas emissions," said Nordstrom. "Helping people understand that and their carbon footprint, and the impact it has on the environment, is part of my services."
For businesses that seek her out, Nordstrom begins with an assessment of what is needed to suit the particular client's needs.
"Then, it's working with them to order all the materials needed, labels, color coding — making sure it promotes an easy, streamlined system to make sure there's no contamination," said Nordstrom. "It's also working on educating their employees and janitorial staff, so that they know the process and why contamination is a big deal."
Nordstrom noted that if non-compostable waste is found mixed in with organics recycling, haulers will return the waste and issue a fine — and, if Hennepin County gets wind of that happening, they might issue a fine of their own.
"I'm here to be the expert and help manage through the process," said Nordstrom. "A lot of these companies just have employees focusing on the day-to-day at the restaurant or hospital," said Nordstrom. "I really want to get after this and help make them aware, to have people know what the impact is, especially with the climate crisis. It needs to go from people hemming and hawing about it to really understanding what the impact is."
Nordstrom is also coordinating with the Eden Prairie Conservation Commission, helping put on workshops to promote the practice. She brings with her an educational focus in environmental policy, and 15 years in the packaging industry.
For more information on Nordstrom's services, visit vnordy.wixsite/everydayecosolutions. For more information on organics recycling in Hennepin County, visit hennepin.us/business/recycling-hazardous-waste/organics-recycling.