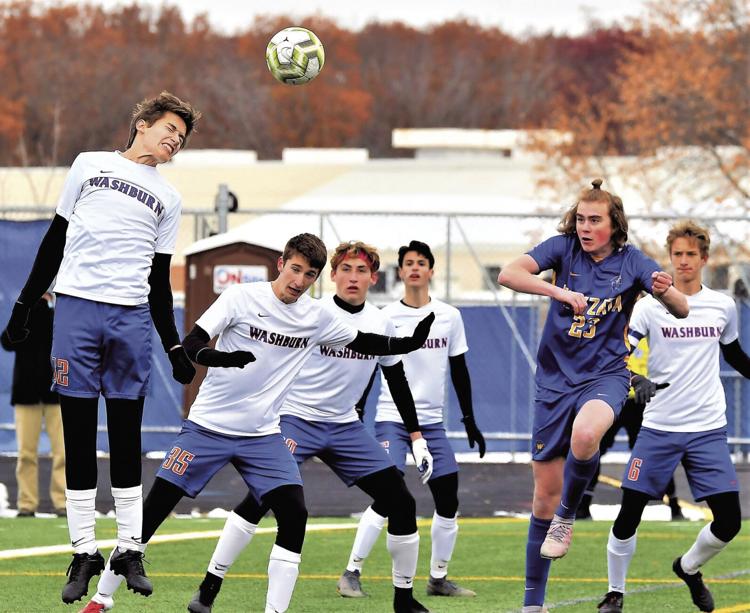 Wayzata High's boys soccer team entered the Section 6AA playoffs with the No. 1 state ranking, and when the tourney ended Saturday, Oct. 24, the Trojans were still No. 1.
In a grueling battle against Minneapolis Washburn, the Trojans trailed 1-0 and 2-1 before scoring a 3-2 victory.
"I am very proud of the boys," Wayzata head coach Dominic Duenas said. "The first half was a little bit crazy, and Washburn scored in the first 70 seconds. We tied it, then they scored again, and then we scored to make it 2-2 at the half."
In the 13th minute, Wayzata was awarded a penalty kick that senior forward Aidan McGoogan converted.
"Aidan is our No. 1 guy for penalty kicks," Duenas said. "This one was spot-on."
In the 31st minute, defender Miles Akhigbe slammed home his sixth goal of the season from close range.
The second half was a territorial war and a goalkeeper battle between Washburn's three-year starter Ben Schliemann and Wayzata sophomore Jack Roach.
In the 50th minute, Wayzata had a throw-in deep in Washburn territory. Junior defender Peter Melquist threw the ball to junior midfielder Curtis Wagner, who headed the ball backwards to sophomore Joe Highfield.
"Joe scored on a one-timer with his right foot," Duenas said.
Although Washburn had several threats over the last 30 minutes, Roach and the Wayzata defense held firm. The victory gave Wayzata a 12-1-1 record, and based on their No. 1 state ranking, the Trojans can claim a mythical state championship.
"We had three goals coming into the season," Duenas said. "The first was to be COVID-smart and finish out the season. The other two were win the Lake Conference title and win the Section 6AA title. All three goals were accomplished."
The Washburn game marked the last varsity soccer for 10 seniors on the Wayzata squad - McGoogan, Rukshen Ambrose, Michael Burica, Matthew Du, Matthew Hudson, Charlie Kassmir, Fritz Kramer, Graham Leech, Isaac Monro and Chris Paulson.
"All 22 of our players brought a passion for soccer to training every day," Duenas said. "They are a great group, and a fun group to coach."
Three Trojans have been nominated for the 2020 Class AA All-State team that will be announced this week. They are sophomore forward Highfield, junior defender Melquist and junior defender Akhigbe.
Follow the Sun sports writers on Twitter @MNSunSports and on Facebook at facebook.com/SunSportsStaff.