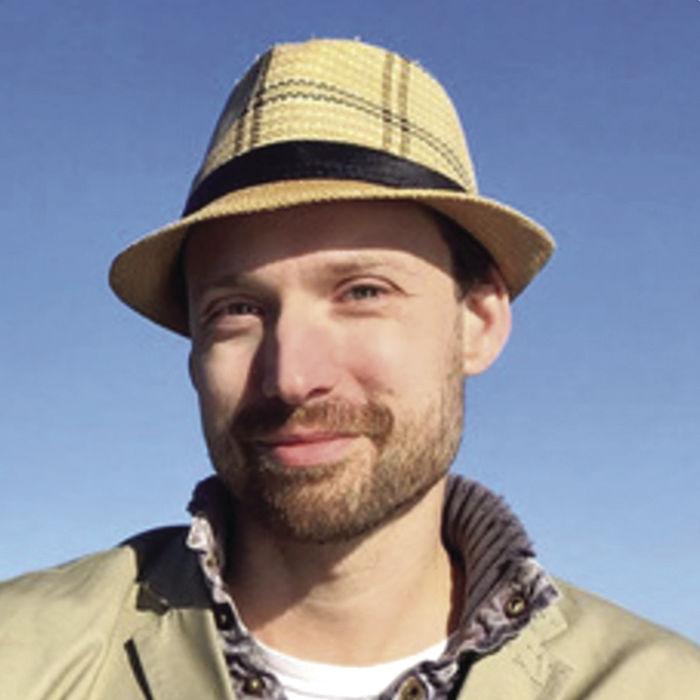 It was almost a year ago when Brandon Ferdig first ventured into the cluster of tents that had materialized near Hiawatha and East Franklin avenues in Minneapolis.
Ferdig had learned of the growing encampment the day before and wasted no time to see it for himself.
"I just had to go out there," the St. Louis Park resident said.
It had become habit for Ferdig to document ways of life that were unlike his own, maintaining a YouTube channel featuring a vast collection of video recordings from his travels across the U.S. and abroad.
So for Ferdig, it was a natural reaction to document a community that would become one of the state's largest-ever homeless encampments. The result of this work is his film, "The Wall," which will be screened in Edina Saturday, Aug. 17, at Here and There Live, a new nonprofit performance venue located in Southdale Center.
Ferdig visited the camp from August to December last year, covering nearly the entirety of its lifespan. As the tent city's population swelled to more than 300 people, he spoke with a sampling of the mostly Native American population occupying the camp, which was dubbed "The Wall of Forgotten Natives," a reference to the highway sound wall bordering the site.
"I simply let the people I interview tell their story," he said.
It was Ferdig's affinity for storytelling that got him interested in America's worsening homelessness crisis to begin with.
"I'm interested in anyone who has a unique story. And someone who lives a lifestyle that doesn't have a base or home is intriguing to me, because it's so different from how I live my life," the 38-year-old said.
A study conducted by Wilder Research found that on Oct. 25, 2018, there were a record 10,233 people experiencing homelessness in Minnesota. That was up 10% from 2015, the previous time the study was conducted. The same series of studies showed that homelessness in the state has tripled since 1991.
Telling the story of "The Wall of Forgotten Natives" wasn't Ferdig's only goal. He wears a humanitarian hat as well, using film screenings to raise money for homelessness causes. Tickets for his Aug. 17 screening are being distributed on a "pay what you want" basis, with all the proceeds dedicated to raising awareness of the crisis and helping those experiencing homelessness.
Ferdig accumulated experience as a documentarian while traveling the world in his 20s and 30s, including in China and east Africa. More recently, stateside, he documented homelessness during visits to the Pacific Northwest.
Then, last August, the camp began amassing in Minneapolis, blocks away from his day job – Ferdig does marketing and media work for a home care company that specializes in serving Native American populations throughout the country.
The first time he visited the Minneapolis encampment, he brought a friend along, "because I didn't know what it was going to be like at this camp," Ferdig said.
Getting in with the locals
"At first, it was like, 'What is this guy doing?'" said James Cross, founder of the outreach group, Natives Against Heroin, which provided security and distributed supplies that had been donated to the tent city.
Those watching over the camp were already on high alert anytime interlopers were present.
"We knew there were going to be people that were going to try to make money off this. People were going to come in there and try to sell dope, sexually exploit the women," Cross said.
They checked on the motivations of anyone who came into the camp with intentions of documenting it, he recounted. After some initial tension, Ferdig gained the trust of Cross' group, which vouched for him and helped find people to interview.
The documentarian eventually became a self-sufficient regular at the camp. "After a while, he didn't even need us," Cross said.
However, Ferdig's mission to locate interview subjects was "at first hit or miss, mostly miss," he said.
Not all of the tent city's denizens were happy to see him. "There was one point when I was interviewing a guy when a fight broke out that he happened to be involved in, and he chased the guy with a knife," Ferdig recounted.
The skirmish didn't lead to further incident, he said, but a group then demanded he delete the footage, "and they weren't going to let me leave until I did." As far as any threats of violence directed toward Ferdig, "that was the worst of it," he said.
"I just kind of let it go and returned," he added. "They were actually a bit taken aback that I returned."
They told him he had "guts" to come back, he said. "And, it was fine after that."
His film project became easier when he was no longer a stranger. "The people that got to know me knew I had good intentions," Ferdig said. "I wasn't there to record them and throw them up on YouTube to make fun of them. I wasn't there to gawk or judge."
While many of those living in the camp were reticent to be interviewed or caught on camera, Ferdig had little trouble finding the man who would become his film's most prominent subject.
"I show up, and I meet a man who right away is willing to talk," he said.
Earl, along with his partner, Kat, would become a central focus of "The Wall." "There is a lot of real talk from them in this film," Ferdig said. "And that's the strength of this movie – the interviews."
'Pain' at root of the crisis
Ferdig's film also uses TV news clips to help tell the story of the camp, but ironically, he acknowledges the cause of homelessness goes much deeper than evening news can follow in a two-minute segment.
"There's a lot of pain, a lot of just, emotional pain, and I think a lot of healing is drastically needed," whether that's a sweat lodge or a treatment center, Ferdig said.
Earl and Kat talked about their family life, events from their youth, their thoughts on the public's response to the homelessness crisis, and their own battles with addiction.
"Earl says at one point, 'I don't like myself when I'm sober,'" Ferdig noted.
Another interview subject identified a lack of self-esteem among young women as another destructive force. "They don't think they're good enough, they don't think they're smart enough, they don't think they're white enough," she told Ferdig.
"Those comments, to me, strike at the root of the problem more than economic conditions or the rise of cheap and available prescription drugs, both of which contribute," Ferdig said. "But I believe when you have that kind of emotional damage, trauma … that makes crawling out very hard."
The film features people, he continued, "who are sometimes just kind of stumped about how to get out of their situation, and they're not shy about saying that."
The current housing shortage and people being priced out of their neighborhoods doesn't fully explain the rise in homelessness, Ferdig believes. "I think there's a larger cultural force at work that kind of has people throwing their hands in the air," he said.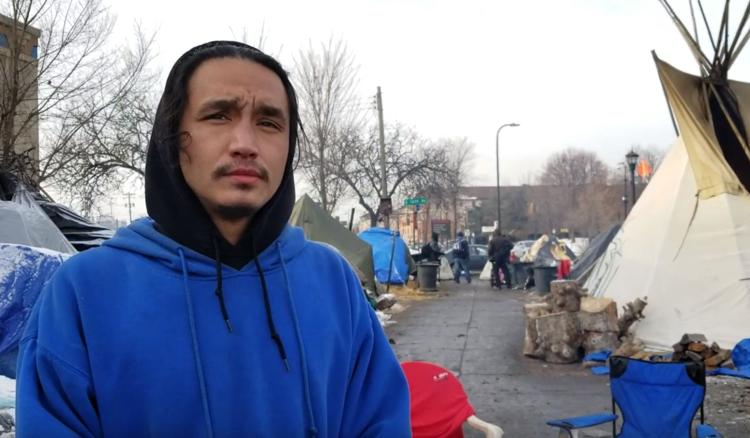 Ferdig and the news crews weren't the only ones filming the happenings of camp. Members of Natives Against Heroin were going undercover to catch drug dealers, broadcasting their busts to the world via Facebook Live. Cross says there was no reason to be shy in conveying the reality of the tent city.
"My point is, if you hide it, you don't help," he said.
The tent city at Hiawatha and Franklin dispersed in December as its occupants were moved into temporary housing, but those at the camp represented just a fraction of the state's homeless population. Cross wants to see another tent city established.
"We're trying to do it at another site," he said, eyeing a grassy area near Hiawatha Avenue and East 24th Street, just southeast of last year's tent city site.
Cross wants to make sure the encampment is highly visible to traffic. "I believe you have to push it onto the public to be addressed," he said.
He contends that condensing the homeless population will help organizations like his deliver the resources they need. In fact, that's one reason why "The Wall of Forgotten Natives" grew so large – it became a hub for resources, Cross explains.
Normally, the homeless population is scattered, "So how can outreach workers … really know where these people are?" he asked.
The good and bad of 'community'
The concentrated homeless population at last year's tent city presented an opportunity for Ferdig to conduct his own survey. He handed out questionnaires to 100 people, asking about topics including drug use, family status and demographic makeup.
Ferdig found that women comprised about 40% of the camp. The survey also showed that half the camp's population had children under 18 years old who weren't present. "That, to me, was alarming," Ferdig said.
Additionally, his survey found that 84% of the tent city's denizens were using drugs or alcohol. Half reported being drunk or high on a daily basis, he said.
"So drug use there was very high, higher than ordinary homeless numbers." Ferdig noted. " … It was easy to go into a tent and get high, so there became a culture there of chemical use."
In that atmosphere, Ferdig saw how the concept of "community" can be turned on its head. It can lift people up, he observes, but also have the opposite effect.
"The community can bring people down, too," he said. "If a critical mass of people are engaged in harmful behavior, it will spread."
Over his time at the tent city, Ferdig saw people grow attached to the camp. "In fact, the community was so strong there that people were sad to leave," he said. "There was a belonging. Often, there was strong positive social energy, and so to leave that and go to treatment was a downer for people."
As the residents of the tent city kept warm with blankets, gas-powered space heaters and a communal fire pit dug into the hillside, their spirit of community was further called-upon as winter set in. "I was surprised how many people embraced that," Ferdig said.
The observation was part of a story he tells to remind people, "The amount of humanity behind each individual is as much humanity as you or I, and they each have a story. They each have hopes and dreams. They were all a baby once, and they were raised by parents, and they went to school, and something happened."
When those stories are told, "you begin to care, you begin to see their humanity, and then it's something that you want to see improve."
– Follow Andrew Wig on Twitter @EdinaSunCurrent
'The Wall' Screening and Discussion
Where: Here and There Live, 3195 Southdale Center, Edina
When: 7 p.m. Saturday, Aug. 17
Details: Brandon Ferdig presents his documentary; special guest James Cross, founder of Natives Against Heroin, joins for discussion following the screening; visit hereandthere.live/event/08-17-2019 to register to attend; future screenings available on request by emailing brandon@theperiphery.com