The following article was adapted from the above video by Sun Current Intern Dedeepya Guthikonda.
The pandemic has inspired countless pieces of art as people try to capture what it means to live through this historic moment.
For Ahmed, an 8-year-old Edina resident, that meant drawing a picture of himself and his cousin playing video games at home last month, a habit that's become a daily routine during the pandemic.
But this piece of art wasn't destined for the refrigerator. Ahmed's drawing was part of a story quilt, a patchwork of pictures drawn by students to showcase meaningful moments they have experienced.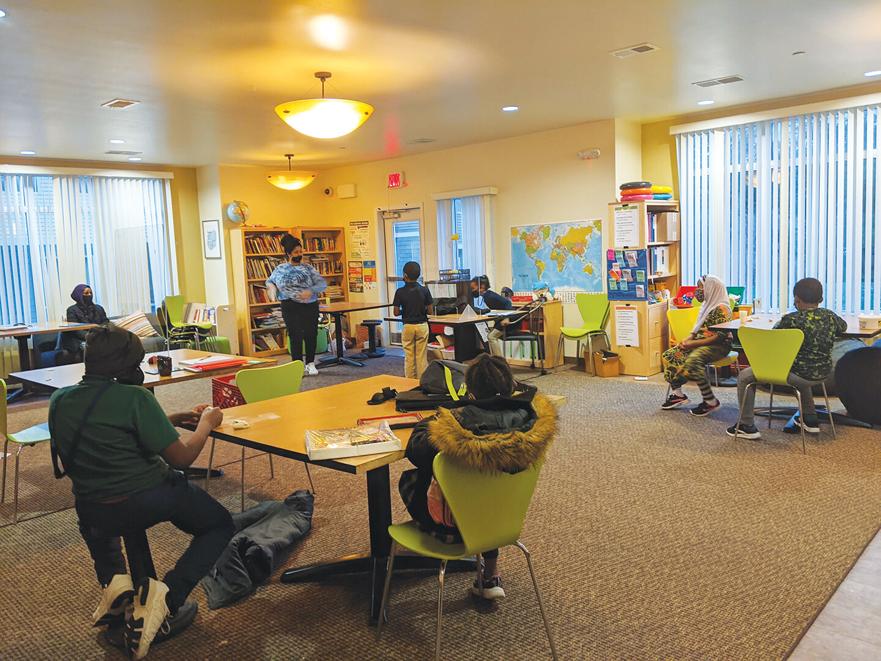 The project was part of the activities at Yorkdale Townhomes, a community in southeast Edina run by affordable housing provider CommonBond. At Yorkdale, young residents had been used to at-home learning programs well before the pandemic made virtual education the norm.
While organized enrichment has long been standard in this community, the programming is not proceeding as usual. Due to COVID-19, all students are encouraged to wear masks and socially distance. To further slow virus spread and help isolate would-be outbreaks, the learners are grouped into small pods that stay together week after week.
That way, the community can continue offering a slate of after-school programs that are in high demand. The complex houses 150 residents under the age of 18, according to Rachel Ladd, services coordinator at Yorkdale.
"A lot of them look for places to go after school, especially to get help with homework," Ladd said. "Many parents don't speak English as their first language. Some parents just need extra help navigating the system. Other parents are working."
Some students take advantage of one-on-one tutoring as they follow a tailored academic plan that monitors their academic progress, "because we know maybe kids who are in sixth grade may be learning – or at least reading – at like a third-grade level," Ladd explained.
The offerings also provide some much-needed fun. "Especially during the pandemic, we have really started to emphasize just destressing and being in the community while being separate," Ladd said.
Growing up in the same townhome development, many of the children have known each other their whole lives.
"If you walk outside Yorkdale at 6 o'clock on any day, there will be kids playing on the playground," Ladd said. "They are just incredibly close. How amazing is it that your neighbor is also your best friend?"
Since it is common for program participants to take part as siblings, children of different ages naturally commingle. "They look up to each other a lot," Nadia Al-Yasin, an instructor at Yorkdale, observed last month as she handed out chalk for sidewalk art.
The children were tasked with illustrating answers to the question, "What does community mean to you?"
Ladd admitted she doesn't have to do much to promote that idea, "because our residents create their own community."
– Adapted from video by Andrew Wig