A fire doubles in size every 10 minutes, a consultant told the Edina City Council during an Aug. 20 study session, as officials heard a recommendation to build two new fire stations in order to get to emergencies faster.
In the short term, population demands dictate that Edina's Fire Station No. 2 should be rebuilt and relocated, said Mike Clark, senior project architect for Five Bugles Design. Eventually, he said, the city ought to build a third station. That is, if the new goal of establishing a 6-minute response time standard is to be met, according to the consultant.
But already, according to the consultant, Station No. 2 doesn't meet the city's needs.
"It's too small, and it's aging, and it's in the wrong place," Clark said of the facility built in the mid-1990s.
Located virtually on the border between Edina and Richfield, 50% of its response area lies in the city to the east, the consultant's report notes. An ideal place for a relocated Station No. 2, according to the consultant, would be in the area of area of 70th Street and France Avenue.
In addition to being relocated, the station will have to get bigger to meet increased demand, according to Clark.
"Station 2 is seeing more activity than what it was designed to support," he said.
With redevelopment focused on the southeastern and northeastern quadrants of the city, Edina's population is rising.
"What is already currently getting constructed will increase your population by 6%," Clark said.
This places increased demands on the fire department, but not due to road congestion, he said, citing traffic analysis.
"We cannot find a statistical variance in there that made any sense, so what that seems to say is your road networks are adequate," Clark said. "People are able to get out of the way, so even if it's rush hour, the fire department and the ambulances are still getting through to where they need to go."
While the consultant doesn't expect increased traffic to affect response times, a two-station fire department will be challenged in meeting the 6-minute standard envisioned in Edina's new Comprehensive Plan, according to Clark. The city is mostly meeting its current 8-minute standard, the consultant noted.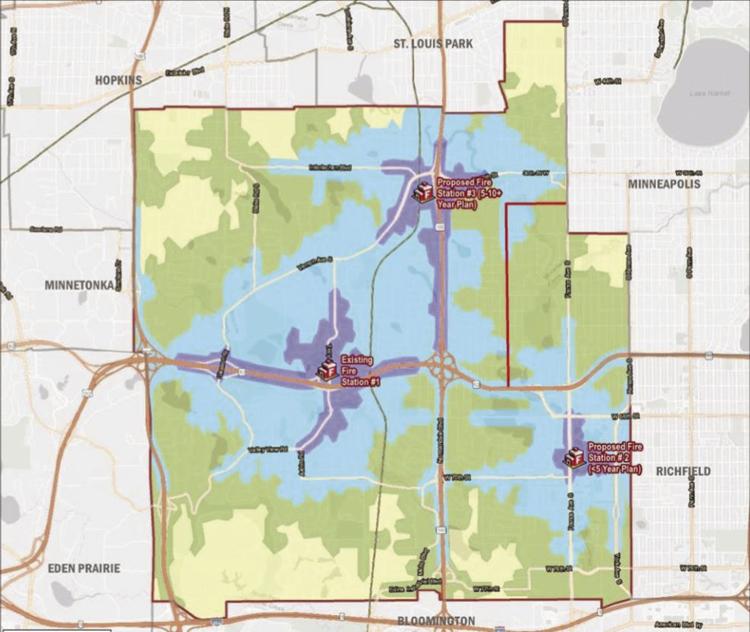 A third station, ideally placed in the Grandview area near city hall, would mean firefighters could reach their destinations across the vast majority of the city within the aspirational 6 minutes, according to the consultant.
Five Bugles Design recommends the city acquire 2-4 acres of land for each new station, but that presents another challenge.
"There's not a lot of land to purchase," Edina Mayor Jim Hovland said.
One opportunity might be found as part of an otherwise-private development – the consultants noted they are working on several projects in other communities that are taking this approach.
Highlighting one such possible opportunity, Councilmember Mary Brindle pointed to the proposed redevelopment of the U.S. Bank property at 70th and France.
Wherever feasible locations might materialize, the city will have to be ready to pounce, according to City Manager Scott Neal. "We're going to have to be opportunistic from a real estate standpoint to find that," Neal said.
– Follow Andrew Wig on Twitter @EdinaSunCurrent