Allan Law still uses a flip phone, the same technology that was available to him 20 years ago when he retired from teaching to dedicate himself full-time to the people who call the streets home.
And the hinges on his retro communication device get quite a workout.
"The last I kept track was 178 or 180 phone calls in a day," the 74-year-old Edina resident said as he sat down to describe his tireless existence as "The Sandwich Man."
Others call him "The Token Man," for the bus tokens he hands out – not so much for transportation purposes, but so people can shelter from the cold. By that naming convention, he could also be called "The Sock Man" or "The Energy Bar Man," or "Words of Inspiration Man."
They all start to sound like super-hero names, but that might be appropriate for someone who emerges from the darkness every night offering whatever assistance he can provide out of his well-worn minivan – his version of the Batmobile.
According to his numbers, Law had a hand in dispensing more than 800,000 sandwiches last year, a throughput aided by the 17 freezers he keeps in his apartment – 10 in the living room, two in the dining room, three in the bedroom and two in the kitchen – he told NBC Nightly News in 2014, as he received a burst of media attention for his appearance in the documentary on altruism, "The Starfish Throwers."
The statistic about the appliances has been cited time and again in efforts to illustrate Law's unconventional nature, but to "The Sandwich Man," it's just an efficient use of space.
Law says he never rests his head in his apartment, opting instead to get his daily upper limit of four hours of sleep in his van, parked wherever he has to be, in whatever location best enables him to supply his trademark brand of goodwill.
"For 10 years, I don't think I've slept in the bed one night," Law said.
He explained that he took an Edina address about 10 years ago in order to be closer to his aging parents. His mother, Arlene Law, died in 2010 at the age of 94. His father, former Richfield Mayor Loren Law, died late last December at the age of 101.
But, augmented by several satellite freezer locations and storage lockers, the Edina apartment remains a vital operational hub for Law's nonprofit, Love One Another, which he formed 52 years ago.
After growing up in Richfield, Law headed a short distance north to begin his teaching career in south Minneapolis. It was there that he began his outreach efforts by piling his fifth- and sixth-graders into his station wagon for regular outings – to destinations like McDonald's, the St. Louis Park roller rink or the Capri Theater in north Minneapolis.
"On Friday, Saturday and Sunday, I would take 100 kids on the average to movies," Law said.
For the summers, he recounted fitting 16 kids in his station wagon for trips to his ancestral family home in North Dakota, then on to the Black Hills and all the way to Colorado. In his ambitious efforts to show his students the wider world, Law established relationships that still endure.
"It's just him," said Frankie Richardson, who was a student of Law's during his second year teaching and now sits on Love One Another's board of directors.
Richardson, like everyone else who attempts to explain Law's approach to life, frames her analysis of the man in simple terms.
"He's such a good person, and he wants to help everybody that he can," she said.
Law says he's merely gone where he sees the need, meaning that his first teaching experience in Edina didn't satisfy his personal requirements. "I student-taught in Edina. I didn't want to teach in Edina," he said, explaining that the job didn't pose the challenge he was seeking.
He got his first official teaching job in south Minneapolis instead, but that presented the same problem. "The south side of Minneapolis was too easy," Law said.
So he headed to the north side, which had just been the site of acute civil unrest in 1967. "I always wanted to teach over in north, where they had the riots," he said.
That's where Law spent the majority of his career before retiring and pledging to live off his pension while running Love One Another without a salary, the model he employs to this day.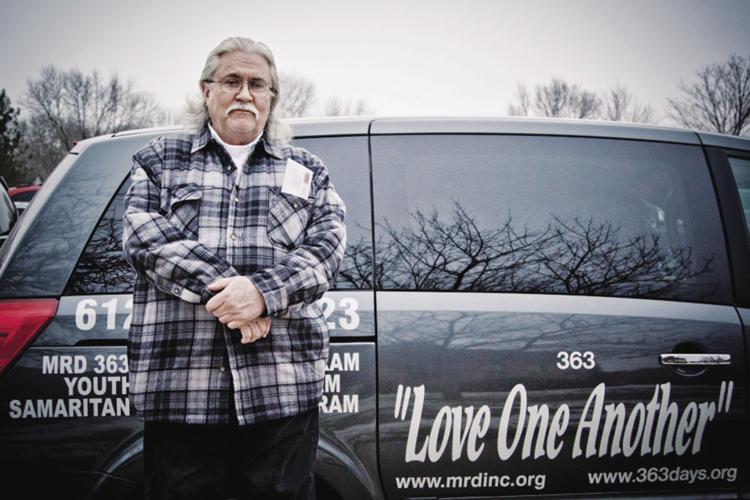 A little help
While his hands-on nature and willingness to sleep in his van keep his overhead low, Law is not exactly a one-man show. Aside from the volunteer help that comes from scores of schools, churches, companies and other groups enlisted by Law, much of the behind-the-scenes work at Love One Another is accomplished by Steve Aase. The retired businessman began assisting the organization approximately 10 years ago, having been connected to Law through a mutual acquaintance.
In their initial meetings, Law described his life's work, "and it was stunning to me," Aase said. "In fact, in the beginning, I hardly believed it."
So he did his due diligence before joining forces with "The Sandwich Man." It all checked out.
"After much digging, I decided I would help him," said Aase, who is in charge of fundraising and administrative duties such as tracking the scale of Law's operation.
Last year, more than 600 community groups and 9,000 volunteers made sandwiches for Law. Volunteers also make mittens to give away and distribute basic-living items and pack backpacks filled with school supplies, clothing and funding for field trips. There's a scholarship program, too.
This, according to Aase, is all accomplished on a budget of less than $170,000, while annual in-kind donations to Love One Another exceed $1.5 million.
Just last week, students at Edina High School made 5,000 sandwiches for Law, a haul that sent him scrambling in search of a place to put all the food. He found some takers, so he didn't have to locate his own freezer space, but with 2,500 sandwiches left to deliver that night, his van took considerable damage in a traffic accident. Law figured the vehicle, with about 117,000 miles on it, was totaled.
There are contingency plans for this sort of thing, though, and back-up vans are available, Aase says. And besides, Law has overcome crises worse than a transportation hiccup.
He had surgery for prostate cancer six years ago. "Then the cancer came back, and I had 38 days of radiation," Law said.
He's still taking medication related to that health scare, and trouble with his legs has made it harder to get around. All the while, he often gets by on one to two hours of sleep a night – or less.
He stubbornly refuses to let those challenges keep him off the streets, seeing his nocturnal approach not as an idiosyncrasy, but as central to his work.
"That is the most important role he feels he can fill because that's when people have no options. Everything is closed," Aase said.
As winter approaches and outreach services for the homeless become increasingly critical, Law plans to be where the need is, his trusty flip phone by his side.
"The only thing I know for sure," he said, "is my system works."
– Follow Andrew Wig on Twitter @EdinaSunCurrent
An initial version of this article misidentified the name of the movie, "The Starfish Throwers." The article had errantly referred to the movie as "The Starfish Catchers."