Many Twin Citians love Duluth for its crisp air, rugged maritime charms and wealth of recreational opportunities, all less than a three-hour drive away.
Edina's Michael Neil loves Duluth, too, but for different reasons. "Duluth was probably the best thing that ever happened to me," he said recently after spending nights last winter sleeping in the city's stairwells.
The streets of the port city are where Neil decided he had had enough after a drug transaction gone bad.
"I was beat up really badly," said Neil, 31.
It was then and there that he decided his days running the streets with meth surging through his veins were over. "Within 24 hours I was on a bus home, and I haven't used ever since," said Neil, now about six months sober.
He still spends much of his time on the streets, this time in the area of East
Franklin Avenue and Highway 55 in Minneapolis. But now, Neil is handing out needles instead of sticking them in his veins.
After an adult life characterized by instability and drug addiction, Neil is now volunteering for Southside Harm Reduction, an organization that works the streets of Minneapolis to mitigate the ravages of drug addiction. Neil and other volunteers at the nonprofit pursue this mission by handing out "safe-use kits" containing clean syringes, needles, and other components necessary for IV drug use.
The idea of this harm-reduction approach, Neil explained, is to minimize the risk of IV drug use for people who will use one way or another, with clean needles or not.
Going where many suburbanites would not dare venture, Neil has become a familiar face while passing out these kits, hiking from one litter-strewn enclave to another.
"They usually all know me," he said during one such recent outing. "They call me the needle guy."
He's the first to acknowledge that these streets are a far cry from his childhood home of Edina, where as an adopted child, he was brought up with all the material comforts and stability one could hope for.
"My sister went to Princeton and Stanford. My brother went to Wisconsin-Eau Claire. My mom and dad both met at Princeton," he said. "I had everything I needed. … For some reason, I was just compelled to the drug life."
That life took him in and out of treatment as he crisscrossed the region, spending time in the likes of Milaca, Fargo, East Grand Forks and the Twin Cities before finally landing in the city that would change his life. Coincidence or not, that's where he reached his nadir, at least in terms of his living arrangements.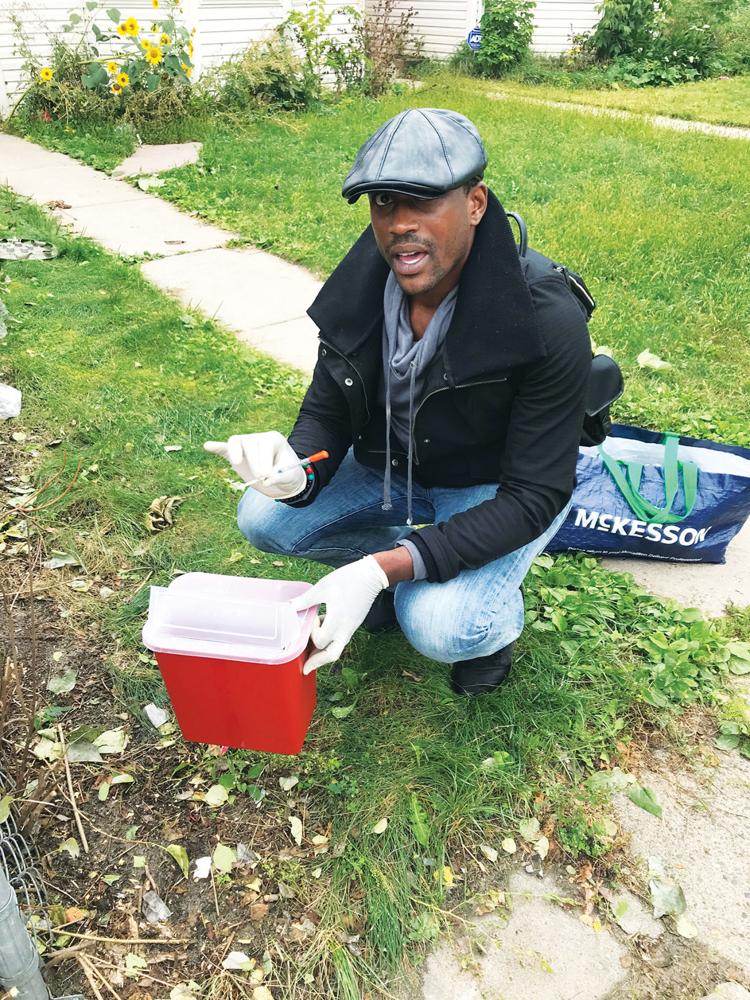 'OK, I'm ready for a change'
"I didn't really start living under bridges and in hallways and stairwells until last year, last winter. I mean, I was using so many drugs I didn't know which was up or down," Neil said.
Then, he found himself on the ground during that fateful assault. He remembers racial and homophobic slurs being hurled in his direction and trying but failing to get up from the icy ground.
"It didn't, like, beat sense into me," Neil said, "But it made me realize, like, 'OK, I'm ready for change.'"
It had been about a year since his family knew his whereabouts. Brooke Davis, then a social worker at St. Luke's Hospital, was the one who facilitated the reconnection that altered what was once a perilous path.
Davis had known Neil for much of his time in Duluth, having first met him at a homeless shelter where she did outreach work.
Neil's deliverance from the streets was a product of passive persistence on the part of the social worker, who took the same kind of judgment-free approach that Neil now uses with his own clients on the street.
"He was just comfortable where he was at, and I was content to meet him where he was at," Davis said. The idea, she explained, was "giving him what he needed, when he needed it."
And in the wake of the assault, there she was. "One day, he walked in and said, 'These things continue to happen, and I'm tired and I want to go home,'" Davis said.
She had gotten to know Neil, but she didn't know everything about him. "I didn't know that his parents weren't even aware of his whereabouts for about a year," Davis said.
She nervously called his mom in Edina. "I was about to tell her a heavy load of information about her son," she said.
Davis remained by Neil's side until he got on the bus headed for the Twin Cities. "He went from my hands to her hands," she said.
It wasn't the first time Cheryl Mayberry's son has returned home in search of stability and recovery, and she wasn't getting her hopes up that the cycle was finally over.
"I don't think I was really optimistic, to tell you the truth," said Mayberry, whose made a career as a business and entrepreneurship consultant.
"He didn't really have a plan yet," she said.
Neil started going to talk therapy sessions and got on a medication regimen for his mental health. "The biggest thing for me was staying sober and staying on my meds," he said.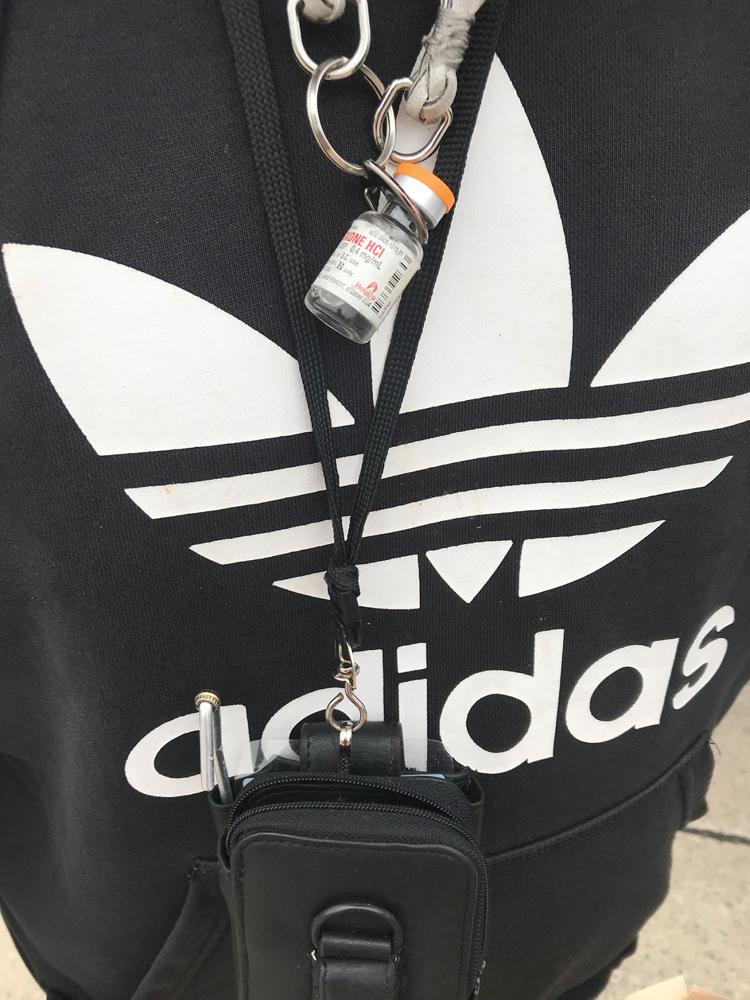 A new approach breaks the pattern
Another major factor in Neil's turnaround, his mother observed, was finding the concept of harm reduction. In the nine or 10 rounds of traditional drug treatment he underwent, he noticed he would get better for a time, only to sink back into addiction, reeling from the abrupt lifestyle transitions.
"They worked for a while, but it was just too much of a difference. … It was like, 'OK, you just stop using right away,'" he said.
"I'd get that, you know, urge to use. And it's just, when I use, it's not pretty. … And it's off to the races."
Those bouts, he said, were "just craziness. It's chaos." His time spent addicted to drugs – while he stayed away from heroin, meth via injection was his drug of choice – included criminality beyond the illegality of the drugs themselves:
"Lying, stealing, robbing, cheating," he said. "There was no right or wrong for me. It was just, what do I need to make sure that I don't feel
uncomfortable. I'm really ashamed of that part of my life."
Now, he spends much of his time being available for a range of services, whether that's providing the clean needles or a way out of the lifestyle completely. "They actually look up to me as a possible solution to what they're going through," Neil said, still relishing his new role.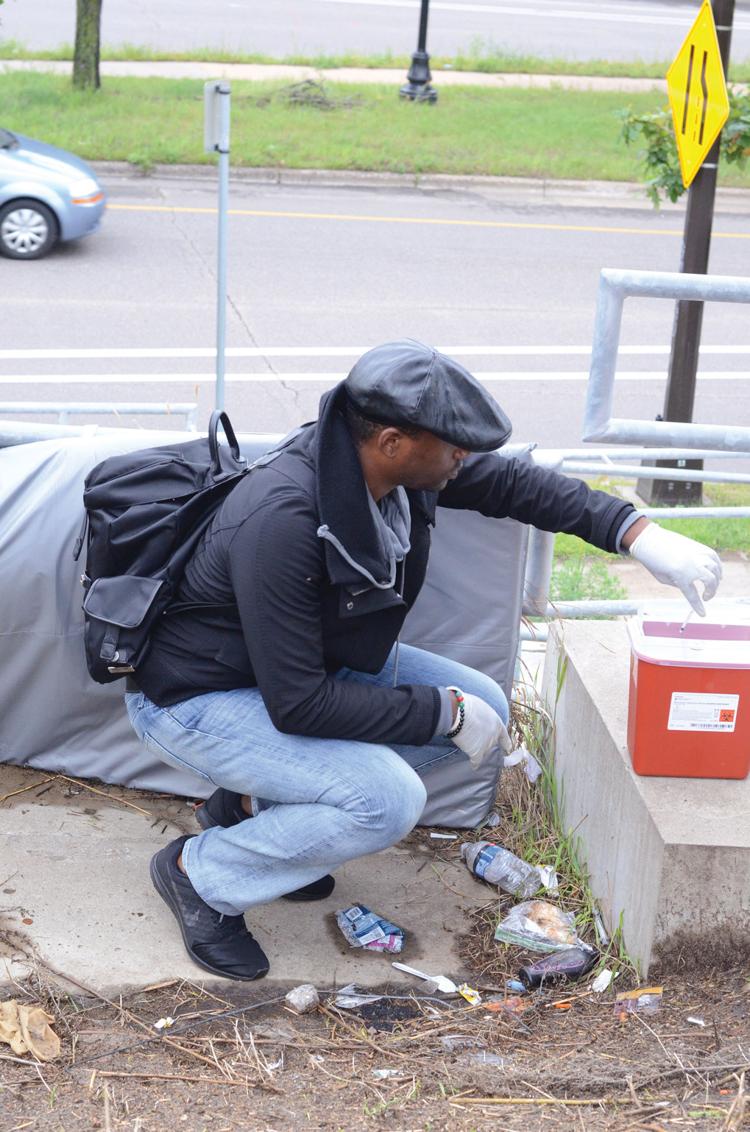 While making the rounds last month, Neil experienced the kind of victory that reminds him there is hope for people who find themselves addicted and on the streets, just where Neil was less than a year ago. He was walking along East Franklin Avenue near Highway 55 – toting a bag of clean IV drug supplies and several doses of naloxone, the life-saving medication that revives people from opioid overdoses – when he was approached by a young man named Thomas, whose name has been changed in this account to protect his anonymity.
"Get me out of here, man," Thomas pleaded to Neil, who had become acquainted with him through his outreach work.
Thomas was ready to get help for his addiction, and Neil had connections to the resources he needed. Right then and there, Neil made an appointment for Thomas at the Native American Community Clinic in Minneapolis, an opportunity that represented the first step in escaping drugs and the streets.
Now, Neil just had to hope Thomas would show for his appointment the next day. The man just had to make it through one more night.
"Just stay close to the area, and you'll be safe," Neil told him.
He wasn't sure Thomas would show for his appointment, but he observed that he at least seemed sober, a stark contrast from the previous time Neil had encountered him – "half-naked, just all over the place."
An observer who was tagging with Neil for the outing would, unprompted, receive an ecstatic text message less than 24 hours later. "Travis showed up to get the assessment today!!!" Neil wrote.
It was the first time he had sent someone down the path to treatment, which he expected would emphasize Thomas' Native American heritage as part of the recovery process.
"He has a good chance of making it in whatever endeavor he goes into," Neil said, "because I think he wants to get help. And that's the first part."
Neil had never pushed treatment on Thomas – he just made himself available. "That puts him at an advantage over a lot of different people, because it's not forced on him," he said.
The incremental victory came after Neil had established a sense of trust with Thomas and others around him. Neil sees evidence of that trust on a regular basis, particularly when someone comes up to him with a soda can full of used needles for disposal. They'll stash them out of sight until Neil arrives.
"I mean, that's charges if someone were to catch them with those," he said.
Neil says that being around drugs regularly hasn't hindered his ability to remain sober – it's quite the opposite, he reflects.
"I have no urges to use when I'm around it all the time," he said. "I mean, I see people shooting up all the time and they use right in front of me. It doesn't bother me. It just reminds me of where I was and where my use leads me. I'm using that to fuel me in helping them get where they need to be."
Physically, Neil emerged from addiction relatively unscathed. He noted he's avoided the kinds of diseases associated with IV drug use, despite not always using clean needles. "There were plenty of times when I wasn't safe either," he said.
Not that he's escaped scot-free. Neil notes he served an 11-month prison sentence for non-violent offenses. Plus, he's still dealing with mental trauma from his dark odyssey, observed longtime friend Michael Sparks, also an Edina resident.
"Over the course of all of these years and all of these things, I think that he's paid an emotional price," Sparks said.
And Neil's avoidance of the ultimate reckoning means others might do the same, Sparks observed. "He hasn't paid the price of his life, and he is being presented with a great opportunity, not only for himself, but for other people," Sparks said.
Despite his mother's initial skepticism that Neil's return to Edina would yield real progress in his battle with addiction, she says her son's return home has been a rousing success. "As it turns out, it's been going great," she said.
Davis, who still talks to Neil at least once a week, also speaks to his exemplary recovery.
About a month after Neil returned to Edina, Davis was invited to dinner at Mayberry's house. The appreciative mother had something to tell her in person. "What really hit home for me is, she thanked me for bringing her son back to her," Davis said.
He's worth saving, she added, calling Neil "charming and charismatic and really intelligent. He's got a lot of good things to offer."
In the continued success of his recovery, Neil credits a harm-reduction mindset that allows for mental pliability. It amounts to a paradox: When he tells himself that using again wouldn't mean outright failure, it helps him refrain from using entirely, he explained.
Now on stable footing, Neil is contemplating his next step, looking to make a career out of the kind of work he currently does on a volunteer basis. One option he's been contemplating, as he builds on lessons learned from the margins of society, is to become a crime-prevention specialist for a police department.
Whether it's getting dirty needles off the streets or sending someone on the path to recovery, Neil feels like he's found his calling.
"Honestly," he said, "it gives me a crazy sense of purpose."
– Follow Andrew Wig on Twitter @EdinaSunCurrent