Founder Anne Spaeth was inspired by both a socially responsible mindset and the English countryside when she opened The Lynhall in Minneapolis in 2017.
The same concept and drive that brought the restaurant success has led to a second location at 50th & France. Having opened late last month in a recently built residential development called Nolan Mains, the market-style restaurant and bakery includes Edina-specific features, such as special pastries and a takeout window.
The newest location offers in-dining patrons with a quaint atmosphere, inspired by the stone cottages of England and filled with vintage decor picked up from local antique shops, Edina-special pastries like lavender croissants, and a bar area and fireside lounge.
In the first few weeks of opening, Spaeth said several items, like the croissants, would sell out in the first couple hours of the day. And so far, Spaeth said she's received a lot of support from the community.
"It's been amazing. People have been so supportive and we've been absolutely in awe of the outpouring of support from the community and the excitement," Spaeth said. "It's been really humbling. And we're just really grateful."
Currently, the restaurant is only serving brunch, but it will be opening for dinner within the next few weeks, Spaeth said.
Notable brunch items include shakshouka, smoked trout scramble, chicken and waffle, and scones and gravy. In the future, the location will also offer a rotating afternoon tea and a "gathering hour" featuring charcuterie and cheese boards.
A takeout window opens up to an outdoor plaza, where patrons can quickly pick up lattes, pastries and other items.
50th & France
The new location is housed on the bottom floor of Nolan Mains, which opened last year, developed by Buhl Investors and Saturday Properties. According to the development's website, it was the first major development in the 50th and France district in over 10 years.
"We are thrilled to be part of the fabric of the 50th & France neighborhood," Spaeth said in a statement.
The district is known for its quaintness and walkable streetscape, and The Lynhall adds to that with a "custom, unique experience" that also helps expand food offerings for the area, said Rachel Thelemann, executive director of the 50th & France Business Association.
"The choices of cuisine are really widening and it just will draw and we'll be able to offer so much more than what we could before," she said.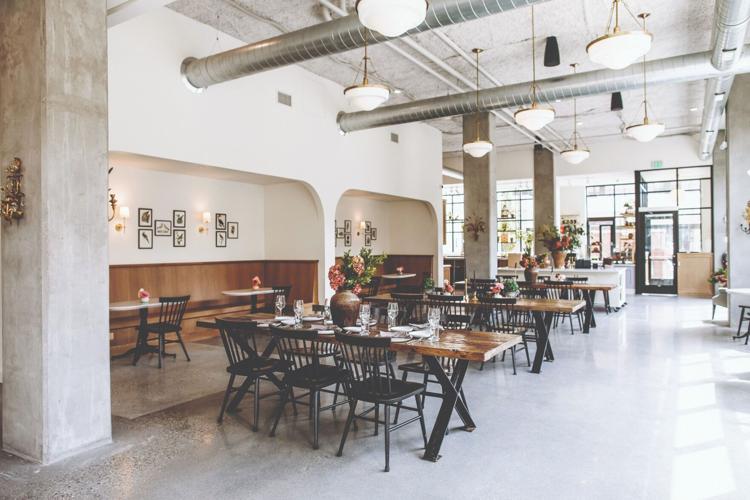 Community-driven mission
Spaeth, who was formerly a county attorney and Hennepin County child protection advocate, created events to aid and inform community members on a variety of societal issues, such as mental health, sobriety and recovery. Spaeth also created the Long Table Fund, which was meant to help provide mental health resources to restaurant workers.
"(The fund) was really set up as a way for us to also support people in the hospitality community who disproportionately are affected by mental health and chemical health struggle," Spaeth said.
She added that she plans to continue these initiatives at the Edina location – but virtually for now due to the pandemic.
"It's not lost on me how hard COVID has been on people and not just from the physical, but the mental health part of the stress," she said. "It's just interesting for me to see how the conversations continue, but now have morphed a little bit because of (the pandemic) that we're dealing with right now."
COVID-19 impact
Apart from the mental toll of the pandemic, the restaurant also had to undergo physical changes.
"(It's) been a journey," Spaeth said. Currently, there are fewer tables inside of the restaurant than there would normally be and all customers must have their temperature checked before heading inside. But new additions, like the new takeout window, are being utilized.
"People really love that takeout walk-up window. And so now, we're considering investing in a similar type window in Minneapolis, and then continuing ... to again, just listen to the customer and how are they going to be most comfortable," Spaeth said.
She hopes she can expand the patio space onto the 50th & France plaza.
"We're just preparing on all fronts," Spaeth said.
– Follow Caitlin Anderson on Twitter @EdinaSunCurrent