This past spring, as the realities of the COVID-19 pandemic became clear, anyone planning a big event for the summer had a difficult decision to make: cancel, reschedule, or come up with a safe alternative.
In the case of Taste Fore the Tour, a fundraiser that debuted last July in conjunction with the 3M Open golf tournament, organizers chose to brave the uncharted territory.
Modeling the event off their other annual fundraiser, the Taste of the NFL, event co-founders Wayne and Pete Kostroski know how to stage high-wattage parties to raise awareness about hunger. This year, though, the Edina residents wouldn't be able to stay in their comfort zone. So for its second iteration, Taste Fore the Tour is going virtual, staging a fundraising campaign that will culminate in an online event July 20.
Pete Kostroski, the son of restaurateur Wayne, acknowledged the pandemic and the heightened awareness of racial injustice when he observed, "It's tough to do change when you're hungry."
Considering the demands being placed on food banks these days, he was determined to again raise money for Volunteers Enlisted to Assist People, which provides food and social services to those in need.
"We didn't want to turn our backs on VEAP," the younger Kostroski said.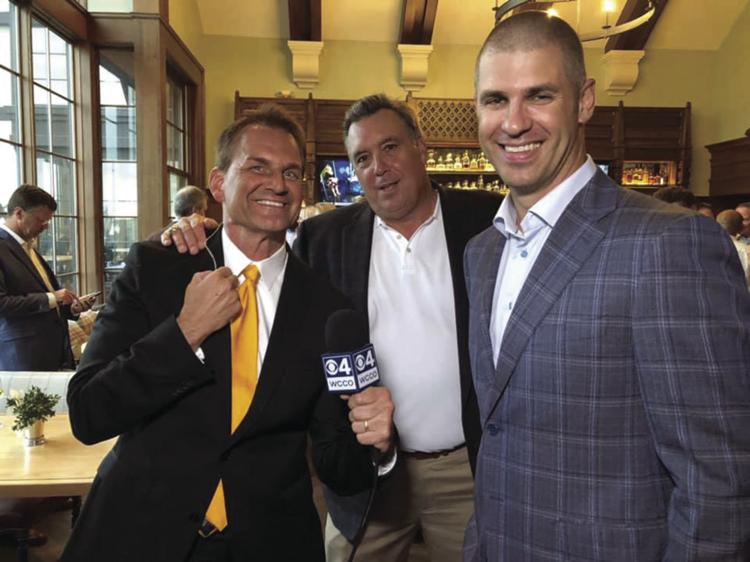 The second edition of Taste Fore the Tour is digitizing many of the fundraising aspects that were part of the inaugural event last year. That includes a silent auction offering an array of memorabilia, drawings that people can enter by making donations, and heavy participation from the world of sports celebrity.
For instance, Twins legend Kent Hrbek, all-time great golfer Annika Sorenstam, and another golf luminary, Sir Nick Faldo, are among 19 celebrities that will contribute to a recipe book filled with their personal favorites. All proceeds from the book sales will go to VEAP.
Used to promoting star-studded culinary events that virtually sold themselves, Taste Fore the Tour organizers had to get creative this year. Former Vikings linebacker Ben Leber, who will lend his presence to the live online event after serving as an auctioneer of sorts for last year's event, noted how the people and the stately venue that is Interlachen Country Club were, in themselves, the major highlights of the Inaugural Taste Fore the Tour. "It was just the people and the setting," the Edina resident said.
Helping the organizers navigate the online world is Carly Zucker, another Edina resident who was heavily involved in last year's event. Zucker, a KFAN radio personality and wife of former Minnesota Wild winger Jason Zucker, is lending her expertise in social media to the cause. "We would be lost without her," Kostroski said.
Transitioning to an online-only event means changing fundraising strategies, Zucker explained. Instead of selling high-dollar tickets to an exclusive dinner, the goal this year is to "reach more eyes and more people for smaller dollar amounts," she explained.
At the same time, Leber acknowledged the tricky reality of fundraising – that when the need is greatest, people generally have less to give. "To be quite honest, you feel a little stuck," said Leber, who is also known for his charitable work with St. Jude Children's Research Hospital.
"It's kind of stressing everybody's creative juices as far as what's appropriate, what the right timing is, what's the right message," Leber said, acknowledging, in addition to the pandemic, the tender state of the national consciousness amid a reckoning with racial injustice. "It's a really trying time, I think, for everybody."
Zucker noted a feeling of responsibility that keeps her focused on the job at hand. "As the saying goes," she said, "from who's given a lot, a lot is to be expected."
She knows she has a platform that can make a difference. "I just think not to use that opportunity would be a big loss," Zucker said.
Last year, Taste Fore the Tour raised enough money to supply 1 million meals to the hungry, a statistic that left Kostroski "amazed and proud and excited," he said.
During a time of great uncertainty, he can't be sure whether that number will be reached again, but he'll at least know they tried. "Whatever it looks like this year, we're extremely proud that we worked outside the box," Kostroski said.
For more information on Taste Fore the Tour and to contribute to the fundraiser, visit, TasteForeTheTour.com.
– Follow Andrew Wig on Twitter @EdinaSunCurrent