A stout defense and potent attack is the right recipe so far
For the third consecutive season, Holy Angels boys soccer is at the top of the Tri Metro Conference standings following a 3-2 win at Fridley on Thursday.
The win helped the top-ranked class A Stars remain undefeated with a 14-0-1 record coming into Saturday's game against No. 5 ranked Austin at StarDome.
Thursday's win snapped an impressive shutout streak at four straight games and 6-of-7 including a scoreless game against Richfield on Sept. 24, which was called at halftime due to dangerous weather.
Fridley's two goals were a season-high given up by the Stars backline – a cause for concern coming into the season with a lot of turnover. "They have been limiting our opponent's chances in our defensive third [of the field] and growing with their care for the ball. We've been more direct than in years' past and they've adjusted well to this," said Stars coach James See.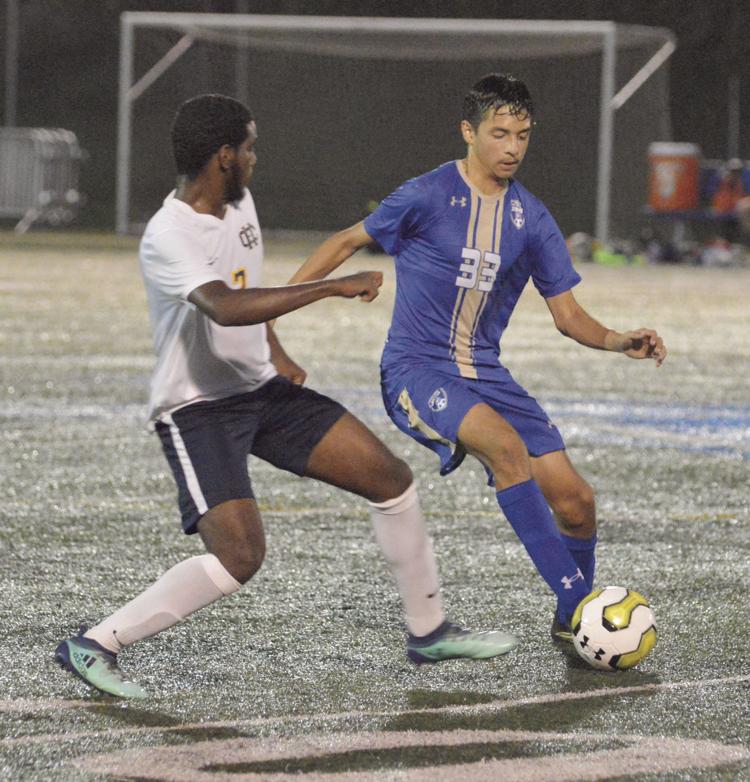 In particular, See noted the play of senior Mackie Zabinski. "He is transforming into a difference-maker, both with and without the ball. He's always been difficult to play against, however, he's turned a corner with his care and consistency with the ball at his feet in the last week or so."
Finding new ways to win is something See has been impressed by, "even in moments when we are not particularly sharp," he said.
"Our game against Breck is a perfect example. We were efficient with our changes and grew into the game both with our play and in confidence and gained a result against a very strong team."
Conor O'Rourke and Porter Ball each scored against Blake.
Ball's strong header goal came as insurance after O'Rourke scored earlier in the game. Blake came into the contest ranked No. 1 in Class A and Holy Angels No. 2. Stars goalkeeper Peter Forseth earned the clean sheet as the rankings are flipped with the Stars on top and Blake at No. 3.
Ball has a huge target on his back as a player the opposing teams try to limit, which opens up opportunities for teammates. See noted the play of Ball and Carter Hermanson leading the attack. "Our front runners are starting to gain steam and scoring consistency in games," See said. "They are both excelling in the box and can be a treat to watch when they are on."
Holy Angels hit a season-high seven goals in a 7-0 win over St. Croix Lutheran in a Tri Metro Conference match on Sept. 19. O'Rourke opened the scoring in the 19th minute before Hermanson scored twice ahead of  halftime. Dave Oslund added a pair of goals early in the second half, 10 minutes apart at 43 and 53 minutes. Smith and Murphy picked up late goals for the Stars.
With much of the players in the central spine of the field back, See says they are looking for more consistency from the midfielders to carry the ball and disperse it through the build-up in the attack. "We have loads of talent down the spine yet we're looking for them to create more opportunities in the run of play for our front runners."
Unlike 2018 when the team's health was stable through the regular season, this year the trainer's room has been busy. The team lost Davey Oslund for two weeks earlier in the season, senior Nick McGrane lost a week in September and junior goalkeeper Peter Forseth injured his ankle during a wet conference game at Brooklyn Center, which tested the depth of the Stars shot-stoppers.
Jack Michie performed well in relief against Brooklyn Center. Will Lehnherr stepped up against Monticello to earn the clean sheet by a 2-0 final score. He made a second-half stop on a penalty kick.
See noted how Will Murphy, Noah Hermanson and Shalim Montes-Hernandez picked up additional roles on the team as others were injured, making the necessary in-game changes to help the team stay strong. "They have been performing with flexibility and grit."
Follow Jason Olson on Twitter @SunSportsJason.
(Sun Newspapers staff photo by Jason Olson)
Stars senior defenseman Matt Banovitz looks to disperse the ball through the midfield in a Tri Metro Conference game against Columbia Heights in September.
Sophomore Shalim Montez-Hernandez, right, has been in and out of the lineup since the first week of the season with injuries but is part of a young core group of sophomores eager to leave their mark.