Swim/dive team shows it deserves state rankings
Richfield swimming and diving opened October with its fourth win of the season in a 97-80 win over Fridley in a Tri Metro Conference dual on Oct. 1.
The win helped boost the Spartans to No. 9 in the latest Class AA state coaches rankings.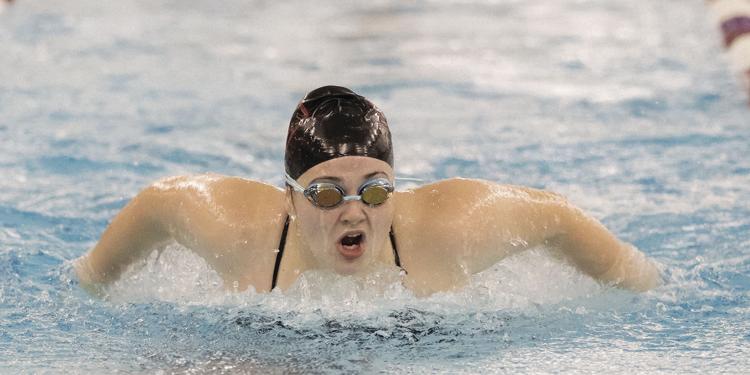 First-year head coach Amy Knutson said the girls are still working hard and having fun, while veterans Maya Burkstrand and Hannah Hintermeister have made the state cuts in their two best events.
Hintermeister swam the second leg of the winning 200 medley relay, which posted a winning time of one minute, 59.56 seconds. Clara Lybeck opened the event followed by Emily Dzierzak and Eckerman was the anchor leg.
Hintermeister won the 200 IM in 2:12.03 and had the top time in the 100 breaststroke of 1:07.40, when the Spartans swam exhibition. She also swam the lead leg of the winning 200 free relay followed by Corrina Hartman, Dzierzak and Laura Hosar in 1:47.76.
Eckerman won the 50 free in 29.43 and 100 free in 59.03. Burkstrand won the 200 free in 1:56.97 and 500 free in 5:16.43. Dzierzak won the 100 fly in 1:09.67.
Knutson said the team is starting the hard-training phase of the season to be ready to go at the end of the month with sections being the time to swim the quickest.
"These girls are successful because they are buying in," Knutson said. "Buying into the idea that they together can do well in the end of this season at their respective championship meets. They keep pushing themselves and especially each other."
The Spartans created two different 200 free relays that were mathematically within tenths of a second of each other. "This way, they had somebody to race against and beat. It was fun to see them get excited to race each other and the clock. I am really thankful that I get to create challenging practices that are met with positive attitudes."
Knutson noted how the senior class leads by rising to the occasion whenever called upon, "each in their own way. Taylor Eckerman and Corrina Hartman stepped up tonight specifically and helped motivate Emily Garcia in the 100 free. The three of them took first, second and third places and Emily got a new life best time.
"[Former coach] Marc Hamren and I knew since these 12th graders were in seventh grade that this year was going to be a lot of fun. I'm so thankful I get to be their coach."
Richfield retained the traveling trophy between Richfield and Holy Angels/Minnehaha Academy with a 100-64 win on Sept. 24. 
Knutson said before the meet they talked about, "how fast, smart swimming is fun swimming no matter the outcome. Tonight we swam smart and fast and I'm excited to work on more of the little things at practice these next few weeks. Our starts, turns and finishes are strong but I know they can get even better."
Diver Anna Howard continued to add wins to her list of achievements in addition to the 200 medley relay team of Lybeck, Ramirez, Burkstrand and Eckerman, posting a winning time of 2:00. Burkstrand on the 200 free in 1:59 and they swept the 50 free with Hintermeister, Ramirez and Lybeck taking the top three spots.
Molly Stark won her first varsity event, doing so in the 100 fly by dropping her personal best time by four seconds to go 1:11. Hintermeister won the 100 free in 55.22, Burkstrand won the 100 back in 1:03 and Sydney Colbert won her first varsity race in the 100 breaststroke in 1:22. The 200 free relay and 400 free relay also picked up wins.