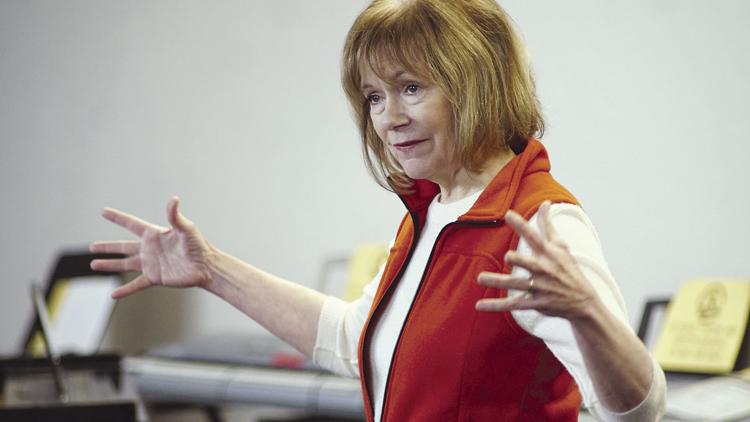 High school students ask timely, important questions
The opportunity for high school students to ask questions of a United States senator doesn't happen often.
So, when Sen. Tina Smith came to Richfield High School last week, local teens took full advantage.
Smith, who was elected to her term in 2018 after having been appointed to fill the position previously held by Al Franken, opened the Jan. 10 session with a few introductory words but used most of the 45 minutes to answer questions.
Filling the choir room at the school, the students demonstrated their concern for the happenings in the world and framed their concerns through the questions they asked the senator.
Climate change, partisanship in politics, how best to contact members of Congress, impeachment, foreign policy, and immigration were just some of the issues raised by the students.
Richfield High School teacher Mike Harris said the students who attended Smith's visit are Political Science 1001 students.
Smith told the group that her background in grassroots organizing and other experiences have helped form her values.
"The biggest mistake I can make is assuming I know what's going on in the lives of people, so the most important thing about my job is to go out listening and talking to people and then learning from that," she said.
As an example, she said her job as a senator is to "lift up the best ideas of Minnesotans, so I have to collaborate with people from both parties."
However, that task continues to be difficult in these times of polarization, not only in society, but in politics.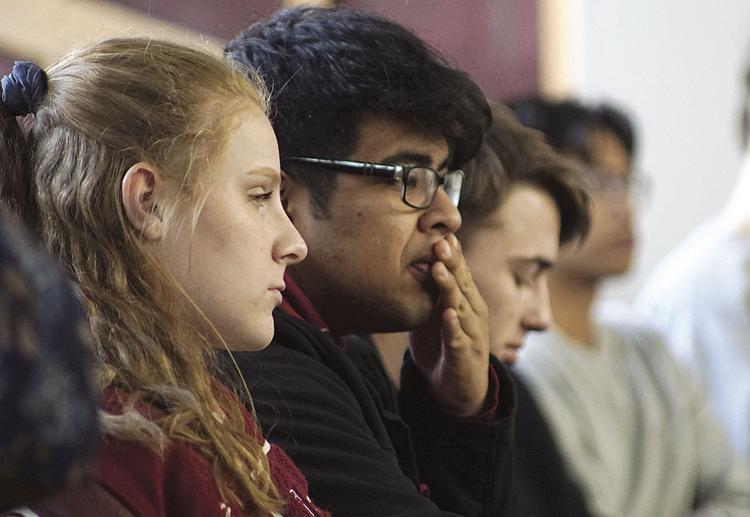 While constituents see the big issues that separate the right and left wings of political parties, Smith said the divide goes well beyond the nuts and bolts of policy and plans.
She said it was the simple things that also tend to keep Democrats and Republicans separated.
How to break through partisanship?
That was the question Smith was charged in explaining when she briefly described being a senator. She said many people have the impression that legislators "hang out all day long" in the chambers. "But that's not the way it is," she said in describing how votes are taken. Senators rarely are all together at one time in the chambers.
Smith said that the Democrat and Republican party caucuses don't even eat in the same room.
"We should just change that," she said.
On the flip side of that statement, Smith said the women of the Senate – both Democrat and Republican – meet for dinner one day each month.
"Women tend to be more collaborative," she added.
Smith also said that on "any Wednesday morning ... Minnesotans are invited to have coffee with me. And, last year, we did hundreds of meetings around the state, talking to people about veterans benefits, immigration issues."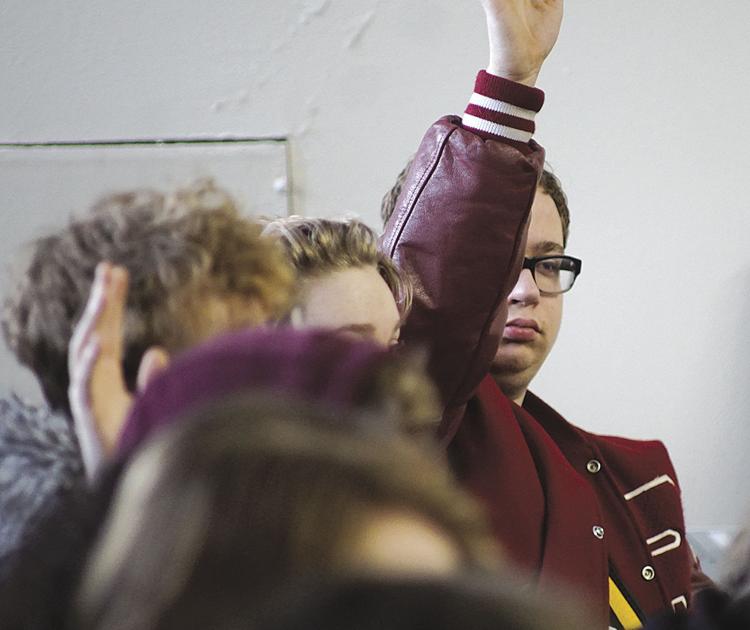 In addition to simply talking to one another, Smith believes that campaign finance reform is necessary and said the issue of gerrymandering is another pillar of division that must be reformed.
In addressing a question about voting and making it easier for people to vote, Smith asked why people aren't automatically registered to vote when they turn 18.
"We have to make it easier to vote––not harder," she said.
While top issues include impeachment and the situation in the Middle East, Smith said many other issues are near and dear to her.
"I'm working to expand health care services in public schools and how to help teachers with loan forgiveness so that people can afford to be teachers," she said.
When asked about her most memorable moments in the Senate so far, Smith pointed to a visit by Liberians who described their situation with immigration.
"About 20 years ago, there was a lot of violence [in Liberia] and people couldn't go back and were given deferred enforced departures. These papers allowed them to stay until the situation at home was deemed safe, but the papers are reviewed every year and the Liberians don't know from one year to the next whether they will be sent back.
"Can you imagine what that would be like year after year?" Smith asked.
"That's what they are going through. But, we figured out how to fix it so Liberians now have a path to citizenship."
When asked about climate issues, Smith was very clear that she has made a strong commitment to addressing issues both large and small.
"Climate is a crisis ... we first have to say there is a crisis caused by human activity, and we need to take bold actions," she said.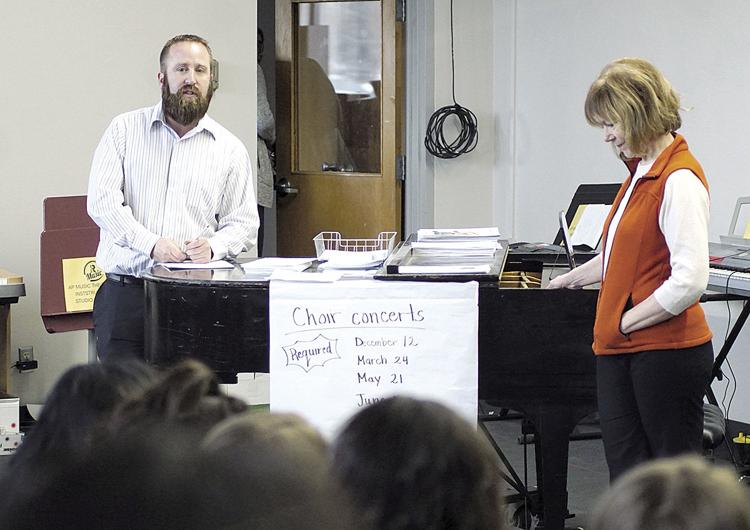 I talk about this wherever I go in Minnesota – in the red counties, the blue counties – you see changing forests, extreme weather events affecting agriculture. My opinion is that this is another example of money in our politics.
There is a massive consensus on what's happening with the climate and the need to address it. I've supported bills to make changes, from extending electrification for the transportation system and establishing a clean energy standard," she said.
But when asked why Washington wasn't acting, Smith said that bills dealing with climate change shouldn't be partisan, "but they are. We tried to attract bipartisan support for the clean energy standard, but it didn't happen."
Harris was impressed with the give and take between the senator and students.
"It is a wonderful opportunity to have a conversation with a member of the most important democratic institution in the world," he said after the session with Smith. "We wanted to be very intentional about the questions we asked in our limited amount of time," he added.
In summing up how the youth of Minnesota and the nation can make an impact, Smith said, "your voices are so powerful that only a few use them ... Democracy only works if people participate, and if they don't participate things go off the rails.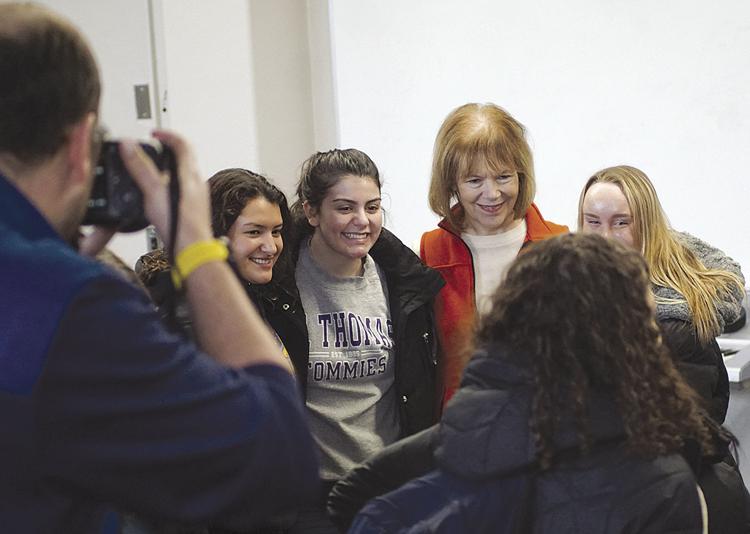 "Democracy is hard work," she continued. "Nobody can do it but us. It is the very best idea that we have. We have to govern ourselves, so we have to prove it and work for it every single day. It's about voting, of course, but it's about writing letters, it's about reaching out, it's about calling me, calling my office and organizing people around ideas and using that grassroots organizing to make your voices even more powerful.
"It is hard work, but we really, really need you."