SafeCam program meant to aid in investigations
Residents and business owners of Richfield: Do you have exterior surveillance cameras?
You may be a link in a partnership to help make Richfield safer.
Richfield Police Department Certified Crime Prevention Specialist Jill Mecklenburg feels the key to success of the city's newest effort – the SafeCam program – is that community partnership.
Described as one of Richfield Police Department's newest crime prevention and investigative tools, SafeCam's goals are to deter crime and promote public safety. To do that requires collaboration between the police department and community.
Because police are not aware where surveillance cameras are located around the community, the police, through this program, are asking residents and business owners to voluntarily register their private video surveillance systems with the department. By doing so, it would allow officers to contact them should a crime occur in or near where the camera is installed.
"[By registering] they would be giving us consent that we can contact them if a crime occurs in that area," Mecklenburg said.
She also stressed that the SafeCam program does not allow police access to private surveillance video footage. By registering, the resident and business owner only provides the number of cameras they have, their location, and contact information.
All of that information will be stored on a secure server, Mecklenburg said.
"Something we really strive to do is give excellent service and to communicate with our residents," Mecklenburg said. "With this partnership we are better able to deter crime. It allows us to ID suspects, and it's a proactive approach to crime fighting."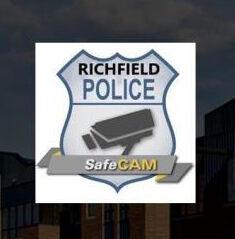 Here is how the police describe how SafeCam works:
"By registering your surveillance system with the Richfield Police Department, detectives and officers have an instant list of locations where participants have camera systems that may aid in an investigation. As Richfield police respond to criminal incidents, they may be able to use the information or footage gathered from the security cameras to assist in the apprehension and prosecution of the criminals involved. After registering your camera, you would only be contacted by the Richfield Police Department if there is a significant criminal incident in the vicinity of your security camera."
Logistically, any video footage would be provided to the police by the owner of the camera system either via email or flash drive. The police have no access to private systems.
Bringing the program to Richfield is something that Mecklenburg has been working on for many months. She heard about the program at a crime prevention convention and worked out the details in bringing it to fruition in Richfield.
Admitting she couldn't do it by herself, Mecklenburg said collaboration with Geizon Santana, the city's coordinator of geographic information systems, allowed the project to come together. Santana provided the technological know-how, while Mecklenburg promoted the effort.
"The success of this will be getting as many residents and businesses to sign up and to partner with us" as possible, Mecklenburg said.