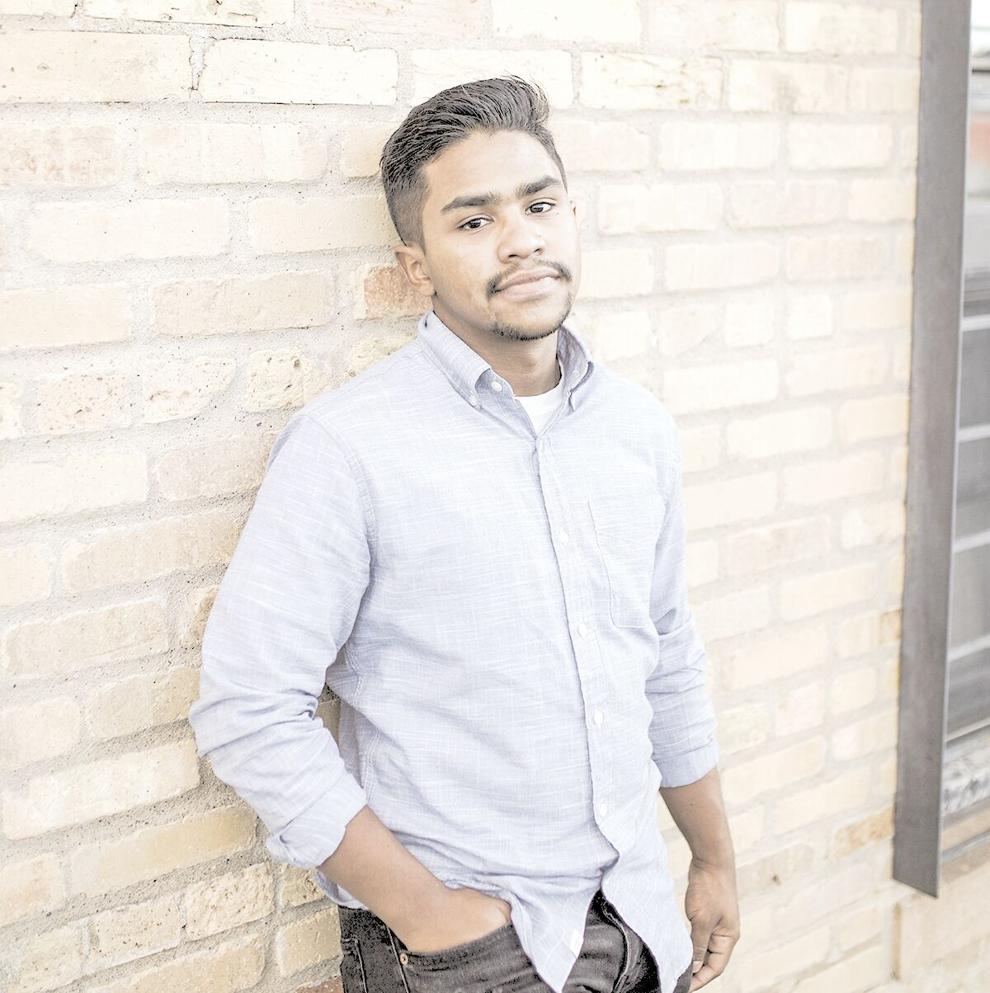 Born in Venezuela, he understands the beauty of the freedoms he enjoys in the United States
Ruben Augustin doesn't take anything for granted.
He's earned every bit of the freedom he enjoys and isn't about to let any opportunities slip by.
The Richfield High School senior, like so many others who have immigrated here during the past couple of decades, understands the value of hard work and earning respect for his efforts.
He was born in Puerto Cabello, Venezuela, Sept. 17, 2002, and lived with his family there until just before his fifth birthday. He then moved to the town of Puto Fijo in the state of Falcón with his mother, Anavid, and his father, Ruben, as well as his older brother, Gabriel.
"I began kindergarten there as well, and I attended a school called Instituto Cardón, or Cardón Institute, until I was seven years old and in the second grade," Ruben said. "At that point in time, my parents realized the grave situation that our country was in, and we immigrated to the United States in search of asylum.
With his grandfather already a legal resident of the U.S., Ruben and his family moved in with him in December 2009.
"Our story would likely be very different if we did not have the solid foundation that my grandfather afforded to us," Ruben said.
What became a focal point for the family and something that Ruben took to heart was the importance of a good education in getting ahead in a new country.
"From the very moment that my brother and I started school in the United States, my parents ingrained in us the belief that our lives would largely be shaped by our success in school," Ruben said.
"Throughout the years, my parents consistently explained to us the abundance of opportunities that exist in the United States, and how those opportunities would present themselves to us mainly through our success in school. They made us aware of how much we can accomplish in this country, and they did not stop reminding us until our understanding of the concept was evident to them," he added.
His biggest influences have been his parents and close friends.
"For a very long time, my parents have been my main source of inspiration," he said.
"For starters, I watched my dad evolve from a type 1 diabetic working two jobs to make ends meet into a successful engineer who was lucky enough to receive an organ transplant. My mother, on the other hand, grew from being an employee at a money order store into being a small business owner of that same store," he added.
Describing his parents as "two persistent, strong individuals," Ruben watched them "fight relentlessly to secure a future in the United States."
He described how his parents worked through their appeals for asylum, which was eventually secured through the Diversity Visa Program, also known as the green card lottery.
They were required to travel back to Venezuela in 2014 for an interview at the U.S. embassy in Caracas. In addition to the interview, they also had to secure needed documents by traveling across that South American country.
"Witnessing my parents fight so relentlessly for not only their future, but mine and my brother's, became the cornerstone of my existence. To this day, it is that reason that drives me to take advantage of every opportunity that presents itself to me," he said.
He worked hard in school, learned the language and culture and was accepted by his friends and the staff at his elementary and middle schools.
However, during his eighth grade and high school freshman years, Ruben experienced health issues that kept him from school over long stretches of time.
"In late 2015, I was diagnosed with Crohn's Disease," he said. "The first year of the diagnosis was especially difficult, as my doctor had yet to find the right treatment for me. Throughout that time, I suffered many bouts of sickness and desperation. At times, I would suddenly wake up in the middle of the night in order to vomit, and I wouldn't have the strength to attend school the following day. For that reason, I experienced an unusually high number of absences in my eighth grade year, as well as my freshman year of high school. Not only did I have to deal with these bouts of sickness, but I also had to attend treatment every eight weeks, making school absences inevitable. However, my sickness refined my ability to adapt to inconvenient situations. It was far from easy, but it solidified my ability to complete assignments even under the most unfavorable conditions," he said.
With his illness under control for the bulk of his high school years, Ruben said he continued with his studies, as well as enjoying his involvement in the school marching band.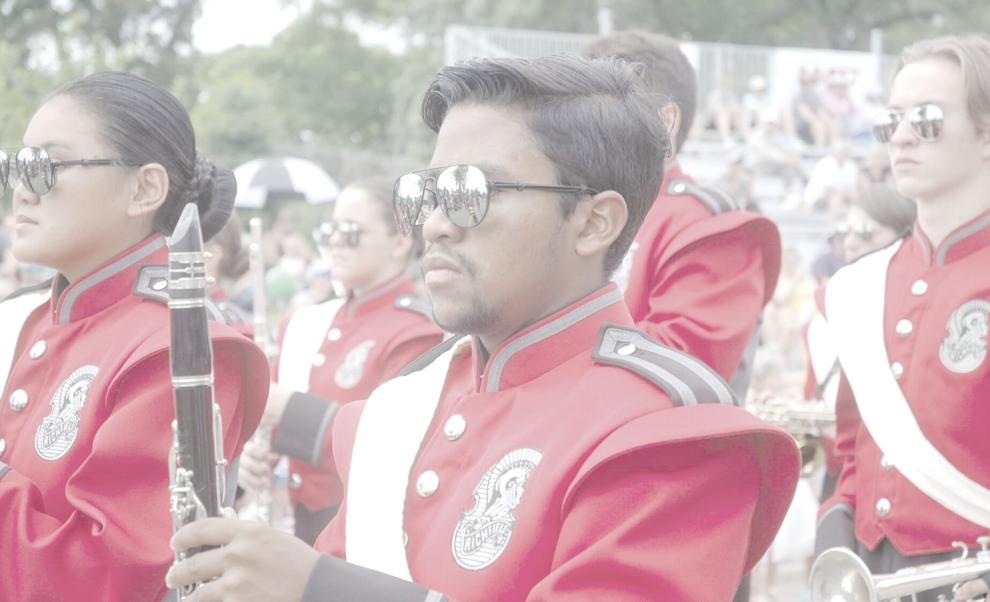 Ruben's best high school memory stems from his involvement in band, most specifically with the Richfield High School Marching Spartans.
That memory came about during his second year with the band.
"Our marching band's performance in my first year was far from stellar," he said. "Elizabeth Winslow, our director, solidified our band's strength in a way that had not been seen before in Richfield High School's history. That year, we had an immensely successful season. Our band constantly took second- and third-place trophies at parades, a feat that was only possible through our director's (as well as our band's) hard work. To top it off, our band took home the second place trophy at our state championships. When they announced that the Richfield Marching Spartans were the second-place winners, our whole band was ecstatic. To me, the experience is a constant reminder that hard work truly pays off, and I will honestly never forget the feeling of being part of my Richfield band family for the past four years," he added.
Prior to his first year in chemistry, Ruben had never had a grade below B-minus.
That changed when he began his studies in chemistry. Though he struggled mightily that first semester, the class soon became his favorite.
"I can't pretend that my feelings toward the class were the same as they are now," he said. "The class stressed me to the extent I had never experienced before, and it was definitely help from friends that allowed me to earn a grade of an A-minus the following semester. Those friends set the foundation for my understanding of chemistry, and it was my own willingness to learn that allowed me to not only set higher standards for myself, but meet those standards as well. In my senior year, I decided to take a college-level chemistry course in order to once again prove to myself that no class could defeat me. Thanks to my experience in sophomore year and my willingness to learn, I once again succeeded in that college-level chemistry class."
Ruben's immediate future will begin next fall when he enrolls at Hamline University.
He is the recipient of the Wallin Education Partners Scholarship and will pursue a degree in legal studies.
"Through my experience in the post-secondary enrollment option program and the associate's degree that I earned from it, I expect to graduate with my bachelor's degree in two to three years, as well as a paralegal certificate. Following that, I intend to find a stable job as a paralegal in order to finance and further my dreams of becoming a criminal defense attorney," he said.
To get to that point, Ruben has his eye on law school.
"In five years, I intend to be in law school," he said. "I will hold a solid job as a paralegal, while also balancing the academic demands of an education in law. Although this may sound straightforward, I am aware that life tends to have hiccups and unpredictable obstacles. However, I will do everything in my power to achieve my goals and to make my parents proud. As a lawyer, I intend to fight for true justice in the United States. Although we have a working criminal justice system in the United States, I, like many other people, would argue that it is far from perfect. My career as a lawyer will allow me to deal with such issues in person, and I will dedicate myself to minimize some of the flaws that exist in our current criminal justice system.
But before all that occurs, Ruben will participate with his fellow seniors in a virtual graduation ceremony, which has resulted from the COVID-19 pandemic.
The difficulty in not having the opportunity to walk across the stage to receive his diploma is a situation that Ruben shares with his classmates and all high school seniors across the state and country.
That's just one of those hiccups Ruben expects along the way.
He understands that his skill set is grounded in hard work, and it's his persistence and talents that will help him well into the future, despite those hiccups.